Youth Congress lit candles in Potholes at Siolim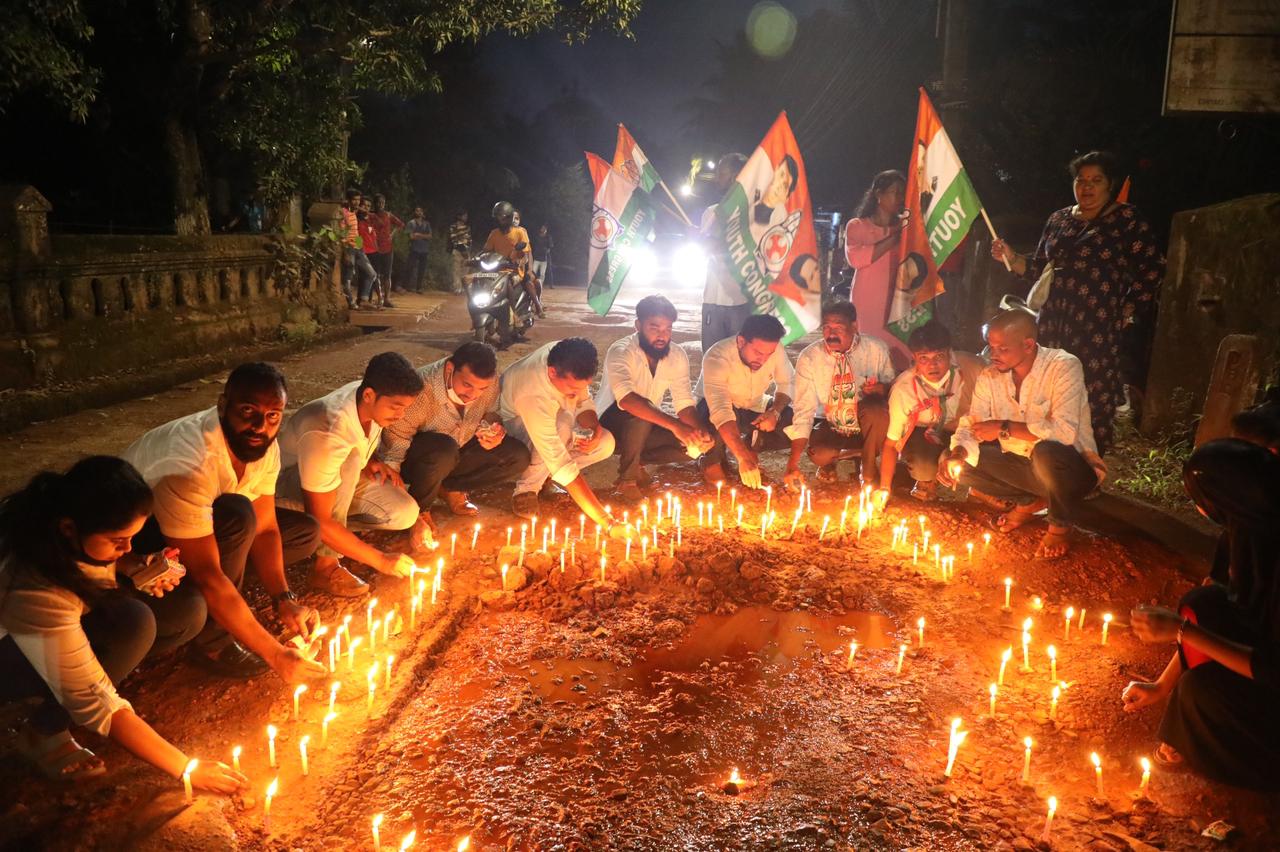 PANAJI: The members of the Goa Pradesh Youth Congress on Sunday highlighted the government's failure to replenish the dilapidated roads through its program 'Diwali with Potholes" at Siolim.
GPYC President Adv. Varad Mardolkar along with other members lit the candles in potholes and said that Chief Minister Dr. Pramod Sawant is a habitual liar. "We protested in a unique way by lighting the candles in potholes," Mardolkar said.
Siolim Youth President Roshan Chodankar, Siolim Mahila PCC president Harsha Salgaonkar, Sudin Naik, Chandan Mandrekar, Youth Congress General Secretary Saish Aroskar, Anuksha Daure, Yash Kochrekar, Akshay Kamble, Paidamber Nadaf, Krutika Chodankar, Farin Sheikh
and others were present on the occasion.
Mardolkar said that they had announced the 'spot the potholes' contest, which got a good response from the public. "Sawant had then promised to repair roads by November 1, but he has failed to keep his word. There still exist potholes on roads at many places." He said.
"We felt that the government and the officials are not able to see these potholes, hence we have lit candles in the potholes so they can at least see it," Mardolkar said.
Siolim Youth President Roshan Chodankar said that the government has failed to repair the roads, hence they were forced to protest. "Many times we had submitted a memorandum to repair the roads. But nothing had been done. Accidents are taking place due to potholes. But they turned Nelson's eye on this issue." He said.
Sudin Naik, the PCC executive member, said that the BJP government only gives speeches and fails to keep those given promises. "For a good and strong economy, roads also play a vital role. There should be good connectivity of roads." He said.
He said that this government is a liar and hence people should not trust this BJP govt. "People should defeat BJP." He said.
Chandan Mandrekar, North District Vice President of PCC, also said that he had submitted a memorandum to repair roads, but nothing had been done. "There is Health Center in this area. Patients suffer due to bad roads when they arrive from ambulances." He said.