Will not allow the undermining of Local Bodies under the garb of Ease of Doing Business: Goa Forward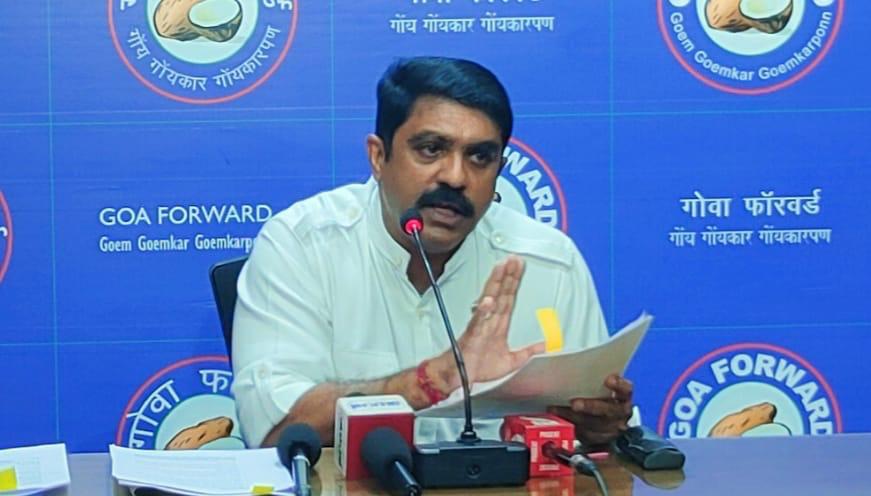 Ease of Doing Business or ease of violating the law?
This is the question on every Goan's mind today. Under the garb of Ease of Doing Business, the government has amended several laws that make it easy for commercial establishments to violate the law without the fear of severe penalty.
There are now plans to take away the powers of granting trade licences and construction license from the hands of Municipal Councils and give them to bureaucrats.
Recently, in a public meeting in Sanquelim, the Chief Minister Dr. Pramod Sawant revealed that he plans to amend the Municipality Act to allow anyone to obtain provisional trade license and start a business without submitting other documents such as Fire and Health NOC. According to him, after applying for the Trade Licence, applicants start their businesses without waiting for the Trade Licence which can take up to a month.
It is obvious that the Chief Minister has not applied his mind in this matter. Why does a business need Health and Fire NOC? It is to ensure safety in and around the establishment and non-compliance can put people's lives at risk. Further, the provisional Trade Licence
takes away accountability in case of any violation or in the event of a disaster. It's a licence to ignore the law.
If the Chief Minister feels that there is an unwarranted delay or corruption in the process of obtaining Trade Licences, he has to change the period specified under the Time Bound Delivery of Public Services Act for obtaining the licence and strengthen the Vigilance Department. Today the Vigilance Department is defunct. This is the reason why corruption is on the rise in the State and this issue cannot be solved by diluting the law.
Depriving the Local Bodies of their Constitutional Rights.
With regards to the Government plans to take the powers of granting construction licences from Municipalities, we must recall here, that three years ago, the Government tried a similar stunt with the Panchayats wherein the powers of granting construction licences were taken away from Panchayats and given to BDOs. After a public outcry, the notification was withdrawn. According to our sources, the government wants to re-introduce this policy for the Panchayats and Municipalities across the State.
The Government of Goa has not yet devolved most of the powers under the 11th and 12th Schedule of the Constitution of India to the Local Bodies. Instead, the present government is on a mission to take away whatever little powers had been given to the local bodies by the previous governments.
The government has taken away the erstwhile octroi tax (which is now subsumed in GST) and have not compensated the local bodies for this loss of revenue. They have starved Panchayats and Municipalities of development funds by delaying the process of preparing estimates, tenders etc. The aspiration of the local councillors and the panchayat members are being stifled, with their development works being rejected or inordinately delayed, on some flimsy grounds. Sad but true, the development grants for the local bodies in the state budget have been drastically reduced. Even the
Finance Commission grants, which is the constitutional right of the local bodies are being delayed on some pretext or the other.
This Government even tried manipulating the local body elections so that the ruling party can install puppet panels in the Panchayats. The CM claims victory over 150 of the 186 panchayats. How do these panchayats benefit by this victory? Do they become autonomous self-governing units or do they become slaves of the ruling party as a result of this victory?
Ease of doing business policies cannot be discussed and announced at random public meetings. Such policies must be carefully deliberated by involving all stakeholders, and all intended and unintended consequences must be analysed and processed. Otherwise, the policies will degenerate into ease of violating the law while institutionalizing and centralising corruption.
Dr Pramod Sawant must cease from making any move to dilute the powers of the Local Bodies and instead strengthen the Vigilance Department, enforce the Time Bound Delivery of Public Services Act and grant & devolve greater powers to the Local Bodies under the 11th and 12th Schedule of the Constitution of India. This will go a long way in promoting a business-friendly environment in the State.
On 24 March and 31 March 2022
of India
crores.
.
---
184 Cr each were released by govt
As state share of central taxes, That's a whopping 368
Incidentally, the state ended this Financial Year with a revenue
surplus of nearly 700 plus crores
.
Revenue surplus is total revenue
receipts less revenue expenditure.
As on March end 2022, pendency of DSSS was five of months
Could
the Directorate of Social Welfare not release the backlog of then.
On 31st May, 1291 crores was released to Goa as part of GST
Compensation.
Entire Griha Aadhaar, DSSS, Ladli Laxmi etc. could have been
simply released
.
Yet the state sat on liquidity of nearly 1700 crores
in that month of May 2022 and early June 2022
On 10th August 2022, this month, before Independence Day, centre released another instalment of state share of central taxes 450 Crores and CM awaits till Chaturti to fool the innocent Goemkars as
if he is giving it as a gift.
He is following the same principle like his political masters in Delhi.
They squeeze the states of their own money and here Pramod Sawant is squeezing innocent Goemkars (Widows, Senior Citizens)
for their own money.
Releases of subsidy on Agriculture, Fisheries (Subsidy to traditional
fishermen) etc are slow.
With this kind of liquidity, there was no need for them to resort to Some contract payment loan platform (RXIL Platform) etc. They
could easily release even capital payments and square off.
The intent is clear, they want to stop the most progressive social scheme of Manohar Parrikar, which was since 2002 an unparalleled scheme across the country for old age and societal pension (for HIV
infected, widows, special children etc)
---
SONALI POGHAT CASE
 Till early morning of 23rd August at around 4.27am as per the CCTV footage she was at curlies.
 Around 8am breaking news on national media about her death that she brought dead to hospital.
 Chief Minister Pramod Sawant says he has learnt that it was a cardiac arrest. How did CM come to this conclusion?
 Police register a case of unnatural death
 Again, on Wednesday 24th August during the Cabinet
Press Meet CM says it's a Cardiac arrest.
 25th August 2022 Post Mortem reveals that blunt injuries found on the body subsequently police register it as murder case.
 She was staying at The Grand Leoney Resort at Vagator. The hotel is just four- to five-year-old. But now since her death no one is allowed there, staff have been told not to report on duty and also those guests who were staying were told to vacate. Media personnel have been informed that hotel is under renovation?
 Did the Police try to get the CCTV footages from this hotel?
 Why did Chief Minister ask the Police to go slow in the matter at the initial stage? Did the Chief Minister receive phone calls from High Profile politicians from Haryana? Did CM try to protect some High-Profile politician from Haryana and was that the reason her death was termed as Cardiac Arrest.
 Senior BJP leaders are quiet on this issue.
 Even the family alleged at the initial stage that there was a cover up and they demanded a CBI investigation.
 CM should come clean on this episode of Cardiac Arrest.
 CM should step down as Home Minister