I DARE CHIEF MINISTER DR. PRAMOD SAWANT TO RELEASE DATA OF IPB PROJECTS – YURI ALEMAO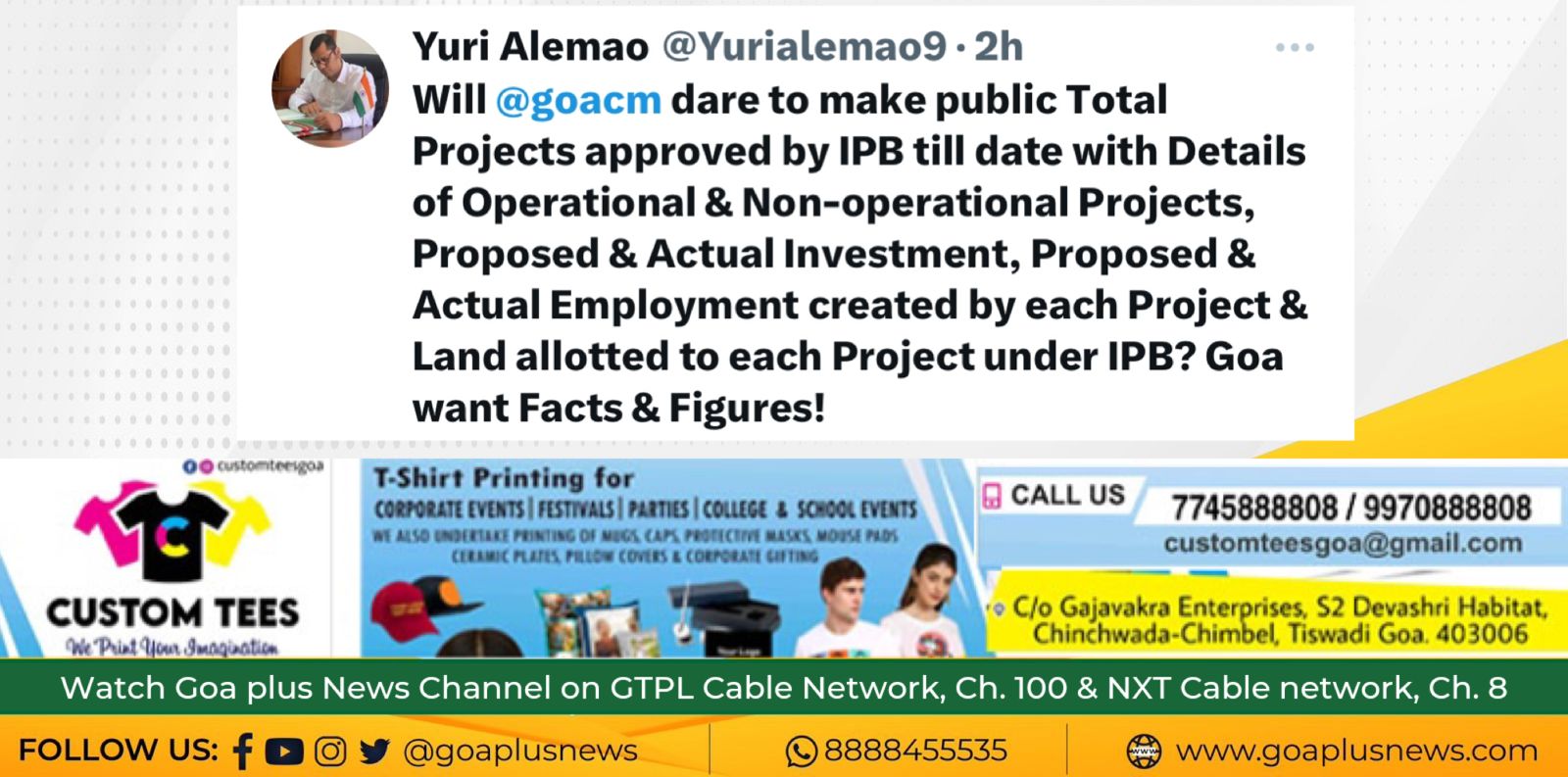 Margao – Investment Promotion Board (IPB) is a Scam initiated by BJP Government to handover prime Goan land to Capitalists. These projects have become an ATM Machine for the BJP. I dare Chief Minister Dr. Pramod Sawant to release data of all Projects cleared by IPB till date, challenged Leader of Opposition Yuri Alemao.
Reacting to the statement made by the Chief Minister after the 35th IPB Board Meeting announcing 7 Projects cleared for a proposed investment of 180 crores and employment potential of 1208, Leader of Opposition slammed the BJP Government for giving false figures to mislead Goans.
Reality of IPB is Government gave away 12.91 Lakh Square Meters of Land to IPB Projects for just 726.43 crores Investment as against proposed Investment of 4637.50 crores & only 1037 Jobs as against proposed Jobs of 17525 from 2018 till June 2023. Only 14 Projects out of 85 are Completed. Only 55 Goans got employment till date in these Projevcts. This data is only of last four years and just a Tip of the Iceberg, claimed Yuri Alemao.
IPB has become a "Single Window for Corruption" as the IPB Board has taken over powers of issuing Conversion Sanads from Revenue Department. Technical Clearances are given directly bypassing TCP Department and Construction Licences are issued by IPB Board sidelining Panchayats and Municipalities, charged Yuri Alemao.
There is huge land given to create Gaming Village in Pernem violating all rules of TCP Act. Land admeasuring 3.80 lakhs square meters is alloted in Pernem which is actually falling under Command Area. Another land of 96000 square meters is alloted falling under Buffer Zone of Garbage Treatment Plant at Pernem. The said land is also in Command Area, pointed Yuri Alemao.
I have reply to my Legislative Assembly question which states that Government has no data pertaining to Jobs given to Goans by the Industries cleared under IPB. It is high time that Government come clean on the status of all IPB Projects, demanded Yuri Alemao.