DROWNING CASES CONTINUE DESPITE TOURISM DEPARTMENT SPENDING 190.35 CRORES IN FIVE YEARS ON BEACH SAFETY CONTRACTOR – YURI ALEMAO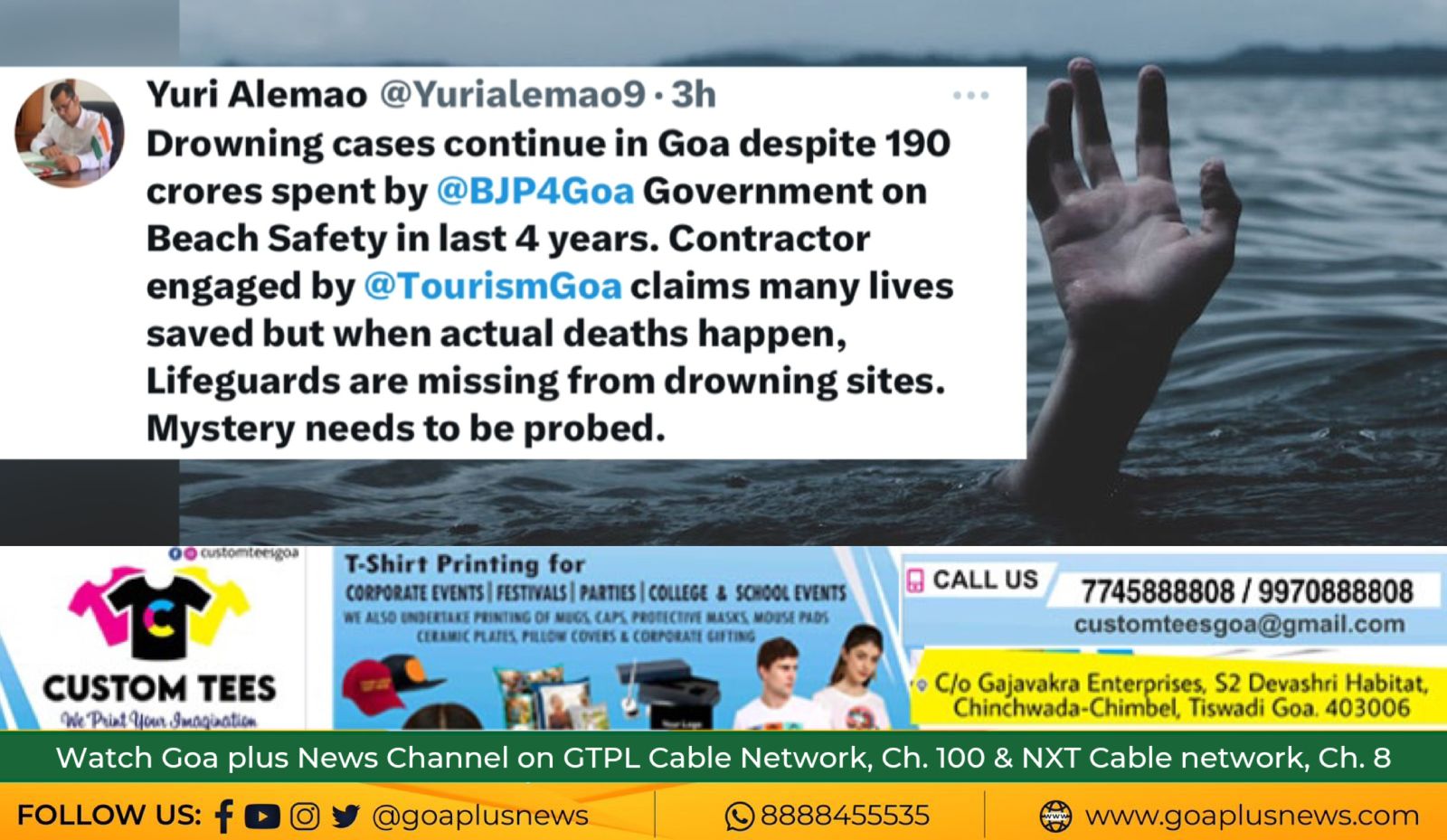 Margao: In what can be seen as an attempt to patronize a particular agency, Tourism Department extended the Contract of the Beach Safety Contractor three times in last three years and paid a whopping amount of 190.35 crores to M/s. Drishti Lifesaving Pvt. Ltd. for providing the services between 2019 till date. Drowning Cases continue despite Tourism Department spending multiple crores, charged Leader of Opposition Yuri Alemao.
Reacting to the recent Incidents of Drowning in Goa including the one at Colva today and claims of the Beach Safety Contractor of saving lives, Leader of Opposition Yuri Alemao questioned why the Lifeguards are not present when the drowning happens resulting in Deaths?
The information provided in the replies given to various Legislative Assembly Questions reveals that 111 drowning cases occurred at various locations including Beaches, Lakes, Ponds, Swimming Pools, Rivers, Waterfalls, Canals and Stone Quarries. Ironically, the reply states that the scope of work of the agency appointed for beach lifeguarding and water safety services is only at 41 beach stretches from Keri to Pollem and two water bodies Dudhsagar Waterfall and Mayem Lake in the State, claimed Yuri Alemao.
Although the reply claims that various types of Technology and Human & Non-Human intervention such as Artificial Intelligence Technology, Fencing of Rocky Area, Patrolmen on dangerous Rocky Area, Sign board installation for safety purpose are some of the measures taken by the Government to prevent drowning incidents, none of these measures are found being implemented at any of the water bodies in Goa, pointed Yuri Alemao.
Tourism Department has no mechanism in place to ascertain the genuineness of the claim of the Beach Safety Contractor of saving lives on various beaches and two water bodies in the State. The Department is only relying on one witness. This reply raises questions on the claims made by the Beach safety Contractor on saving lives at various water bodies in Goa, Yuri Alemao said.
Leader of Opposition Yuri Alemao also questioned on the compliance of the Contractor pertaining to installation of 34 CCTV Cameras, 34 Beach Stations, Toilets on various Beaches and Water Bodies as well as deployment of 600 lifeguards in the morning shift and 111 lifeguards during the night shift as stated in the reply given to the Assembly. He said that nothing exists on the Beaches and Water Bodies in Goa.