Goan's should liberate Goa from BJP corruption and misgovernance : Dinesh Rao
RSS & Jan Sangh were against Goa's welfare: Girish Chodankar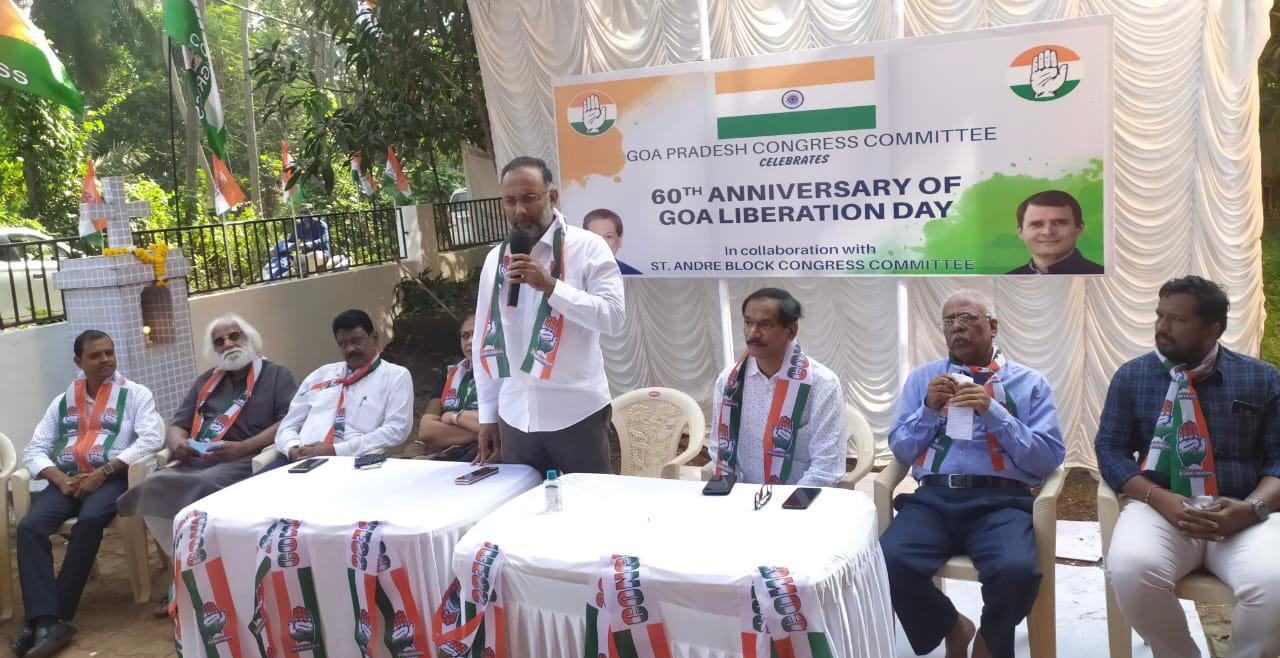 PANAJI: The President of Goa Pradesh Congress Commitee Girish Chodankar on Sunday stated that RSS and Jan Sangh supported merger and even after Goa voted against merger, they were pressing government to merge Goa into Maharashtra overturning the mandate of Goans.
Chodankar was addressing the Congress workers at the Goa Liberation Day Function organised by Goa Pradesh Congress Committee in collaboration with St. Andre Block Congress Committee at Pillar.
He made a scathing attack on the BJP for its acts of omissions and commissions like destruction of environment, murders and rapes.
" BJP and RSS never participated in the liberation struggle of Goa and were mute spectators, then. Now they are trying to derive political gains on events, where they dont have single per cent contribution" Chodankar questioned.
A.I.C.C In-Charge, Goa Desk, Shri Dinesh Gundu Rao made a frantic appeal to the people to liberate Goa from BJP corruption and misgovernance while exercising their franchise during the ensuing assembly elections.
"Goa has a unique place in the history of India. It is only Congress Party which can equip the people to face the future challenges. Congress Party has always paid special attention to the aspirations of the Goans. Congress Party, being a democratic Party, has never imposed its views on others like the B.J.P." Rao said.
" B.J. P. had no mandate to form the government in Goa in 2017 ." He said.
Senior Vice President of G.P.C.C Shri M.k.Shaikh said that Congress Party always worked hard to fulfil the aspirations of the Goans like Konkani, Official language and Statehood.
Others who spoke on the occasion included Mahila Congress President Smt Beena Naik, Mr. Antonio Alfonso, Chairman, Overseas Congress , Mr. Mohan Dhond, Mr. Dilip Borkar, Mr. Victor Gonsalves.
The office of Overseas Congress was inaugurated at the hands of Shri Dinesh Gundu Raoji. At the outset Block President Shri Manoj Palkar welcomed the gathering while Mrs Palajeria Raposo proposed a vote of thanks.
Others prominently attended include Tony Fernandes, Everson Vales, Savio Monteiro, Sayeesh Aroskar, Devsurabhi Yaduvanshi, Steven & others.