Goafest 2023-Taking the spirit of creativity back in full swing!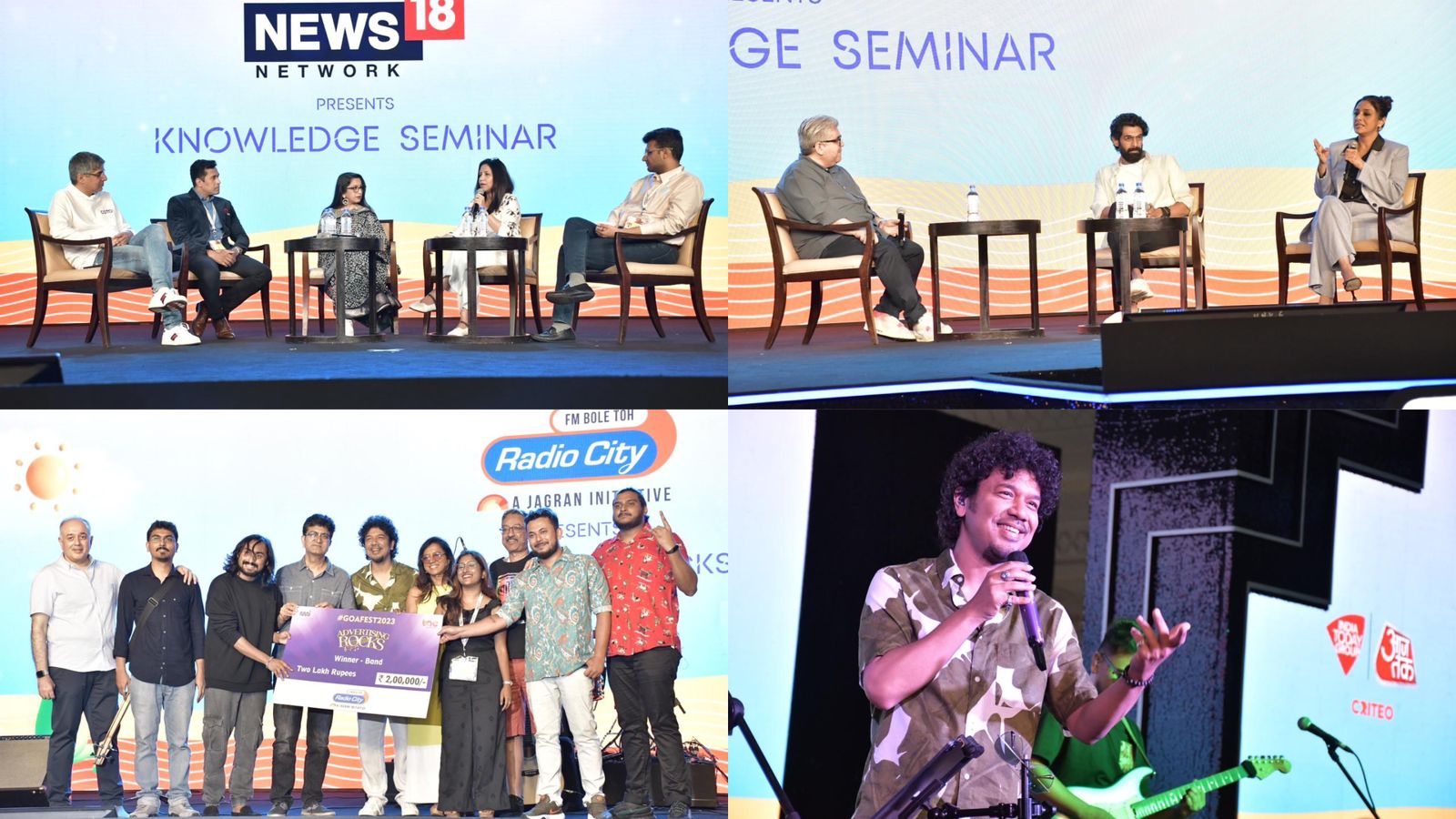 May 26, 2023; Goa:
The 16th edition of Goafest concluded with flair after three days of knowledge seminars, conclaves by industry experts and leaders, masterclasses and parties with the industry joyously cheering for the Abby One Show Award winners every evening. An amalgamation of the finest and the best, Goafest 2023 was all-in-all a triumph; it was all that was promised and more!
We kickstarted the day in the most spectacular way, yet again! Indian Playback Singer Papon assured the crowd was mesmerised by his voice! Their energy and mood set the tone for the rest of the day. We then commenced Day 3 at Goafest with a Knowledge Seminar by Anymind, titled, Seven Principles For The Future Of Creativity led by Nick Law, Global Creative Chairperson — Accenture Song. Nick has crafted a compelling set of principles that ignite a fresh perspective on the future of creativity. His principles act as a guiding light, illuminating the path forward for artists, designers, marketers, and anyone seeking to harness the power of creative potential.
The spirits were still high after lunch, signalling a consistency in mood and energy at the end of this phenomenal fest. To ensure this, an Industry Musical Contest called Advertising Rocks was presented by Radio City with judges including Papon — Indian Playback Singer, Rajeev Raja — Founder & Soundsmith, Brandmusiq, Merlin D'Souza — Founding Partner & Principal Composer, Brandmusiq, and Curator, Subhash Kamath — Former CEO, BBH & Publicis Worldwide, India. You guessed right! The crowd was left spellbound by every entrant's performance. The winners in their respective categories, Moninder Agrohiya (Solo), Tushar Tharayil (Western Solos), and Scrapped (Band), however, took it all; the win was well deserved.
Later, we delved into another session titled, Understanding Young India by MTV conducted by Utsav Chaudhuri — Head Marketing, YME, Viacom18. This discourse examined the vibrant and dynamic minds of the youth, unravelling their aspirations, challenges, and unique perspectives, backed by data! Utsav mentioned, "Passion, interest, and hobbies are on the rise amongst Young India as they are into monetisation. They do not want to cultivate hobbies that generate monies."
Utsav also touched upon several significant aspects that Young India consumes content, online appearances, their outlook on relationships, career outlook, religion, family, and more. Again, all these facets and insights were supported by data.
As the future of our society, it is crucial to gain a deeper understanding of the hopes, dreams, and values that drive this generation. The session embraced fresh insights, challenged preconceived notions, and embark on a journey of understanding and collaborating with the incredible force that is Young India.
Thereafter, Sports18 presented a Knowledge Seminar called Media Agencies Panel – Breaking the Old Mould moderated by Sam Balsara — Chairman, Madison World with panellists including Aditi Mishra, CEO- Lodestar UM, Amin Lakhani, CEO, South Asia, Mindshare, Mohit Joshi, CEO-Havas Media Group India, and Naveen Khemka-CEO South Asia – Essence Mediacom. In a world driven by constant change, it is imperative to break free from the constraints of tradition and explore new possibilities.
Answering questions about structures posed by Sam, Aditi responded and dwelled on the need for fluidity within the teams, which ensures that learnings move across in different directions. Amin also added, "The need to break structural automation; agencies need to bring back the attitude of problem-solving as they do for their clients."
In this panel discussion, the importance of holding agencies accountable for outcomes, not for saving clients' money, was highlighted. Since agencies are not in control of all aspects of the marketing mix, especially distribution, clients often need to view agencies in that light.
Overall, this session served as a platform to inspire and ignite a spirit of transformation across various domains of the advertising agencies through the process of unlearning and relearning in accordance with the advertising era we are in.
News18 Network further presented yet another Knowledge Seminar called IAA — Voice Of Change on Gender Bias moderated by Megha Tata — CEO, Cosmos Maya India Pvt Ltd, with panellists that included Anupriya Acharya — CEO, Publicis Groupe, South Asia, Kailashnath Adhikari — Business Head, Sri Adhikari Brothers Network, Lata Venkatesh — Executive Editor, CNBC TV 18, and Tarun Katial — Founder & CEO, Coto. In a world where gender equality remains an ongoing battle, this gathering of diverse minds held the key to fostering lasting change. Through engaging discussions and thought-provoking insights, the panel delved deep into the pervasive issue of gender bias and its multifaceted impact on our societies.
Megha began this session with a presentation of an interesting study about the realities of women's representation in advertising. Anupriya mentioned, "We are clearly not doing enough, we have progressed over the last 20 years, but it is only the tip of the iceberg. Awareness and education are key."
Tarun also added, "Unfortunately, the stereotyping of women has been very harsh." He went on to give several examples, national and international, where this case has been witnessed.
Unanimously, the panel agreed that merit needs to be the driving force and that the change needs to begin at home in the way we teach and treat our children. The panellists also stressed the need to create a future where everyone's potential knows no boundaries, irrespective of gender. The discussion uncovered the immense potential that lies in questioning established norms, pushing boundaries, and embracing the unconventional.
The last Knowledge Seminar of Goafest 2023 was presented by Rajasthan Patrika. Future of Indian Cinema: Exploring Artistic Freedom and Challenging Conventions saw Tabu, Actress Extraordinaire & Rana Daggubati — Indian Actor & Producer in conversation with Rajeev Masand — Former Critic, COO of Dharma Cornerstone Agency speak about the path charted for Indian Cinema. This session served as a platform to explore the ever-evolving landscape of Indian cinema, where the boundaries of creativity are pushed because of technology today, and conventional norms are challenged.
Tabu stated, "The challenge for any creative field is to create something they haven't seen and/or experienced before. Likewise for me, I tap into that part of my belief." Tabu and Rana also discussed components of cinema, including technology, distribution, infrastructure, language, global representation, future and more. The two panellists shared their learnings and experiences with the crowd, which also gave us an insider's view.
Lastly, the conversation focused on the transformative power of artistic freedom with the force of technology today, hoping to build a cinematic realm that dares to defy expectations and captivate hearts, as always!
Parallely, masterclasses for the latter half of the day had interesting takeaways, too! In Unleashing the Power of Flipkart's Shopper Intelligence, Sudarshan Sharma — Senior Director, Monetization & Product Marketing, Flipkart, covered how advertisers can use Flipkart Ads to drive marketing objectives on social media and the open internet based on shoppers' behaviour. He shared insights on helping brands to drive the marketing funnel beside the shopping experiences that Flipkart users go through. He added that partners and how to use Flipkart's audience intelligence to benefit the brand with conversions.
The masterclasses finale was Data, Creative, Production & Technology are at the core of everything we produce in branded content today. In the session, production platform Prodigious India EVP & Head Varun Shah and Vikram Pandey spoke about how combining data, creativity, and production can give creators the multiplier effect to manifest incredible results. In the exhilarating masterclass, they took the audience through creating Airtel 5G's ad, which recreated the momentous 1983 Cricket World Cup and Kapil Dev's score of 175 runs from scratch, using 1,000+ data points, VFX and human data. Varun Shah said, "It's not Human vs AI but Human X AI. If we use Artificial Intelligence the way it's meant to be used, brands will see the multiplier effect. Look at AI as a tool to enable you to do cool stuff."
Prasanth Kumar, the President of the Advertising Agencies Association of India and CEO of GroupM South Asia, in his address at the end of Goafest 2023, to everyone said, "I am very grateful to the array of speakers, moderators, and panellists who have made this year nothing less than an extravagant exchange of experiences, information and insights. We return with our hearts full of gratitude and spirit full of creativity. Each session brought a unique perspective and added immense value to the table.
Each session was a treasure trove of wisdom, creativity, innovation, and inspiration. The expertise and passion of each speaker shone through as they shared their experiences, expertise, and industry trends. I was captivated by the depth of knowledge and the thought-provoking discussions that unfolded during the festival. The sheer ability to convey complex ideas in a relatable and engaging manner was truly remarkable! I would also like to extend my gratitude to all the sponsors, who have been generously supportive and helpful."
Speaking about the Abby One Show Awards 2023, Partha Sinha, President of the Times of India Group and President of The Advertising Club, said, Goafest has yet again proven to be an extravaganza that brings together the entire media and creative fraternity together. From the staggering number of entries to the jury, to the wins, and more, every aspect of this fest has been nothing short of astounding. We're setting international standards and pushing boundaries with ABBY One Show; you all have witnessed it! We take immense pride in calling ourselves the voice of the industry, the representatives of this industry and this year's fest is a testimonial in itself. The atmosphere was buzzing with creativity and excellence, and it was truly inspiring to see so many talented individuals coming together and manifesting all that we have witnessed this year."
Jaideep Gandhi, Chairman, Goafest 2023 Organising Committee, said, "I would like to thank all the sponsors, speakers and delegates, committee members of The Ad Club and AAAI and their respective teams for giving their time to make the conference a tremendous success. It's the combined energies that make Goafest a gratifying experience. And the 16th edition was no different. Besides some spellbinding knowledge seminars and masterclasses, participation has been highly robust this year. I'm certain the journey for us will only be upward and onward going forward. We eagerly look forward to the same level of enthusiasm as we make Goafest bigger and better."
As we wrap off Day 3 of Goafest 2023, Rana Barua, Chairman, of ABBY Awards Governing Council 2023 and Vice President of The Ad Club, remarked, "The numbers of entries we received for ABBY One Show Awards, the quantum of participation and the incredible award evenings only testify the industry's undying zeal to celebrate creativity and innovation. We thank every participant and congratulate everyone on their fantastic victory. Every moment during these three days was inspiring to say the least, and fills us with gratitude for successful ABBY Awards and motivation to raise the bar each year going forward."
The undying energy was wholesomely fed with dinner and fuelled by the after-hours party by B4U in association with Jameson Glassware with DJ AJ! The folks of the Advertising & Media industry sure know how to keep the momentum at an all-time high with knowledge dissemination, poignant discussions, and much merriment.