Gati launches Bike Express to offer Efficient, Convenient and Hassle-free Bike Transportation across India
Specially designed service for working professionals, students migrating to new locations, tourists and bikers for independent mobility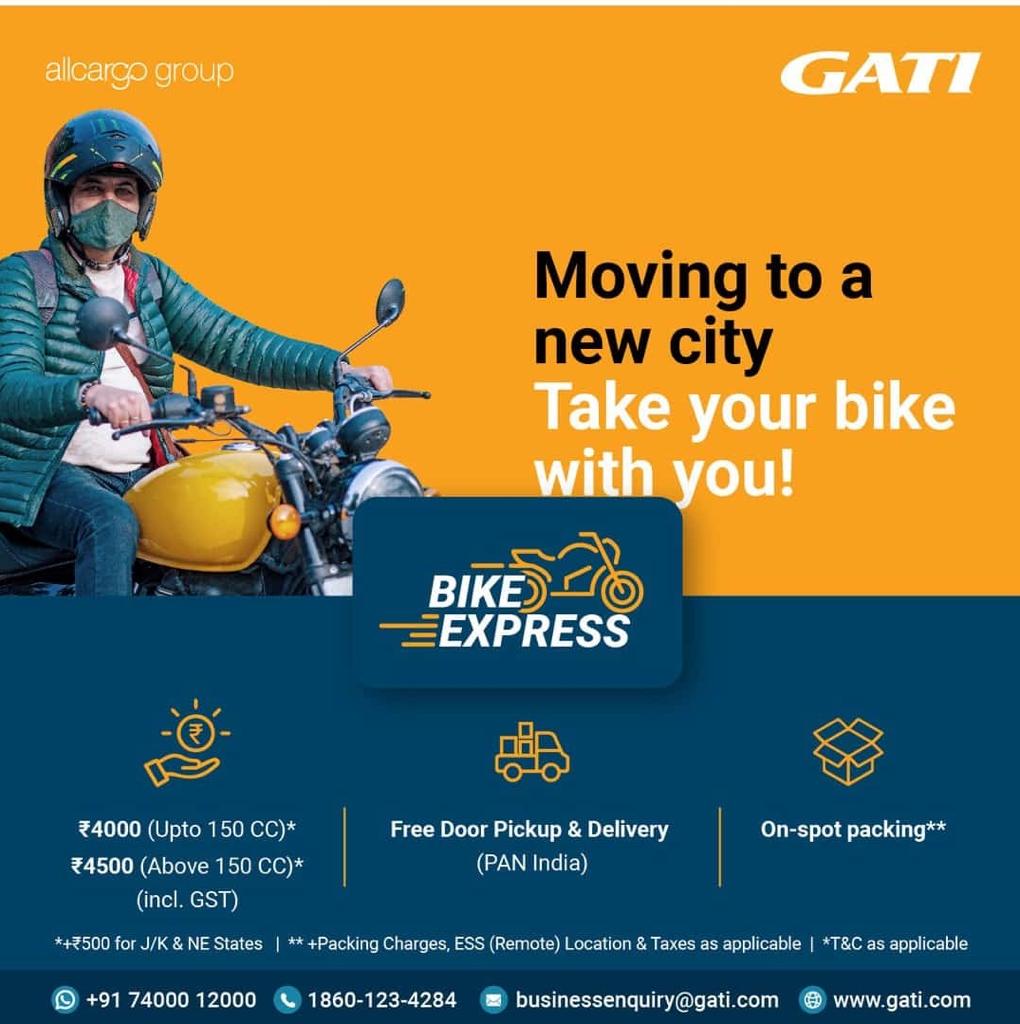 May 24, 2023: Gati Ltd, an Allcargo Group company and one of India's premier express logistics and supply chain solutions providers, has launched Bike Express, a specially designed fully equipped, safe and on-time bike transportation service with a nationwide service network. The service is ideal for working professionals and students migrating to new locations, tourists, bikers as well as for those who prefer to rely on independent mobility wherever they go.
Bike Express offers a host of facilities and convenience such as PAN-India free and easy door pick-up and delivery, on-spot packing, customised delivery, special travel expeditions, planning and execution by specially trained and experienced professionals, transportation through weather proof container vehicle, consignment tracking, last-mile and remote location delivery, 24/7 customer support, etc. Bike Express is available at an all-inclusive flat rate of Rs. 4000 for up to 150 cc and Rs.4500 for above 150 cc.
By availing Bike Express, one can take advantage of Gati's vast service network of rapid and reliable transportation services across 19800 pin codes covering 735 districts out of 739 districts in India.
Reflecting upon the success of Bike Express in the past, Huafreed Nasarwanji, Chief Commercial Officer, Gati Ltd. said, "Moving to a new place with bike adds to the stress of relocation. Our specially designed Bike Express with its highly experienced and trained teams offer efficient and safe end-to-end bike transportation service across India. For avid bikers or tourists, Bike Express has emerged as the go-to transportation service provider during expeditions and vacation seasons. With Bike Express, we offer customised, top-rated and efficient bike transportation service. In the ongoing vacation season, we are witnessing strong demand for our Bike Express service. We'll continue to offer our customisable and innovative Bike Express service to meet the varied bike transportation requirements with our unmatched reach covering 99% of the pin codes of the country and unparalleled customer centricity. Bike Express is an integral part of our bouquet of services which includes Student Express for students relocating to campuses, Art Express for moving art pieces and Mango Express for transporting mangoes."
To get more information and avail Bike services, one can log on to https://www.gatikwe.com/our-services/special-services/bike-express