Goafest 2023: Day Two Wrap-upInspiration, Perspectives, and Action from a Day of Dynamic Dialogues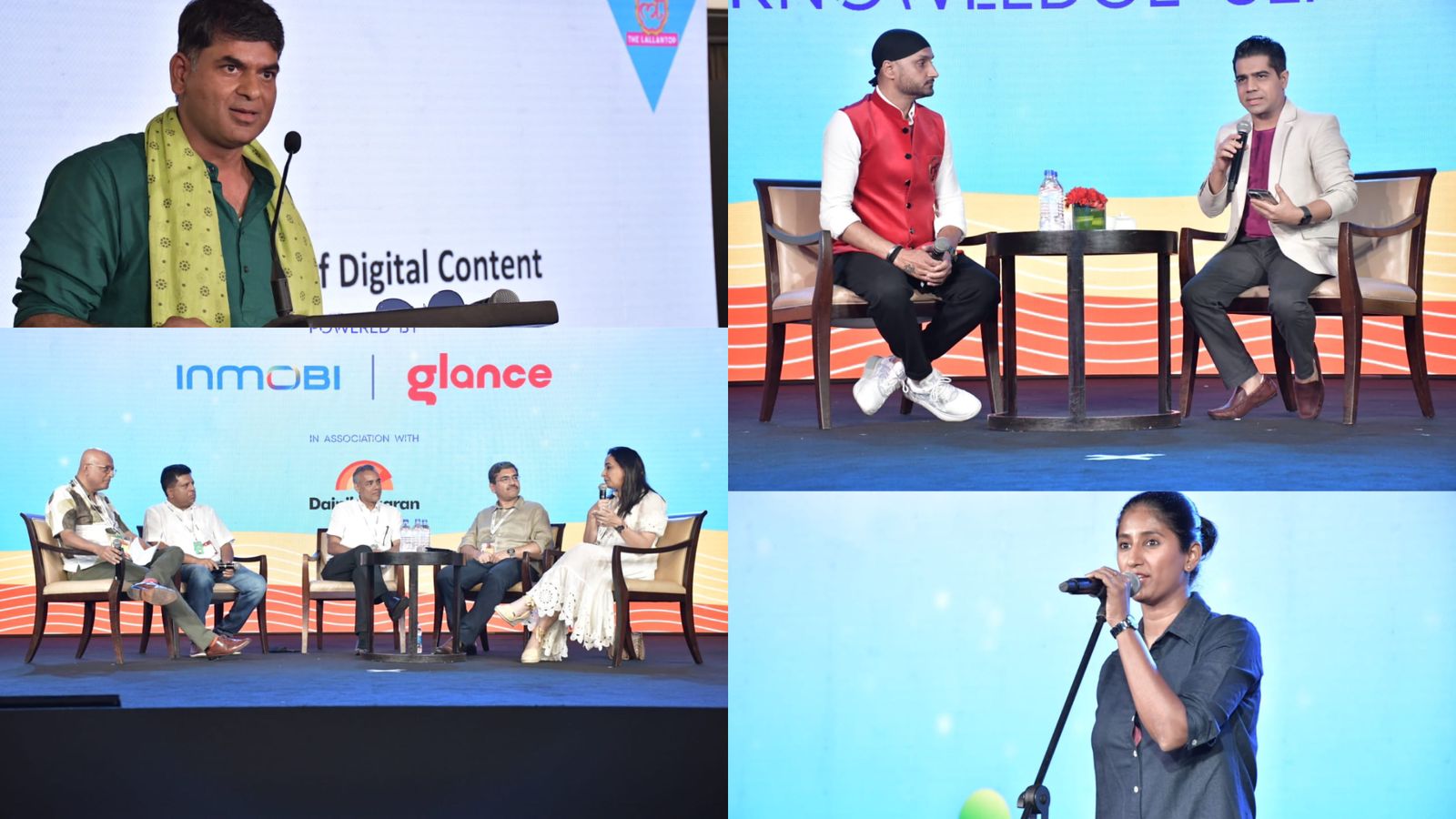 May 25, 2023; Goa: Following an exhilarating Day 1 of Goafest 2023, Day 2 kicked off with a line-up of insightful, informative and inspiring speakers and sessions. Each discussion offered insightful and unexplored information, from knowledge seminars to presentations, and as the day unfolded, learnings, experiences, creativity, and innovation culminated into the essence of this day!
The first session of Day 2 was presented by India Today, discussing the Future of Connected Devices and Cross Channel Measurement with Moderator, Rajdeep Sardesai – Consulting Editor – of India Today Television with Panellists Geet Lulla – VP of Sales & Head Asia Pacific – Comscore, Pankaj Krishna – Founder and CEO – Chrome DM, and Salil Kumar – CEO – ITGD. The session focused on the future of connected devices, highlighting seamless integration, effortless communication, and sophisticated cross-channel measurement for effective strategies
.
Thereafter, Disney Star presented a Knowledge Seminar, titled The Evolving Economy And The Future Of Startups with Anuradha SenGupta, Independent Journalist leading the conversation with Rajan Anandan, Managing Director – Sequoia Capital & Surge. The dialogue highlighted the evolving economy that has become a conducive environment for startups and Rajan's belief in the profitability of growth-stage companies in the near future.
This discussion was followed by yet another Knowledge Seminar powered by The Hindu Group, Supercharging Creative Effectiveness: Unleash The Potential Of Your Campaigns led by Ed Pank, Managing Director – WARC APAC. He presented several thoughts and insights on the need for original creativity. Ed spoke about and presented several instances where parameters like inclusive marketing, sound mnemonic, and authentically participating cultures and subcultures play a consequential role in a creative impact.
The second half of the day began with Digital Creator & Stand-up Comic, Aiyoo Shraddha, filling the room with uncontrollable frolic and laughter.
Following this comical session, a Knowledge Seminar titled 'Data-Driven Marketing – Are We Walking The Talk?' powered by InMobi in association With Dainik Jagran showcased Moderator, Vikram Sakhuja, Group CEO Madison Media & OOH with Panellists Chandan Mukherji, Director & Executive VP – Nestle India, Priyanka Gill, Group Co-Founder, Good Glamm Group & CEO, Good Media Co, Ravi Santanam. CMO – HDFC, and Vipul Prakash, COO, MakeMyTrip. This session discussed in-depth numerous elements that need to be factored into the workings of the world of data-driven marketing, to which, Chandan aptly added, "Data is helping brands make real-time marketing decisions."
The session also, through the panel discussion, assessed the utilisation of the relevant data, aggregated, and personalised as well as the shift from traditional approaches because of available data and its analysis. Priyanka rightly added, "Data today is a blunt instrument, but with time and teams learning to use data sufficiently, it could become a sharper tool."
Similarly, this interaction also underlined the importance of enriching data collection on parameters that are relevant to a brand. In this case, informed hypotheses will help brands with growth in conversion rate because consumer behaviour patterns are being learnt and evaluated like never before.
Later, OMS Digital, a part of the Times Group presented the ASCI Creators Session, titled Creator Calling Creator a session curated by the Advertising Standards Council of India moderated by Subhash Kamath – Former CEO, BBH & Publicis Worldwide, India | Former Chairman – ASCI. The panellists included Rajdeepak Das – Chief Creative Officer and CEO, Leo Burnett, SouthAsia, India & Chairman, Creative Council, Publicis Groupe – South Asia, Shreya Agarwal – Head of FilterCopy, Pocket Aces, Smruthi Rajagopalan – AGM Maybelline, L'Oreal and Prableen Kaur Bhomrah, Beauty, Fashion, Body Positive & Lifestyle Influencer. This session narrowed down the connection between content creators, collaborators, inspiration, and the need to foster a thriving creative community.
The questions posed also garnered answers and information that tallied the sentiment of brand-agency relationships today and their applicability during campaigns. The collaborators, whether digital or mainline, all partner, bringing their expertise to the table along with recommendations for other platforms as well. Rajdeepak rightly added, "Ideas can come from anywhere, the only thing that matters is how we make it big. For that to happen, all the collaborators need to have one goal – to make the idea big."
In summary, the conversation underlined the power of creators coming together to exchange ideas, share knowledge, and elevate their craft, collectively.
These sessions, for Day 2 at Goafest, concluded with a Knowledge Seminar by Disney Star, titled Unearthing Future Talent: The Rise of Indian Cricketers from the Grassroots. The crowd could not keep calm when Harbhajan Singh, Indian Cricket Legend & Member of Parliament, took to the stage. It was unbelievably surreal and enthralling, all at once. In conversation with Manish Batavia, Sports Presenter & Commentator, he revealed so many components that make a cricketer, starting with self-belief, his experiences on-field and off-field, moving on to his journey beyond cricket, and then finally his upcoming book.
The discussion highlighted the immense talent pool in the country and the effectiveness of nurturing young players at the grassroots level. Harbhajan fondly remembers, "I tried my hands at Judo and Badminton, but Cricket was very close to my heart; I wanted to be like Kapil Dev!"
Harbhajan, in answer to Manish's question about coaching, said, "Coaching is one thing, honest management of talent is what is required today." He believes that through dedicated coaching programs, infrastructure development, and a passion for the sport, India's young cricketers will make their mark on the international stage, paving the way for a promising future in cricket. This interview with Harbhajan showcased the potential for India to consistently produce skilled and competitive players who can contribute to the success of India.
Finally, he shared his insights on consistent practice and focus on a single goal. He also spoke about his learnings from failures and how he used them to do better at his game. He exited with the same gusto as his entry!
Parallelly, in the latter half of the day, the lineup of masterclasses began with Convosight, 'Unleashing the Voice of Your Customers: Building Brand Advocacy in Communities' by Tamanna Dhamija, Rajan Anandan & Shuvadip Banerjee. The speakers emphasised how brands and consumers can co-exist and create opportunities for each other whilst stressing the power of online communities. This was followed by the 'Maximizing Your Advertising Potential on Flipkart' masterclass, where Vaibhav Kapur, Senior Director of Flipkart Ads shared his experience and knowledge on how brands can weave effective digital ads from a company's marketing and advertising perspective. Last, in line, the India Today Group: The Lallantop Adda masterclass primarily focused on the future of video content. Saurabh Dwivedi used references from film to deliver an entertaining masterclass about what successful video content will look like, going forward.
Well, that brought us to the end of yet another eventful day at Goafest 2023 coupled with a gala dinner and after-hours party with DJ Savio Joseph Mendez powered by MASTIII in association with Absolut Glassware
Catch a glimpse of all that Day Two was at Goafest 2022 and stay tuned for Day 3.