Declare 2011 caste census, conduct free census immediately: Congress
RSS and BJPs DNA are anti- Bahujan Samaj and anti-women:- Girish Chodankar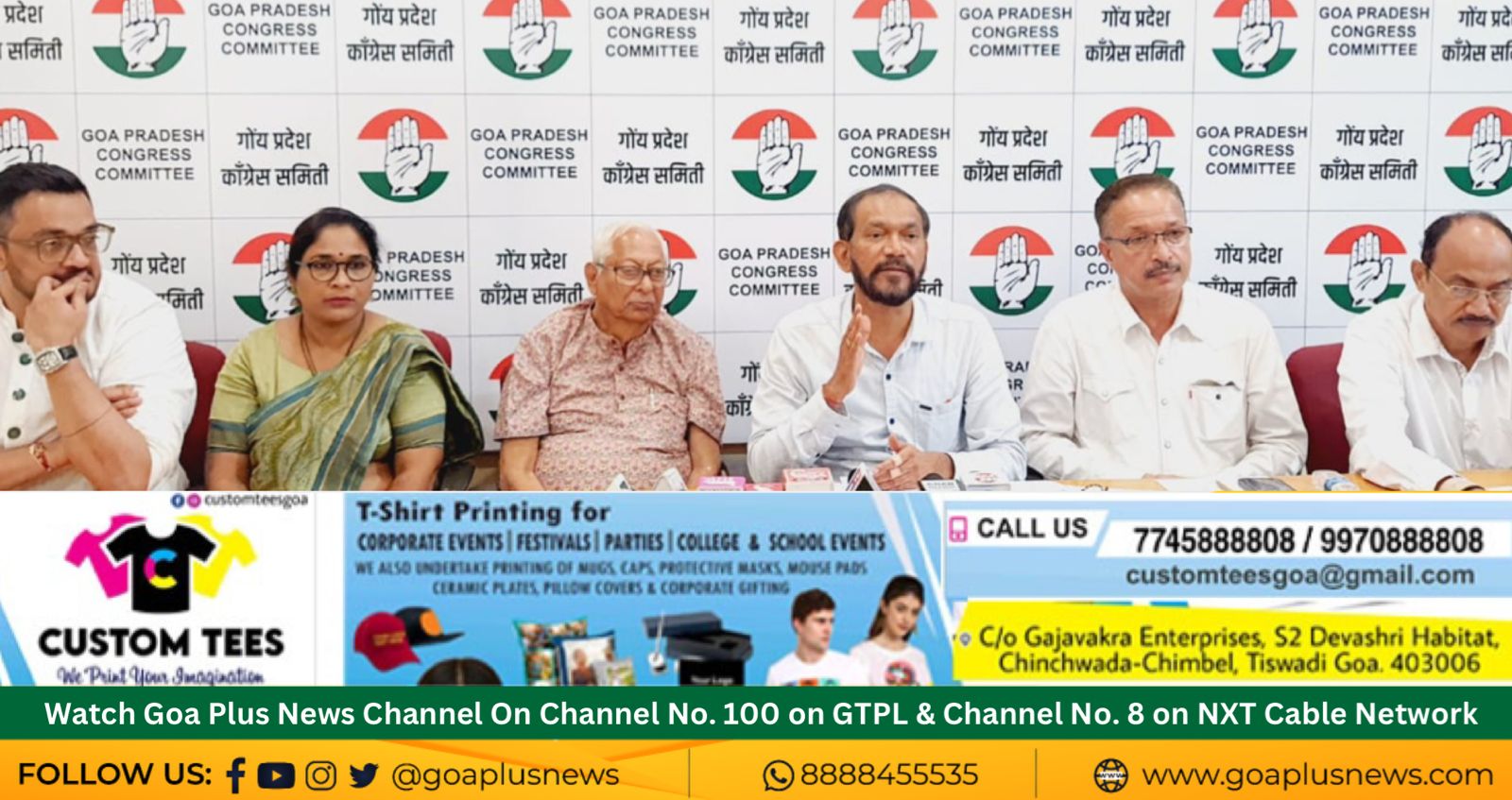 Panaji: Stating that BJP will not be allowed to divert attention from Adani and public issues, Congress leader Girish Chodankar on Friday demanded to declare 2011 caste census and conduct free census immediately, so the Bahujan Samaj gets justice in reservation.
In an apparent jibe at RSS, BJP and Modi government, he said that 'Women Reservation' should not become another Jumla like 'crediting 15 lakhs in account of every citizen'.
Chodankar on Friday addressed a press conference in the Congress House and demanded immediate implementation of the Women Reservation Bill.
General secretary Pradip Naik, Chairman OBC Department Nitin Chopdekar, former Dy Speaker Shambu Bahu Bandekar, Councilor & Block President Mapusa Shashank Narvekar and Block President Siolim Parvati Nagvekar were present.
Girish Chodankar said that a special session of parliament was called and all were kept in the dark about the business. "People should understand why BJP is doing this, it is only because whenever our leader Rahul Gandhi raises the voice against Adani, BJP tries to divert the attention of the nation," he said, adding the BJP government is not ready to debate on it.
He said that the Women's Reservation bill was tabled by Congress in the past, but couldn't pass it due to lack of support from other parties.
"There are 90 secretaries in the Union government, out of which only three belong to OBC, Rahu Gandhi disclosed this while speaking in Lok Sabha, this is the situation even with the implementation of reservation. Secondly, there are 32.58 lakhs central government employees, out of which only 7 lakhs are OBC," Chodankar said, adding out of the 7 lakhs, 6.4 lakhs are working in 'C' class.
"Hence there is a need for a caste based census. We had done it in 2011. It is necessary to see the ground reality. In the present reservation for women there is no provision for OBC women," Chodankar said, adding, that OBC women should get a reserved quota in this women's reservation.
He said that Congress will not allow BJP to divert the attention from the Adani issue.
"Women should understand that this bill is only to hoodwink them. If not, the BJP government should declare the 2011 caste census and implement the bill immediately," he said.
"There should be socio economic caste census, but women reservation bill should not be kept pending. They should not make this another jumla like employment and bringing back black money," he said.
He said that ST people are being used for election purposes, but BJP has failed to give them political reservation. "Government is only giving them assurances and nothing is coming into reality," he said.
"RSS and BJP's DNA is anti-Bahujan Samaj and anti-women. "If not then they should make provision for OBC quota in this reservation," he said.
Former MLA Shambu Bhau Bandekar said that Congress always tried to give rights to women. "We started the work to empower women," he said, adding SC, ST and OBC should get reservation.
Pradip Naik said that when this bill is brought for gender equality, the government should work towards it by correctly implementing it and not by hoodwinking women.
Smt Parvati Nagvenkar said that it should benefit women. "Constitution has given the right of gender equality. Male-dominated politics can be erased with the passing of this bill," she said.
Shashank Narvekar said that OBC, quota is not mentioned in this bill. "All category women should be given representation. Implementation should be fast and not in 2030," he said.
"BJP had promised 15 lakhs rupees to every citizen, which we have not got. Now this should not be another trick to woo women voters. Bahujan Samaj is used for vote bank politics," he said.
Nithin Chopdekar said that caste based census has not been declared and BJP is not ready to do it. "BJP is just promising, in actual they are doing nothing," he said.