Create a "Care Centre" for persons with Autism & Give Them Reservations in Govt. Jobs, Make Public Places Accessible to Persons with disabilities- Yuri Alemao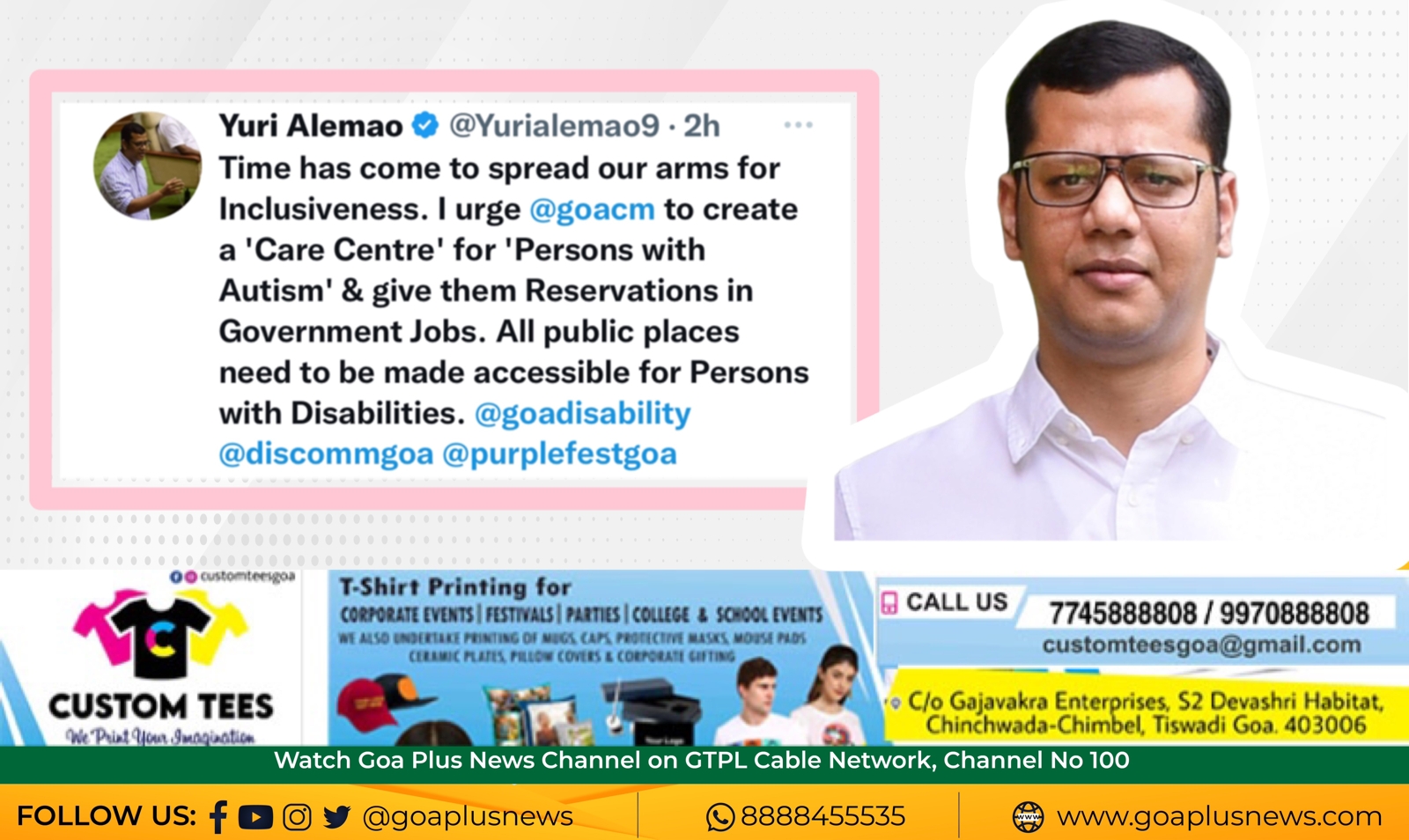 Panaji- The time has come to spread our arms for inclusiveness. I urge Chief Minister Dr. Pramod Sawant to create a "Care Centre" for 'Persons with Autism' and give them reservations in Government Jobs. All public places need to be made accessible for Persons with Disabilities, stated Leader of Opposition Yuri Alemao.
The Leader of Opposition issued a statement coinciding with the three-day Purple Fest- 2023 which begins in Goa from Friday, 6th to Sunday, 8th January 2023, and has expressed his complete solidarity with the Disability Rights Association of Goa. He has also appealed to Goa State Commission for Persons with Disabilities to remain vigilant at all times and not to allow vested interest to hijack their cause for monetary benefits.
Children with Autism need constant care and support. They get support from their parents, but their future becomes dark after the demise of their parents. A Care Centre with trained Care Takers and types of equipment is the need of the hour as we have a sizable number of Persons with Autism in Goa. Government must prioritize creating the Care Centre urged Yuri Alemao.
The government of India has notified Reservations for Persons with Autism in the Year 2021 and also identified categories of posts to be reserved for Persons with Autism along with other categories of Persons with Disabilities. Goa Government must adopt and implement the said Notification effectively, demanded Yuri Alemao.
I know some Persons with Autism who are extremely intelligent in certain subjects. Some of them have completed their graduation and are waiting for Employment Opportunities. Government must provide them with Reservations in Government Jobs which will help the Persons with Autism to remain engaged and earn their livelihood which will help them when they lose their parents and close relatives who took care of them as children, said Yuri Alemao.
I also appeal to the Chief Minister to set a Timeline to make all the Public Places in Goa accessible to Persons with Disabilities. Government must reserve seats in Public Transport, Parking Spaces at Public Places, and create Sports and Cultural infrastructure for Persons with Disabilities demanded Yuri Alemao.
I feel sad that some Opportunists are trying to hijack the cause of the "Persons with Disabilities" for monetary gains. Unfortunately, attempts are made to earn kickbacks and commissions from the events organized for the benefit of Persons with Disabilities. We should treat 'Special Persons' in a 'Special Way' with respect, dignity and honor said Yuri Alemao.