Goa TMC lambasts the BJP-led government for abdicating its responsibility of protecting the Mhadei River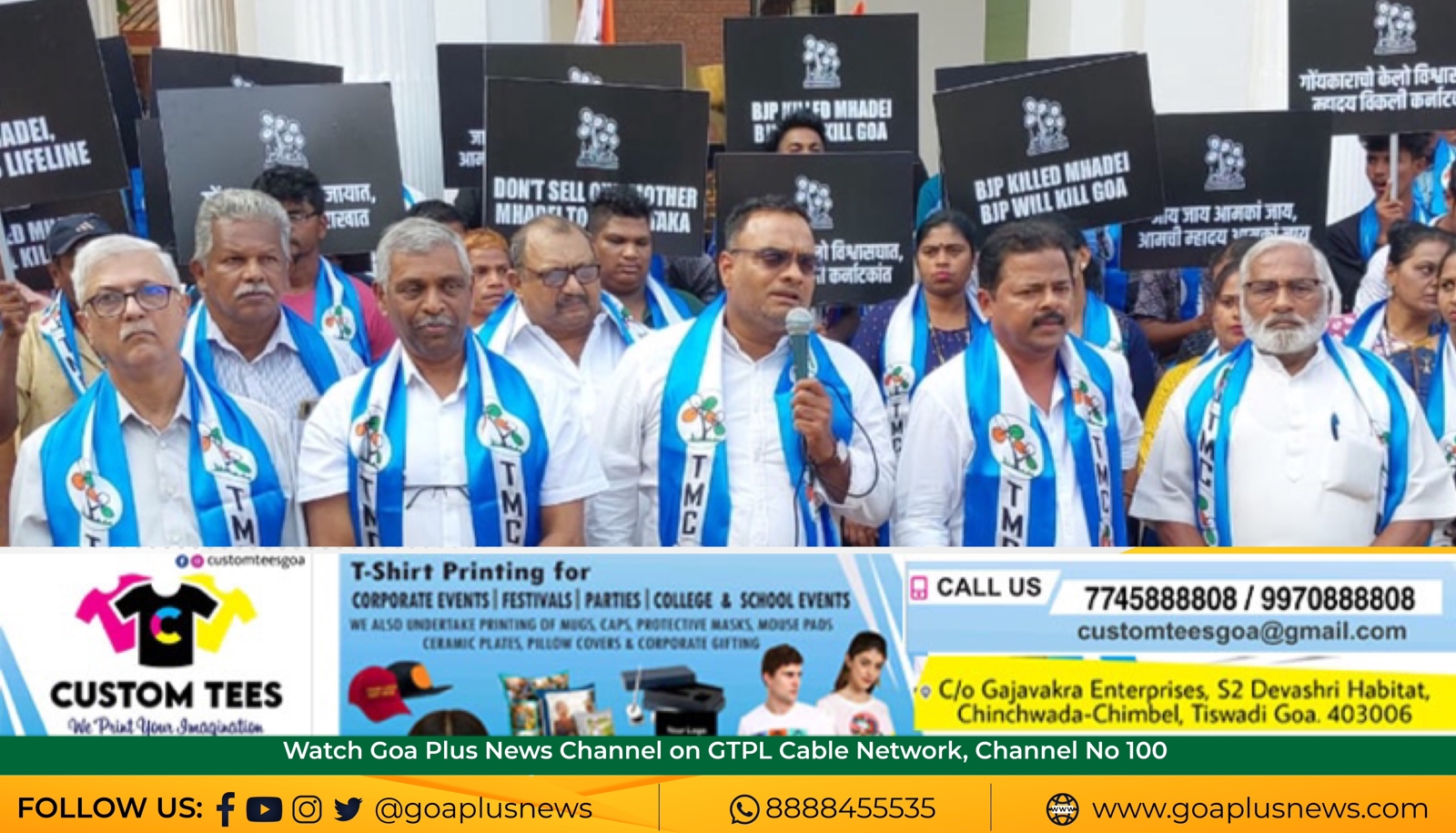 Panaji: In a very strong message today, Goa TMC staged a protest against the Mhadei River water diversion. Taking part in the protest in Azad Maidan, Panaji, Goa TMC Joint Convenors Mariano Rodrigues and Samil Volvaiker, Goa TMC Chairman-North, Goa Rajendra Kakodkar, and South Jorson Fernandes, along with Goa TMC General Secretary Rakhi Prabhudessai Naik and Media Coordinator Trajano D'Mello, came down heavily on the BJP-led government for destroying Goa's environment and its water resources.
Thanking environmentalists and non-profits for their continued fight to save Mhadei River, Goa TMC Joint Convenor Samil Volvaiker said, 'We saltue Rajendra Kerkar and Nirmala Sawant for their dedicated service to save our Mhadei river and for highlighting how important the river is for Goa's survival.
Exposing the BJP-led government both at the centre and state level, Volvaiker said, 'The BJP government has betrayed Goenkars by unleashing injustice on Goa's mother, the Mhadei river, they are only concerned about their political gains and are selling Goa for the sake of electoral politics.' He further added, 'It is Goa and its people who have elected these MLAs and Ministers, and now they are prioritizing their vested political interests instead of protecting and fighting for our motherland. I urge one and all to come together to save our Mother Mhadei who the BJP government is selling for votes!'
Bringing to the fore the consequences of any diversion made to Mhadei River, Goa TMC South Goa Chairman, Dr. Jorson Fernandes said, 'Global warming and climate change have a lasting impact on the already fragile ecosystem of Goa. Goa needs to maintain the natural flow of the Mhadei and its tributaries to further environmental balance. If the flow of freshwater is restrained or tampered with, it will lead to saltwater intrusion, which will deteriorate and impact marine life.' Adding on, he said, 'The BJP government is trying to make Goa motherless by abdicating its responsibility of protecting the Mhadei river. If the project is given a green signal then it would come at the cost of Goa's environment, ecology, wildlife, and people at large. The diversion would harm the sensitive ecology of Goa and affect its water supply for drinking water and irrigation.
Launching a scathing attack against the Pramod Sawant-led BJP government, Goa TMC General Secretary Rakhi Prabhudessai Naik said, 'Before Goa Assembly Polls 2022, the BJP peddled the jumla of "Har Ghar Jal" and manipulated the reports, claiming that they have provided 100% water connection to get more votes. Drawing a false image of Goa, they claimed the state wasn't water-deficient.' She stressed, 'Now that the Karnataka Assembly Election 2023 is fast approaching, they want to hand over our Mhadei river to the BJP-led Karnataka government. They are ready to sell everything. This is nothing but a pre-planned conspiracy!'
Pointing out the illegalities of the BJP-led government, Goa TMC Media Coordinator Trajano D'Mello, while highlighting many charges, said, 'The BJP government has destroyed Goa since 2012, the disastrous measures taken by the BJP government in Goa, including the mining ban that left lakhs of Goenkars jobless, increased casinos making Goa a sin city, the double tracking project that brought in coal pollution, and handing over Goan rivers to the centre are a few instances of how the BJP has ruined Goa.' He further added, 'Now the BJP government wants to squeeze Goa of its water resources as well.'
Sounding a clarion call, Goa TMC Joint Convenor Mariano Rodrigues said, 'We are ready to sacrifice everything to save the Mhadei river. I request every Goan to join in the fight against the BJP government's attempt to destroy Goa's environment. He further added, 'BJP government has failed to protect Goa's ecology, environment, and welfare of the people. Rivers of Goa must be protected on priority.'