Congress will continue to be people's voice: Lobo
Chidambaram appeals young generation to take responsibilities, We will be vibrant opposition party in Goa: Patkar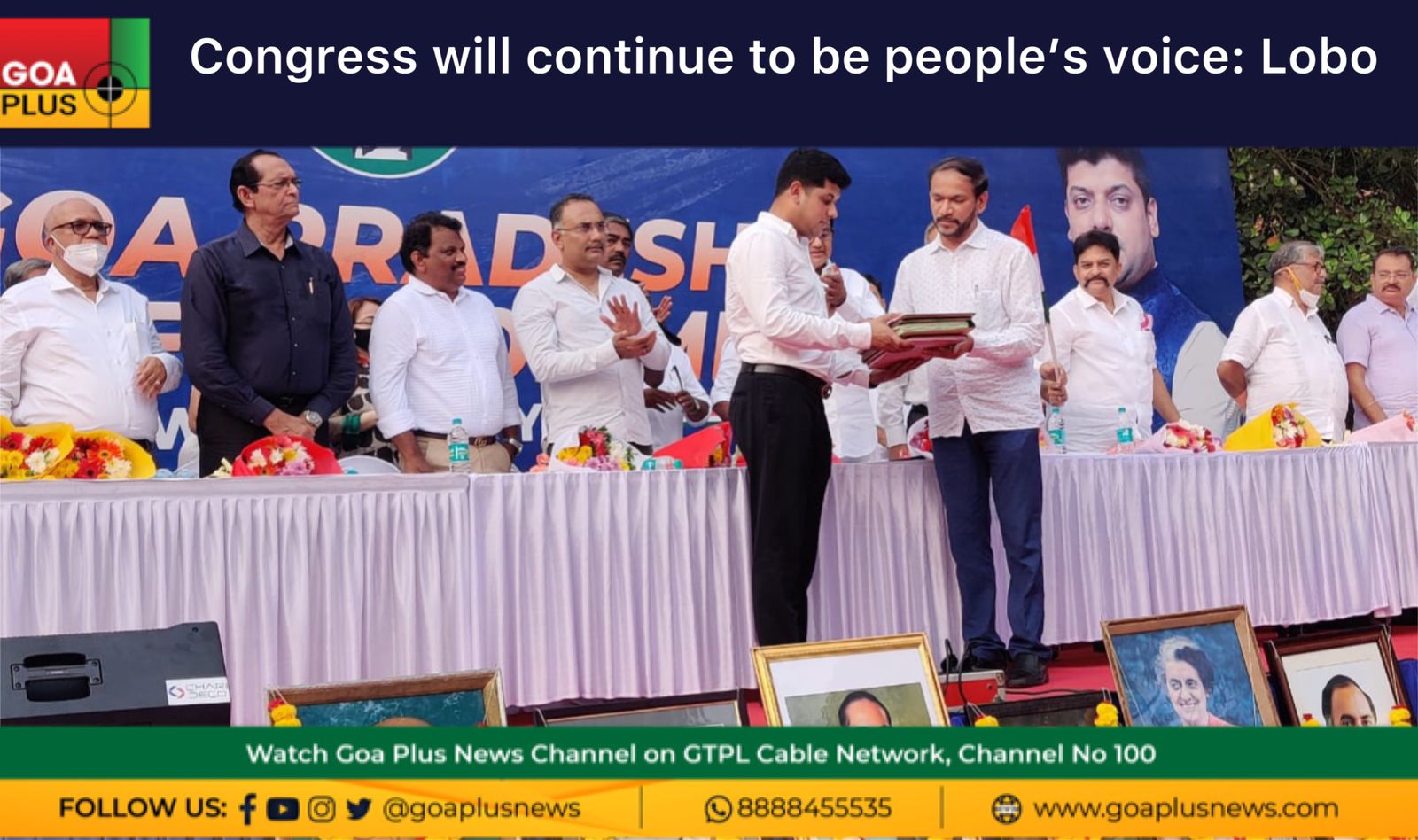 PANAJI: Promising to the people of Goa that Congress will continue to be their voice, Congress Legislative Party leader Michael Lobo on Monday said that revival of the party along with raising peoples issues will regain the trust to achieve goals.
Lobo was speaking after inducting Amit Patkar as President of GPCC. The induction ceremony of newly appointed President of Goa Pradesh Congress Committee Amit Patkar, Working President Yuri Alemao, District Presidents Viren Shirodkar and Savio D'Silva held on Monday at Tonca, Miramar.
AICC Senior Observer P. Chidambaram, AICC In-Charge Dinesh Gundu Rao, CLP leader Michael Lobo, South Goa MP Francisco Sardinha, former Chief Minister Digambar Kamat , Working President and MLA Yuri Alemao, MLA Alexio Siquiera, former President Girish Chodankar, Prakash Rathod, Adv.Ramakant Khalap, Youth President Adv. Varad Mardolkar, Mahila President Bina Naik and Congress leaders were present on the occasion.
Michael Lobo said that people of Goa wanted change as they wanted a government who can listen to them. "But due to a split of votes this could not happen. People came to know about their 'decision' after the results." He said.
Lobo said that those who left Congress and joined 'new dawn' will have to be brought back to the party fold and make Congress strong.
"We need to focus on making our blocks strong and revive our acts. We will have to face challenges in the near future and we have to prove ourselves during the panchayat and Loksabha election." He said.
He said that there are many issues in Goa, which need to be raised in assembly and on all platforms. "Let us revive blocks. Let us start a new beginning." Lobo said.
"People now have come to know that if voted in different directions then BJP comes to power. This should not happen again." He said.
Patkar said that the Mantra of the party should be to reach people. "We will need to visit people again and regain their trust. Let us build the party from the grass root level." He said.
"We will have a vibrant opposition party in Goa for a vibrant State." He said.
P. Chidambaram lamented that though 67 per cent people of Goa voted against BJP, but as the votes went in different directions the saffron party could win power. "BJP will not give anything new, but will repeat the last ten years." Chidambaram said.
P Chidambaram said that Congress is handing over the responsibility to the younger generation. "60 percent of the Indian population is under the age of 40 years. India will remain a young country for a decade to come. We need to entrust responsibility to the younger generation." He said.
He said that young people are coming for leadership across the world.
"We need to be firm and now the younger generation should take responsibility and should fight until their goal is achieved. " He said.
Girish Chodankar said that nobody should get demoralized as people trust Congress. "We will raise the issue of people and will fight for the good cause." He said.
He congratulated Amit Patkar and assured to fight as a team to take Congress ahead.
Kamat said that 'generation next' is future of Congress. "Karykartas (party workers) are backbone of Congress. Though we are not in power for last ten years, our karykartas remained firm and worked with unity." He said.
Rao said that a new beginning is taking place. "We have gone through difficult times, but have not lost our spirit. Today we are stronger than before." He said.
"Now people are realizing that only the Congress party can defeat BJP. We will be a vibrant opposition in the State.
Senior Vice President M K Sheikh compered the program. While vote of thanks was proposed by Yuri Alemao.Vice president Dr. Pramod Salgaokar welcomed the gathering.