Congress stages protest against murder of 8 farmers in UP and illegal arrest of Priyanka Gandhi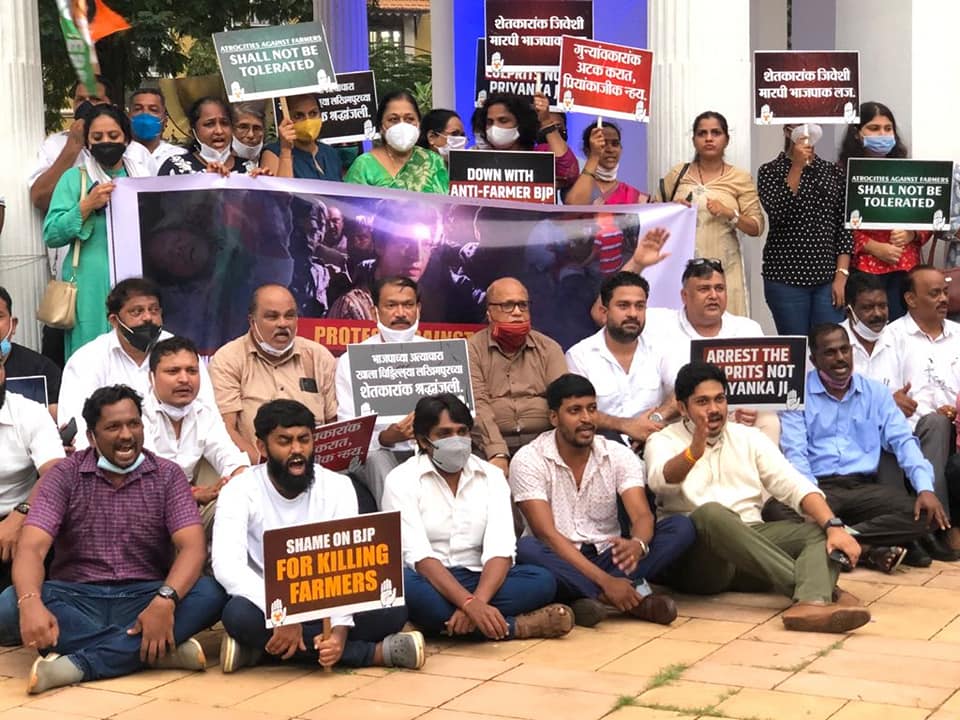 Panaji – BJP Government under Prime Minister Narendra Modi has no respect for the Farmers. The insensitive BJP is now all out to Kill our Annadatas. We demand immediate arrest of the Union Minister of State Ajay Mishra and his son for crashing 8 farmers under his car and condemn the illegal arrest of Congress Leader Priyanka Gandhi stated GPCC President Girish Chodankar.
He was speaking at the Protest organized by Congress Party, Goa Youth Congress and Mahila Congress at Azad Maidan to condemn the killing of 8 farmers in Uttar Pradesh and the subsequent arrest of Priyanka Gandhi.
It's almost a year now that farmers are on the road demanding repeal of the anti- Farmers Law passed by the BJP Government. Unfortunately, the BJP Government is not responding to the demands of our farmers. I strongly condemn the killing of 8 farmers in UP and the arrest of our leader Priyanka Gandhi. I compliment her and MP Dipender Hooda for their bravery on their way to Lakhimpur to meet bereaved families of the farmers said Leader of Opposition Digambar Kamat.
Youth Congress leader Varad Mardolkar accused the BJP Government for being dictatorial and charged that BJP has murdered democracy in the Country.
Mahila Congress President Beena Naik said that the viral video has exposed the shameful act of the Police under BJP's Yogi Adityanath Government manhandling Priyanka Gandhi. This shows that BJP has no respect for women. She also condoled the death of the farmers.
Congress Leaders Vijay Bhike, Rudolf Fernandes, Tulio De Souza and others also condemned the UP Police and demanded action against all those responsible.
Hundreds of Congress workers gave slogans against BJP Governments anti-farmers approach and demanded that anti- farmers law must be repealed immediately.