NSUI Goa Delegation Met Governor to discuss illegalities and irregularities issues happening in Goa University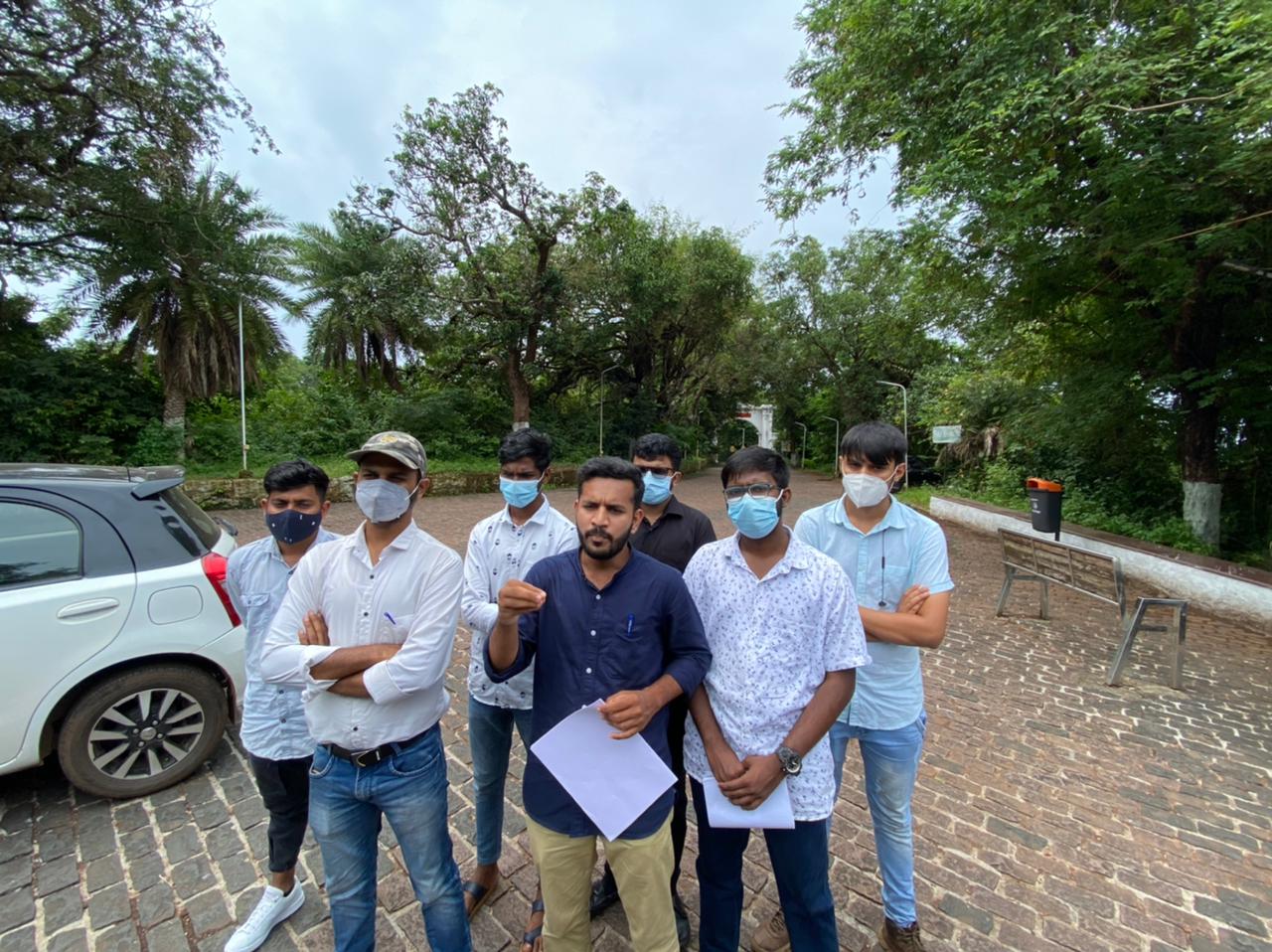 Panaji: National Students' Union of India (NSUI) Goa is a student organization working for the welfare of students. Met governor to discuss illegalities and irregularities issues happening in Goa University
NSUI Goa President Naushad Chaudary while speaking to media said There is a Scholar Research Associate named Dikansh S. Parmar from Surat, Gujarat. Who is working at Goa University with Dr. Nitin Sawant, under a project "Diversity of Herpetofauna of Goa, Maharashtra and Karnataka" since 3rd January 2020. He was appointed on merit and had secured highest points at the interview.
Since his appointment, He have been working hard putting in almost 15 to 17 hours daily and the testimony to this are the five research manuscripts and one book entitled "Snakes of Goa" submitted to Dr. Nitin within one year of his joining on the project. Hiswork has novel findings including the first record of genus Hemiphyllodactylus and a new species of gecko.
It is disheartening to inform that PI Nitin Sawant tried to serve him a termination letter with false allegations and without any show-cause notice. Also, in the appointment letter, it is clearly stated that "your appointment may be terminated with one notice if your work is found unsatisfactory".
Besides him, the other Project Associate appointed in this project Mr. Gangadhar Tambre has not contributed to a single research paper. In spite of his worthy contributions, He was given a termination letter by the PI. When he approached the then head of the Zoology department Prof. R. Roy who declined to accept his complain and instructed the Zoology office not to receive any correspondence from him . When He appealed against this to the higher authorities, a one-member committee was formed by the then VC to enquire the matter.
The member appointed on the committee Prof. S. Tilve from Chemistry department has been completely biased. Instead of discussing the reasons mentioned in the termination letter, he shifted the focus in a totally different direction and falsely justified his termination.
The said assistant professor Nitin Sawant has given the authorship rights of the paper written by this Research Scholar Dikansh Pamar to his wife which is totally illegal and against the rules set by the UGC .
His wife was not even the part of the project and taking away the intellectual property and rights of the paper is totall illegal .
When the said researche scholar objected about this , he was terminated on false allegations by the assistant professor Nitin Sawant which is endorsed by the Registrar Of Goa University. Chaudary appealed the authorities to revoke his termination and initiate atleast impartial 3-Member Enquiry Committee so that he can get justice. He is ready to provide all the required evidences to the impartial Committee or even before the members of Executive Council of Goa University if so desired.