BJP's double engine has failed: Kanhaiya Kumar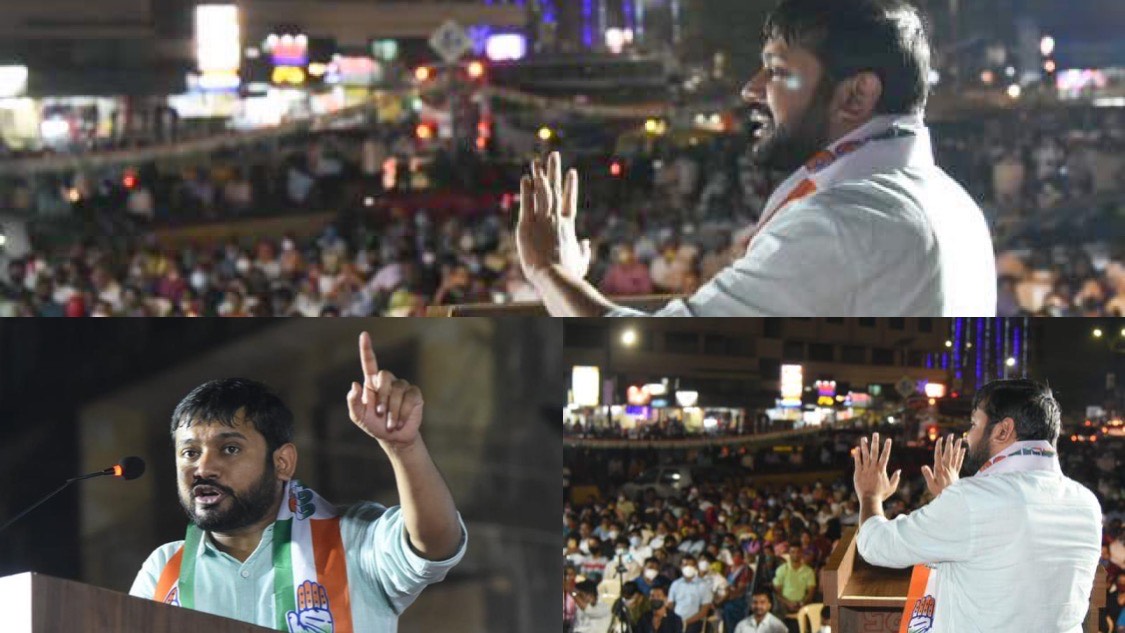 PANAJI: Attacking Prime Minister Narendra on various issues, Congress young leader Kanhaiya Kumar on Thursday said that the 'double engine' of BJP has failed to give employment to youths and address issues of bahujan samaj. He was interacting with the Bahujan Samaj of Goa in the 'Bahujan Samvad' programme at Mapusa. "Had the double engine of BJP functioning well, then youths of Bihar would have not entered Goa in search of jobs. BJP is ruling in Bihar and also at center, then why both of these engines have failed." He questioned. He also said that double engine has also failed to restart mining of Goa and also provide employment to the youths. "BJP here is doing false propaganda of ten years of power and development, that too using money of taxpayers by displaying banners on electricity poles." He said.  Goa Observer in Charge of Congress P. Chidambaram,  , GPCC President Girish Chodankar, Amarnath Panajikar, Vijay Bhike, Shambhu Bhau Bandekar, Chandrakant Chodankar, Vithu Morajkar, Amey Korgaonkar, Babi Bagkar, Sangeeta Parab, Sandesh Khorjuvekar, Youth Congress President Adv. Varad Mardolkar, Saish Aroskar, Spokesperson Tulio Dsouza, Sudin Naik, Feroz Khan and others were present on the occasion. "BJP has brought a trend in democracy to divert the issues of people. Its model of power is to get votes of bahujans and give benefits to crony capitalist friends of Modi. He wants to sell the nation to his friends." He charged.  Attacking Modi, Kanhaiya Kumar said that the former has bought an airplanerupees 8500 crores and a vehicle costing 16 crores. "People are taking responsibility for paying tax, containing the spread of corona. But what the government is doing." He questioned. He said that the government has finished the public sector, which is against the bahujan samaj. "Constitution has given us equality and Congress has given us freedom, liberation. Congress works in the interest of people and I am confident that it will address the issue of unemployment once in power." He said. He appealed to save the foundation of democracy. "we all need to introspect that a party which didn't take part in the freedom struggle of India, will never work in the interest of the nation. It tends to sell the nation to their crony capitalist friends." He said. Shambhu Bhau Bandekar said that bahujan samaj should see that Congress wins with majority as it has always worked in their interest. 
 North Goa District president Vijai Bhike said that bahujan Samaj has contributed for liberation of Goa, to preserve the identity of Goa. "Congress is the only option for people of Goa." He said. Sudhir Kandolkar said that if bahujan Samaj remains united then all the demands can be passed. " We need to remain united and work in the interest of the state and nation.
Ramkrishna Jalmi, Vithu morajkar, Rajan Ghate spoke on the occasion. Mahadev Khandekar welcomed the gathering. Amey Korgaonkar proposed  vote of thanks and Amarnath Panajikar compered the program.