AAP's Goa desk in-charge interacts with prominent women of Goa's civil society in Dabolim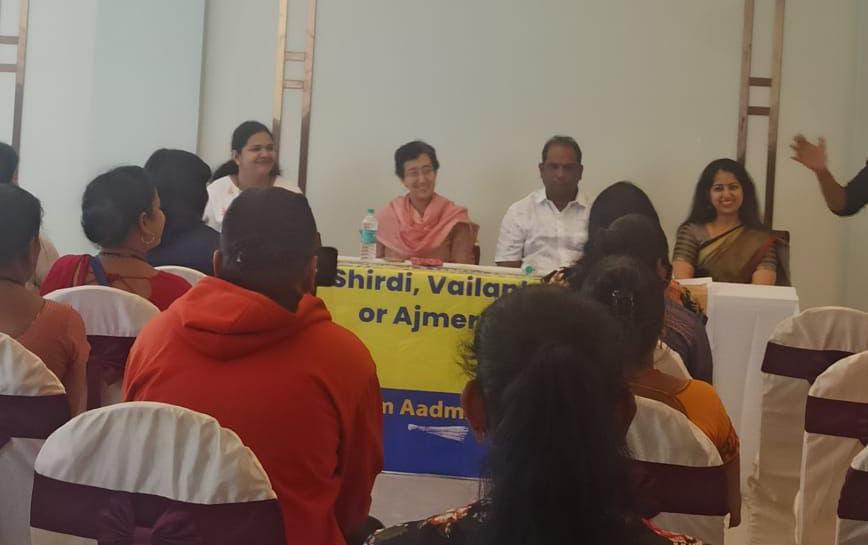 Panaji: Aam Aadmi Party desk in-charge Atishi interacted with prominent women of Goa's civil society in Dabolim on Wednesday, along with AAP Dabolim leader Babu Nanoskar.
While addressing the gathering Atishi said, "Women make up 50% of the population, in the state. The women run the house and take care of the family, but they are still dependent on the men of the house. No matter how small or big a decision may be, it is usually made by the men of the house. Women have their small wishes and aspirations but they are financially dependent on their fathers, husbands and brothers. If AAP comes to power, no woman in Goa will have to be financially dependent on their fathers or husbands for small needs. This scheme will empower women financially. The Kejriwal government's 'Rs 1,000 scheme for women' is meant to make women financially independent".
She said, "Why do we vote? As voters, we expect our elected representatives to work to improve education, hospitals, and other basic facilities. Parties come and go; leaders come and go but our lives don't change. Within five years, we see our elected official driving in big cars, building a bungalow, and opening a Swiss bank account. Why does this happen? Because Goa's MLAs are only concerned with their advancement. That's why we see party-hopping news every day".
Atishi appealed to the women present at the meeting to come together and change the fate of Goa. Goa needs honest governance and only AAP will be able to provide it. She said, "In Delhi, lakhs of people have been receiving zero electricity bills for the last several years. This was possible because of Arvind Kejriwal's vision. Women who cater to their families and their needs, take no time to take care of themselves. However, the Kejriwal government's mohalla clinics have changed this phenomenon in Delhi where thousands of women receive free medical services. All parents want their children to receive a quality education, but the Goa government has failed to provide a good education infrastructure. They have even failed to create job opportunities. On the other hand, Kejriwal promised employment in each house and unemployment allowance till one get employed, if AAP voted to power.
AAP Dabolim leader Babu Nanoskar said, "Since the last six months, the women registered under the Griha Aadhar scheme haven't received their monthly allowance. Even the girls who applied for the Laadli Laxmi scheme haven't received their money. We will ensure that a monthly allowance is provided in the first week of the month if AAP is voted to power".
He further said, "There are many political parties that announce several schemes ahead of the elections. We are not one of them. We study first, then announce. Kejriwal is a man of words. AAP will deliver what it promises".