TRUTH TRIUMPHS! DELHI'S LITTLE FLOWER CHURCH PRAISES KEJRIWAL'S INTERVENTION: AAP Leaders
POLITICAL SMEAR CAMPAIGN TO PROTECT BJP EXPOSED
I am offering a ticket to Churchill and Family to visit Little Flower Church: Captain Venzy Viegas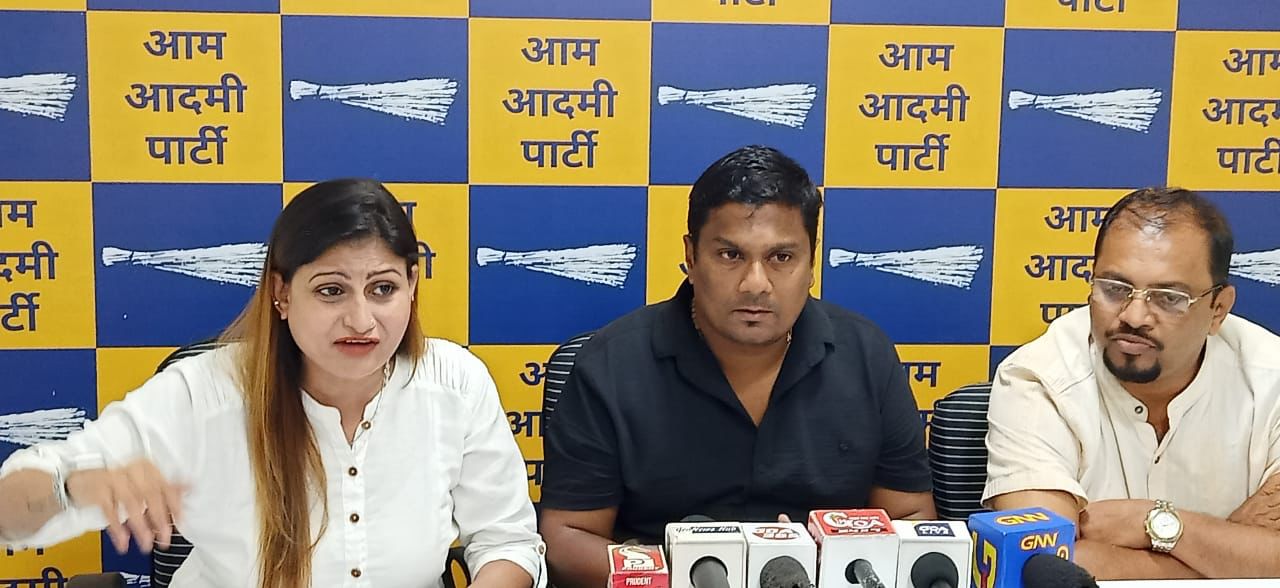 Panaji: Aam Aadmi Party vice president Captain Venzy Viegas stated that finally truth triumphs in the case of Delhi's Little Flower Church demolition; this is after Archbishop Kuriakose Bhalangikuran thanked AAP national convenor and Delhi CM Arvind Kejriwal for his timely intervention and for providing a temporary prayer centre.
While addressing the media on Wednesday he said, "Many politicians have been spreading false information that AAP is involved in the demolition of Delhi's Little Flower Church. Benaulim Churchill Alemao along with his supporters visited the Delhi Church father and politicized the issue to get the limelight. I am ready to provide tickets to Churchill and his supporters to celebrate Christmas this time in Delhi".
He further said, "Last week AAP's Goa delegation went to meet Archbishop to follow up the issue. We interacted with him and we got to know how the Delhi Development Authority (DDA) under the guidance of the Central government demolished the structure without giving proper time to church people to seek legal advice. There were 200 police officials were deployed at the demolition site. The Father of the church told us everyone came to support us at the time of demolition. However, they were seen nowhere afterwards. Only the Kejriwal government followed up on the issue and promised every sort of help for facilitating the rebuilding of this Church and also for providing an atmosphere for the faithful. Archbishop thanked Kejriwal for his timely intervention and for assisting to set up a temporary prayer centre ahead of Christmas".
AAP vice president Pratima Coutinho said, "I really feel blessed to be working under Arvind Kejriwal. It was Kejriwal who followed up the case and kept his promise. After going to Delhi, we came to know that the matter at hand was initiated after receiving several complaints received from EK Peter, a former member of the same Church Trust. He is also a close aide of an ex- BJP MLA from Chattarpur. He took his help to get contacts in DDA and get the demolition order passed. Although this was done under the guidance of the BJP, everybody kept blaming the AAP. Finally, truth prevailed and political smear campaign to protect the BJP exposed".
"With impending elections in Goa and AAP making significant strides in trying to establish and enhance its voter base in Goa, the opposition is raking up the case once again to give a communal twist to a matter over which the AAP government in Delhi does not have much control over. Benaulim MLA Churchill Alemao who was absent on the ground for the last five years, now accusing AAP of the matter. He has no development agenda for the Goans, that's why he has been politicizing this issue to gain the limelight".
"St.Cruz MLA Tony Fernandes earlier said that he will collect money from all Christian MLAs and will provide it for the construction. Currently, his own party has been destroying the Old Goa heritage site by allowing illegal construction at the heritage site. Why he hasn't raised this issue? Why he is keeping quiet, in the Old Goa matter? I want to ask what is his contribution in building a temporary structure in Delhi?" questioned AAP minority wing vice president Gerson Gomes.