AAP takes out Mega Rozgaar Yatra in Velim, residents joined in large numbers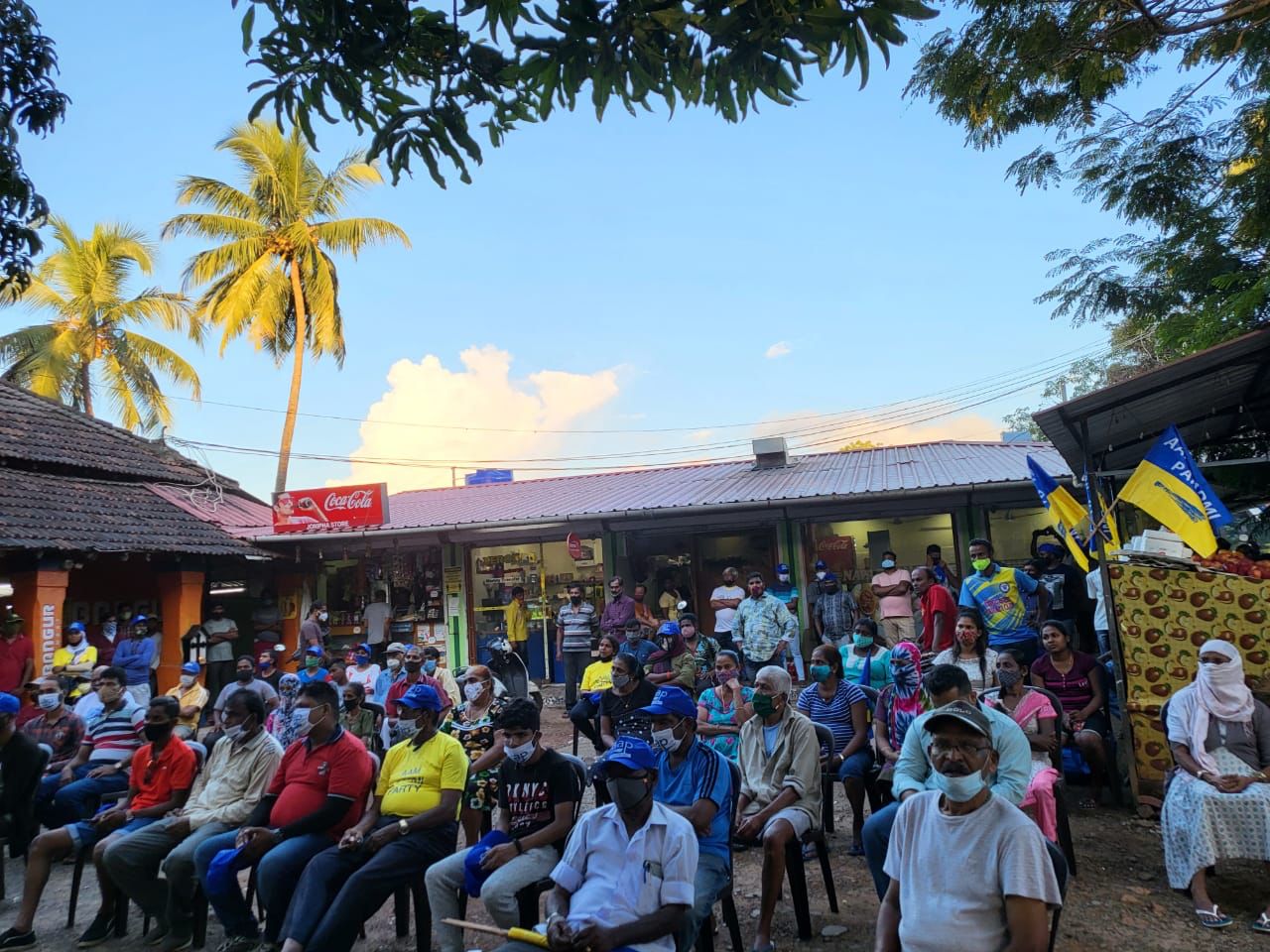 Velim: The Aam Aadmi Party today took out a Rozgar Yatra in Velim led by AAP Velim Assembly incharge Cruz Silva and AAP Goa General Secretary (Minority wing) Gerson Gomes. The Rozgar Yatra was attended by 100s of AAP volunteers who took out a rally in Velim. After the rally large booth meetings were held in Matimarod, Galli and Mugalli. The meetings were attended by large number of residents who were angry with the present Govt and their local MLA for not providing jobs.
Speaking to residents Cruz Silva highlighted how despite there being large Industrial estate there were no jobs for locals. While youth are looking for employment the Govt is fast asleep. The sitting MLA Felipe Neri Rodirgues flipped from Congress to BJP by saying he was going to bring development but what development has he brought? The residents of Velim want to know why the MLA has not visited them in 5 years and not cared where their children get jobs or if they are even employed 
Arvind Kejriwal had visited Goa last month and announced his guarantee of providing employment to every youth when the Aam Aadmi Party government is formed in the state. Arvind Kejriwal had promised that every youth will be given employment and  Rs 3,000 per month till the employment is provided. Kejriwal announced that 80 percent of jobs in the private sector will be reserved for the youth of Goa. Rs 5,000 would be provided monthly to families who lost employment due to shutdown of tourism and mining. AAP Government will further establish a Skill University in Goa on the lines of Delhi's DSEU. He further said that AAP will bring an end to nepotism in government jobs in Goa and the jobs will be made available to the common man.
"Arvind Kejriwal's promise to reserve 80% private jobs for the Goans is what is needed at this time! Goan Youth need jobs and are being hoodwinked by our MLAs and the BJP Govt. In Velim everyone voted agaisnt the BJP but Neri Rodriques joined the BJP after elections and has only worked for himself not for Velim" said Cruz Silva AAP Velim Assembly incharge
"Arvind Kejriwal has launched his Job Guarantee. Now the AAP volunteers are taking his guarantee to the houses of every Goenkars. Everyday they are holding registrations across 75 booths and Yatras in 2 Assemblies across the state. On an average five thousand people register for Arvind Kejriwals Job guarantee" said Gerson Gomes AAP General Secretary (Minority Wing).
Recently, AAP national convener and Delhi Chief Minister Sri Arvind Kejriwal has announced Job Guarantee, Goa is reeling under huge unemployment. BJP Govt has failed to create enough Jobs, now AAP is taking the issue of unemployment to every household with Kejriwal's Job Guarantee.