Congress shifts gear, switches to an aggressive mode, after focusing on reorganisation process.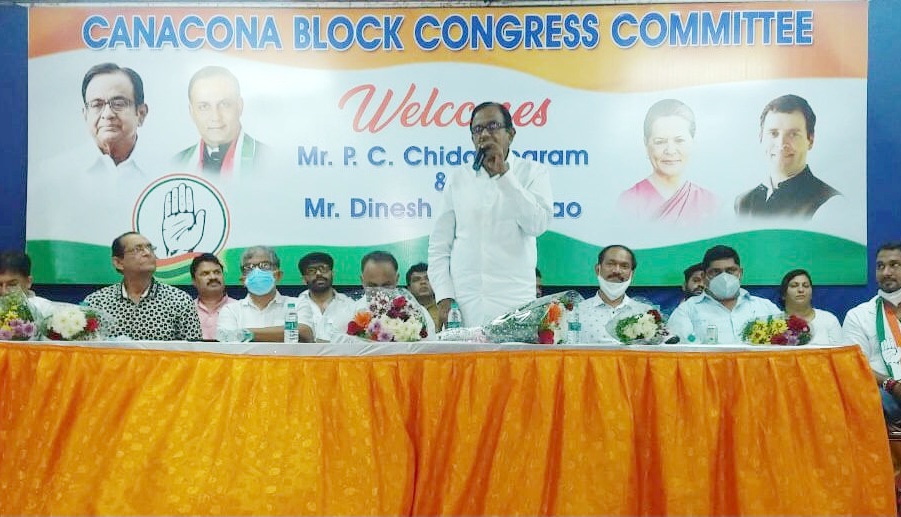 Panjim: The Congress Party in Goa have shifted the gear to get into the aggressive mode ahead of Goa Elections scheduled in February, 2022 after focusing on reorganisation process.
The state coordination committee of the party met today in Margao under the leadership of AICC Goa election incharge P Chidambaram, Goa Desk incharge Dinesh Gundu Rao and other observers. Goa Pradesh Congress Committee President Girish Chodankar, Leader of Opposition Digambar Kamat, former union minister Eduardo Faleiro, MP Francisco Sardinha, Working President Alexio Sequira, Campaign Committee Chairman Alexio Reginaldo Lawarenco, Sangita Parab, Elvis Vaz, Martha Saldhana, M. K. Sheikh, Goa Observors Prakash Rathod, Sunil Hanumantvar and Mansoor Khan. were also present for the meeting.
In a statement released here after the meeting, Chodankar said that Mr Chidambaram has asked the leaders and cadres of the party to start aggressive campaigning across the state unitedly.
He said that all the frontal organisations and various departments of the party have been engaged to work out a massive campaign in the state. The meeting decided to focus on involving all sections of society to fulfill common aspirations of people of Goa to defeat corrupt BJP Government. Chidambaram asked to focus on house to house visit.
"We will leave no stone unturned to ensure that all our candidates win, that too, with a comfortable margin," he said.
Chodankar said that the stress of the party is also to retain all those seats where it had won during 2017 election and target absolute majority with 23-26 seats and teach lesson to the backstabbers, who had left the party midway for their "self-development."
He said that Congress has began campaign offline and online through various platforms to reach out to the maximum people. Chodankar has appealed all those, who are in favour of good governance and defeating communal forces, to join hands with Congress.
Meeting also decided to consult people to have people's manifesto.
"We have taken the first step on virus of defection and it is for the people to accelerate it further. We want to get Goa rid of this virus of defection and corruption," Chodankar said.