AAP outraged as BJP Yuva Morcha uses  'cuss' word against Arvind Kejriwal
Fearing the BJP's fake factory would close, even Goa CM Pramod Sawant banded together to protect Bagga: Valmiki Naik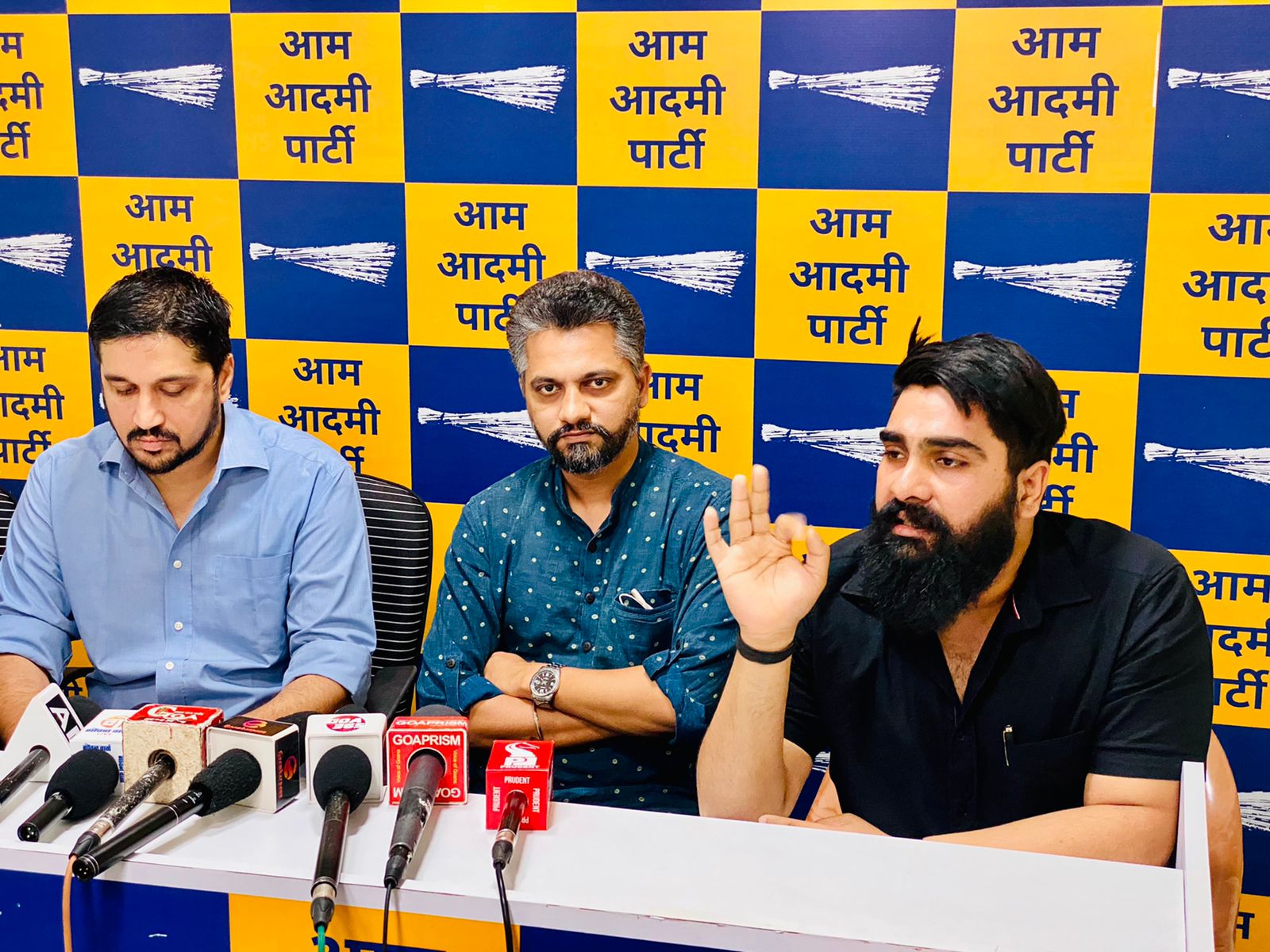 Panaji: Aam Aadmi Party on Sunday condemned the burning of Delhi CM and AAP national convener Arvind Kejriwal's effigy by the State BJP Yuva Morcha. In response to the State BJP Yuva Morcha's use of the cuss word against Arvind Kejriwal, AAP Vice President Advocate Surel Tilve stated that indecency has no place in democracy and civilised society.
A day after BJP's Tajinder Pal Singh Bagga was taken into custody by Punjab police and later released, chief minister Pramod Sawant on Saturday visited Bagga and his family in Delhi.
Reacting on this AAP Vice President Valmiki Naik said, "Despite the fact that Bagga is not a big leader, the BJP is still attempting to shield him at all costs. If Bagga is imprisoned, all BJP goons will think twice before doing anything unlawful or unconstitutional. They will begin to fear law and order, which will be disastrous for the BJP. Fearing that the BJP's bogus factory would close, Goa CM Pramod Sawant has joined forces with BJP leaders to protect Bagga".
Adding Naik said, "Putting aside all of the important Goa's issues, Sawant's visit to Bagga clearly states that the BJP regards such goons as heroes. Currently, the BJP has made Bagga's arrest an important issue in order to divert public attention away from issues such as unemployment, power outages, and water shortages, as well as to conceal their own failure".
He further said, "This is the first time a HC judge has heard petition in an urgent hearing at his home just before midnight. This is the first time an FIR has registered by one state's police against the Police of another state". (The Delhi Police registered an FIR against the Punjab Police cops, alleging abduction).
Siddesh Bhagat, National Vice President AAP Youth Wing said, "Goa's crime rate has recently increased. There are numerous other issues that require immediate attention. However, our Goa CM chose to visit Bagga, a BJP goon. The BJP is concerned about the growing popularity of the AAP and Arvind Kejriwal. That is why the BJP Yuva Morcha set fire to an effigy of Arvind Kejriwal in Goa".
Pujan Malvankar, Youth Wing President North Goa said, "A recent poll revealed the truth about the BJP party. 91 percent of people believe the BJP is the party responsible for riots across the country. 89 percent of people believe the BJP is a party full of illiterate goons, while 73% believe the AAP has the most educated and honest people".