02 Kerala Natives arrested for stealing bike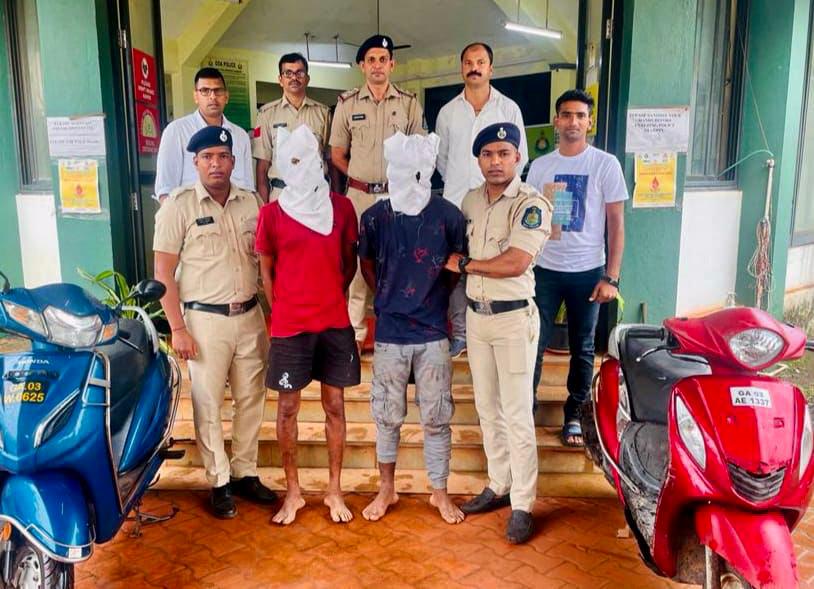 Panaji: A complaint was received from Mohan S/o Shankar Ambre, Occ- Business r/o H No. 144, Khorlim, Mapusa, Bardez Goa that on 07.06.2022 at Dando, Anjuna, Bardez Goa unknown accused person had committed theft of complainants Activa scooter bearing Registration number:- GA-03-W-6625 ,which was parked in an open parking place.
In this connection an offence was registered at Anjuna PS.
Immediately Anjuna Police team consisting of PSI Tejeshkumar Naik HC Vadudev Mahale, PC Mahendra Mandrekar and PC Rupesh Azgaonkar were deputed for investigation and through reliable source and and after gathering accurate information that the accused person was in Harambol, he was apprehended. The accused persons are identified as 1) Mr. Daniel Dos Sandos Avero, age 27 yrs r/o Fisherman Colony, South Kollam, Dist- Kollam, Kerala and 2)Mr. Arun Kunil, age 26 yrs r/o Chambaga, Tsazam, P.s. Kasaba, Callicut, Kerala. The stolen Activa scooter GA-03-W-6625 has been recovered.
During the course of further investigation one more Red Colour Fascino scooter bearing registration no. GA-03-AF-1337 has been recovered from them. Both
the accused persons are placed under arrest under section 379 IPC.
The case is under investigation under the supervision of SP North Shri Shobhit Saxena, and Shri Jivba Dalvi, SDPO Mapusa , and Pi Vikram Naik .