Youth Congress pays tribute to Siddhi Naik on her birthday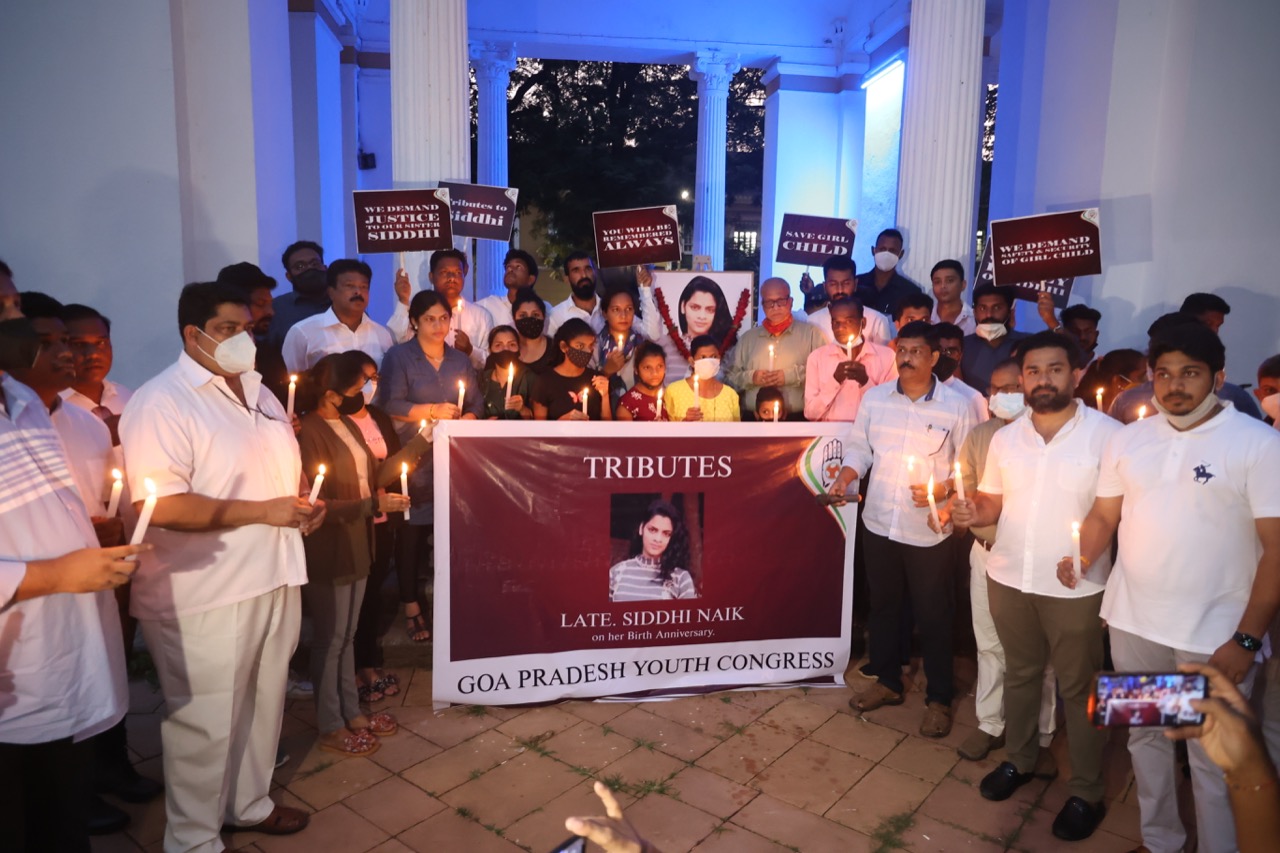 PANAJI: The Goa Pradesh Youth Congress on Friday paid tributes to the daughter of Goa Siddhi Naik, who was found dead on the beach in North Goa a couple of months back, on the occasion of her birthday. The parents and other family members of the victim were present in the tribute program organized at Azad Maidan-Panaji.
The leader of Opposition Digambar Kamat, MLA Alex Reginald Lourenco, Youth Congress President Adv.Varad Mardolkar, Mahila President Bina Naik, Congress leaders Amarnath Panjikar, Rudolph Fernandes, Uday Madkaikar, Archit Naik, Gautam Bhagat, and others were present on the occasion.
Speaking on the occasion Kamat said that the BJP government led by Chief Minister Pramod Sawant has failed to investigate the death case of Siddhi Naik thoroughly. "It even failed to preserve the viscera of the victim and send to the forensic laboratory to get the lead in this case. Chief Minister should tell people why they have taken this case lightly and not investigated properly." Kamat said.
He also said that law and order have collapsed in the state as every passing day crimes are recorded. "Domestic violence has increased and also murders are taking place. But the government is doing nothing to prevent them." He said.
MLA Lourenco said that Congress will be standing with family members of Siddhi Naik to seek blessings. "Government should investigate this matter properly and give justice."He said.
GPYC President Adv. Mardolkar said that government should make public the progress in the probe into the Siddhi Naik death case.
He said the BJP government headed by Dr. Pramod Sawant has failed in maintaining law and order in the state. "The way case of Siddhi Naik is being handled by government, it is evident that this government is not serious to give safety to the daughters of this land," Mardolkar said.
Bina Naik said that women are not safe in Goa as law and order have collapsed. "It is evident that government has failed to promptly investigate crimes and bring to justice the culprits." She said.