With only 8% Goans, MOPA airport exposes Govt's apathy towards locals: Vijai Sardesai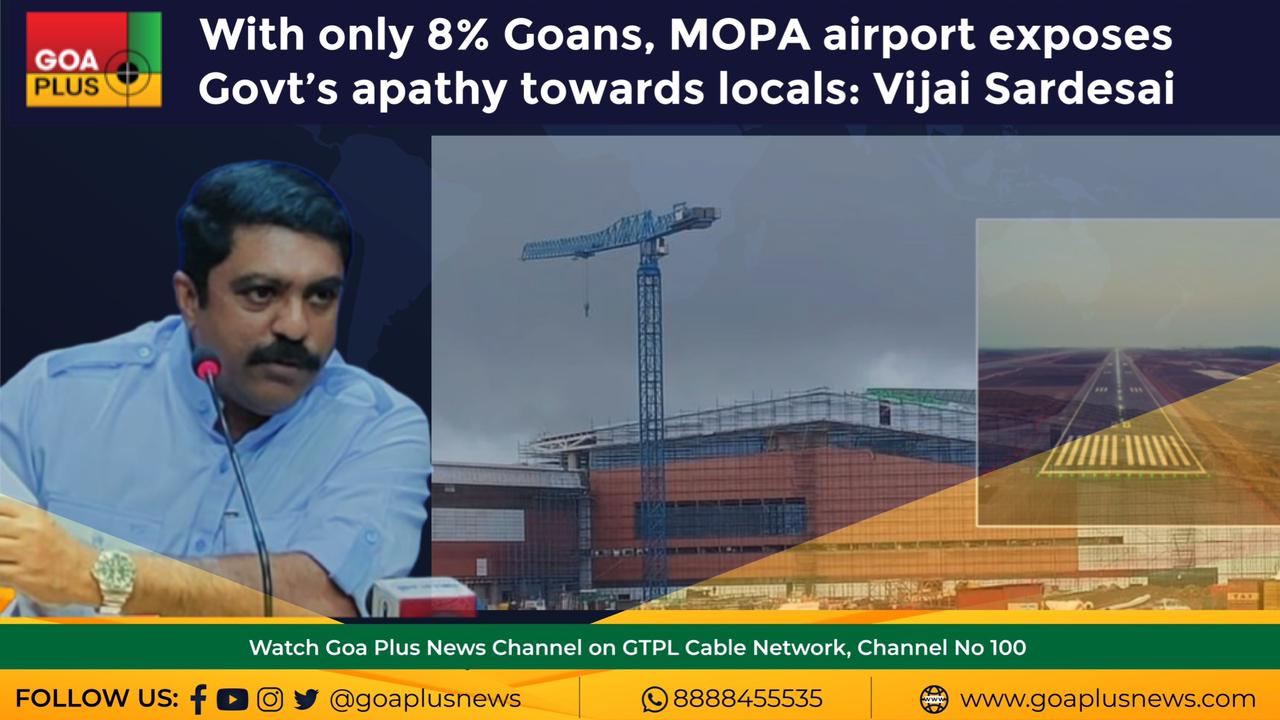 Panaji: ON 16th August CM says PM will inaugurate Mopa airport in October. This flagship project of BJP Govt has been delayed. Some in the Govt have said Mopa will be engine of growth & Goans will not have to go abroad for employment after Mopa comes
If you Google you will understand that industries ministers Mauvin Godinho has often made this statement & repeated this during debate on industry demands in the budget session of Goa legislative assembly. However, when it comes to employment the Govt has replied to an unstarred HAQ on 18/07/2022 &11/07/22 that 5198 persons are working at Mopa 8% of which are Goans (443) and of which 5% are from Pernem taluka.
We the Goa Forward Party have been demanding 80% reservation for Goans in private sector, not 8% as in the case of Mopa. The jobs which Goans have lost out to migrants include welder's fitter's helpers, operators, scaffolders, supervisors, painters, drivers, masons, carpenters along with dozens of managerial and engineering jobs. Any project that disadvantages and marginalizes Goans cannot be called a development project
So Mopa is an engine for whose growth?
Once commissioned, will you have more Goans speaking Konkani at Mopa than Heathrow in London? On 30th OCT 2021 then DyCM Babu Ajgaonkar promised job to every household in Pernem. Mauvin had said that after Mopa people will not have to go to London to work on airport
On June 8, 2022 CM says that 2 lakh jobs will be created within 2/3 years, for which continuous skilling and training are required. Pernem ITI is neither rated by state Govt was central Govt. It has only 140 seats. Has CM checked what skills are required for the 2lakh jobs that are group to be created? How much has he invested in ITI in Pernem & other Polytechnics to supply these trained youth? Has skill India worked for Goa?
Parrikar wanted GMR to take over Pernem ITI on PPP model. This CM has failed to implemented Parrikar's vision. Just like Mopa Area Development Authority (MADA) that will oversee land development near the airport, these should be a committee of experts to oversee human resource development of Pernem Taluka. Otherwise, it will be all from Sawantawadi.
These have been some who are not ruling who are talking of Goan Origin. This issue of employment must not escape their attention. We have a high unemployment rate (13.7i % in July) & it is Goa's biggest problem .it was as high as 27.5% in April 2021.I reiterate the demand for 80% Goans in private sectors.
You have failed to skill youth; PM's mission and you want to quickly inaugurate an airport and create a situation of fait accompli. Meanwhile law dept is studying my bill, which BJP ally in Haryana has already made into a law.