Union Minister Smriti Irani is a Pathological Liar- Girish Chodankar
Documents Prove that Irani Family has Stake in Illegal "SILLY SOULS" which sell Liquor, Beef & Pork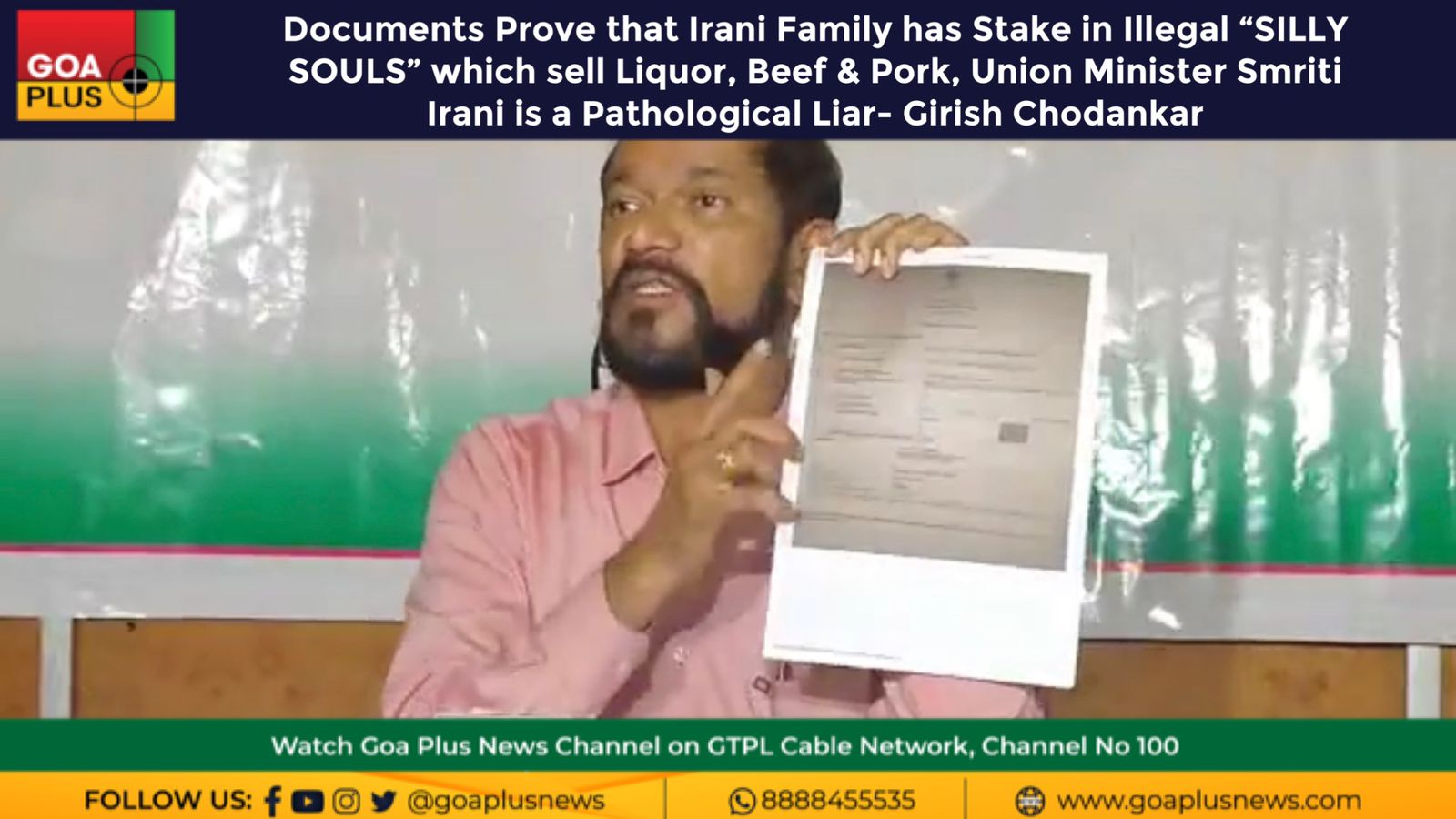 Panaji (Goa) – Documents available in public domain now prove that the illegal "Silly Souls" Bar & Restaurant selling Beef & Pork in Goa has a stake of Irani Family. Lies after Lies have now convinced the people of India that Union Minister Smriti Irani is a 'Pathological Liar', charged former All India Congress Committee Secretary & former Goa Congress President Girish Chodankar in a press conference held in Panaji today.
Referring to the GST Number 30AAIFE7039H1ZM which is alloted to Eightall Food & Beverages LLP registered in Goa with its operations address at House no. 452, Bouta Waddo, Assgao, Goa, Girish Chodankar pointed that the same GST number is identical to that of Silly Souls Cafe & Bar located on the same address. He said this cannot be a coincidence and two different firms cannot have one GST number in common.
The official records which are available in public domain also reveal that Smriti Iranis daughter Zoish Irani, son Zohr Irani and husband Zubin Irani and his daughter Shanelle Irani own two companies namely Ugraya Mercantile Pvt. Ltd and Ugraya Agro Farms Pvt. Ltd. The records also state that both these companies have invested in Eightfall Food & Beverages LLP. whose principal place of business address is same that of Silly Souls Bar & Restaurant, claimed Girish Chodankar.
The lies are now open and it leads to a conclusion that Irani Family were operating a Benami Business. I demand that Prime Minister Narendra Modi should immediately sack Union Women & Child Development Minister Smriti Irani who has no moral right to hold that portfolio. I also demand that Goa Chief Minister Dr.Pramod Sawant should break his conspicuous silence and come clean on the illegal benami business activity linked to Union Minister of BJP Government, demanded Girish Chodankar.
This must be the first incident when a Mother is claiming that her Daughter is a Liar. The whole world has seen that Smriti Iranis daughter Zoish Iranis interview with noted food critic Kunal Vijaykar in which she is on record claiming that "Silly Souls" is her restaurant. Although the interview did not highlight on "Bar", our Youth Congress team in Goa exposed the "Hidden Bar" of "Silly Souls". Nothing better can be expected from a Mother who holds "Fake Degrees" taunted Girish Chodankar.