THIRD DISTRICT IS VISION OF CONGRESS PARTY – YURI ALEMAO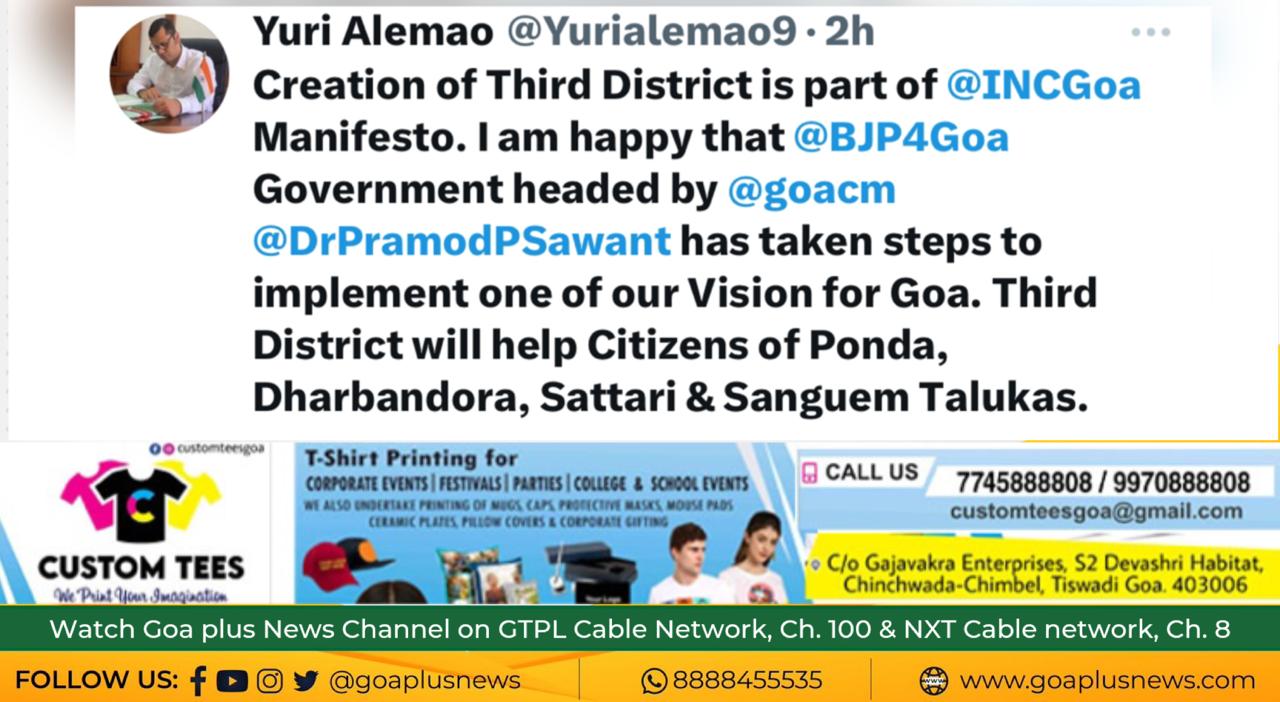 Margao – Creation of Third District is part of Congress Manifesto. I am happy that BJP Government headed by Chief Minister Dr. Pramod Sawant has taken steps to implement one of our vision for Goa. Third District will help Citizens of Ponda, Dharbandora, Sattari and Sanguem Talukas, stated Leader of Opposition Yuri Alemao.
Reacting to the decision of the Government to constitute to Committee to examine various aspects of creation of Third District, Yuri Alemao said that BJP is finally realising importance of Policies of Congress Party.
Our promise of creating Third District in Goa for effective administration and providing ease to Citizens was criticised and ridiculed by top BJP leaders in the past. Finally, they have realised that Congress Party thought correctly for betterment of Goa and Goans, claimed Yuri Alemao.
It is important that proper Resources of Infrastructure as well as Manpower are provided to District Administration by the Government. This will help in effective delivery of various services to the Citizens. People from Ponda & Dharbandora as well as part of Sattari & Sanguem Talukas will get benefits from the Third District said Yuri Alemao.
Congress Party had constituted a Committee of Experts under the Chairmanship of Scientist Dr. Raghunath Mashelkar to prepare Goa Vision 2035 Document. Sadly, the Report of the said Committee is shelved by the BJP Government since 2012. I appeal to Chief Minister to read the document and implement the recommendations which will help in revival of economy of the State, Yuri Alemao said.
Government should also study the Congress Party Manifesto of 2022 which was prepared based on Seven Focus Points of Goa Vision 2035 Document. The ideas from the Manifesto will help in transforming Goa into a progressive State, Yuri Alemao said.