MY EFFORTS COMPELLED GOVERNMENT TO SANCTION 5 CRORES TO CLEAR HAZARDOUS WASTE IN CUNCOLIM INDUSTRIAL ESTATE – YURI ALEMAO
I WILL NOT KEEP QUIET TILL POLLUTION ISSUE LAID TO REST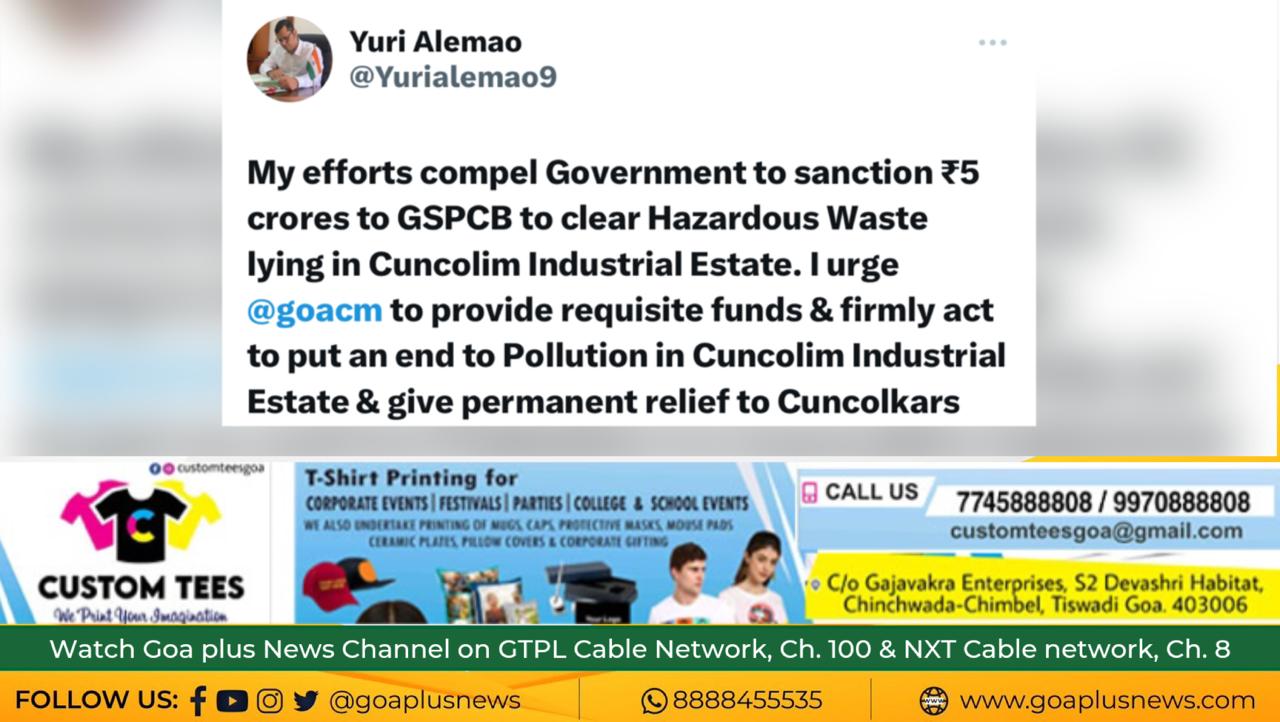 Margao – My efforts have finally compelled BJP Government under Chief Minister Dr. Pramod Sawant to sanction 5 crores to Goa State Pollution Control Board to clear Hazardous Waste lying in Cuncolim Industrial Estate. I urge Chief Minister Dr. Pramod Sawant to provide requisite funds & firmly act to put an end to Pollution in Cuncolim Industrial Estate & give permanent relief to Cuncolkars, stated Leader of Opposition Yuri Alemao.
Reacting to the statement made by GSPCB Chairman Mahesh Patil claiming that he has received Sanction Letter from Government to clear Hazardous Waste in Cuncolim, Yuri Alemao has said that he is keeping a watch on every movement of the Authorities. I am totally with the People of Cuncolim and I will not keep quiet till Pollution issue is pur to rest, he said.
After my relentless efforts, GSPCB woke up to conduct Pollution Audit of Cuncolim Industrial Estate. Hope this is not an Eye Wash. Cuncolkars remember how Orange Fox Industry was Shut & soon Opened. Chief Minister Dr. Pramod Sawant should understand that Chicanery will result in Law & Order problem, warned Yuri Alemao.
Something Fishy is found in overall approach of Authorities responsible to control Air & Water Pollution and Illegalities & Irregularities in CIE. Strict Action & Stringent Measures against Violators needs to be the focus of the Government to create Safe Environment in Cuncolim Industrial Estate, said Yuri Alemao.
Industries Department also needs to act in pro-active way to take action against irregularities in Cuncolim Industrial Estate. I am once again reminding Industries Minister Mauvin Godinho about Nodal Agency to be set up to coordinate between various Government Departments to control and stop violations by Industrial Units, stated Yuri Alemao.