The Remark of CM with reference to Striking Anganwadi Workers is Undemocratic & Unconstitutional: AITUC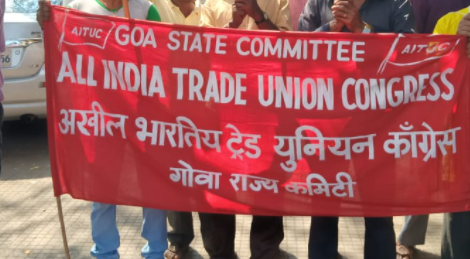 Panaji: The Goa State Committee of All India Trade Union Congress (AITUC)
Expresses its profound shock and surprise over the statement made by the Chief Minister, Dr.Shri Pramod Sawant with reference to the peaceful striking Anganwadi women workers who are on Indefinite Hunger Strike, at Azad Maidan, Panaji, Goa, demanding reinstatement of their services.
The statement made by the Hon'ble Chief Minister that "the Anganwadi workers should withdraw the strike and give in writing that they will not participate in the strike" is totally unconstitutional and undemocratic remark. The statement of the Chief Minister reveals the true mindset of the Government towards "Right To Strike". We wish to remind the Chief Minister that "Right to Strike" is a fundamental right, which eminates from the Constitution of India, Article 19 (1) (a) and Article 19(1) (b).
The "Strike" is a weapon of "collective bargaining" and is an effective instrument to convey the demands and the grievances to the erring employer or to those in the Authority. Article 19(1) (c) also confirms rights on citizen to form Association or Trade Union of their choice.
It may be recalled that the history of Trade Union Movement arose from
the circumstances where the workman had no say to voice their grievances or
bargain with their masters / employers. Thus "Right To Strike"and
"Right To Demonstrate" is a weapon of collective bargaining which eminates from Article 19 (1) (a) and Article 19 (1) (b) and the same must be respected by every Employer and Governments in power instead of trivilising he same.
We call upon the Government and the Chief Minister to reinstate back in the services of all the Anganwadi workers who are on an 'Indefinite Hunger Strike" at Azad Maidan, Panaji, Goa, without any further delay.