RTI Reveals BJP Govt. swearing in Ceremony costs 5.5 crores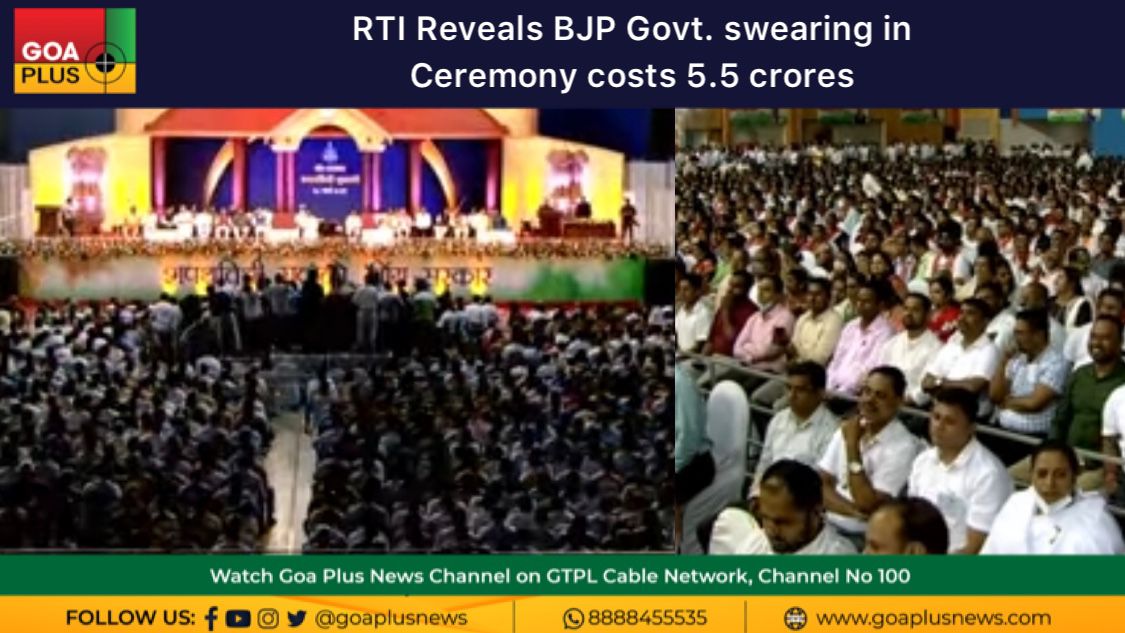 Panaji: The swearing in ceremony of Chief Minister Pramod Sawant and eight of his Ministers held on March 28th cost the taxpayers a whopping Rs 5,59,25,805 (Rupees five crore fifty nine laths twenty five thousand eight hundred five). This has been revealed in the information obtained by Adv. Aires Rodrigues under the Right to Information Act from the General administration department at the Secretariat.
The amount does not include the rental charges of Dr. Shyama Prasad Mukherjee Stadium at Bambolim where the function was held and the expenditure incurred on the advertisements released in the print, electronic media and on radio channels.
As per the file notings a note was moved on 22nd March 2022 by the General Administration department that the swearing in ceremony is scheduled on 28th March at 11 am at Dr. Shyama Prasd Mukerjee Stadium at Bambolum and outlining 12 logistic arrangements to be made. That note was approved by all the officials including the Chief Minister and Governor on the same day.
On 23nd March Striped Arlekar the Under Secretary of General Administration wrote a confidential letter to the Director of Information & Publicity to identify and allot the management of the Swearing-in-ceremony to an appropriate event management agency empanelled under his department.
In his reply on 24th March 2022, the Director of Information Dipak Bandekar informed the General Administration Department that considering the short time left for the swearing in ceremony it would not be possible to follow the requisite Codal formalities and was so forwarding a list of seven empanelled advertising agencies while suggesting that Vasco based M/s Vinsan Graphics was earlier appointed as Event Management Agency for Opening and Closing ceremony of Diamond Jubilee Year of Goa's Liberation and National Parliament conclaves by following necessary codal formalities.
The same day i.e. 24th March a note was moved by the General Administration department whether M/s Vinsan Graphics be appointed or whether to go for prescribed requisite Codal formalities. Chief Minister on 25th March approved that the management of the Swearing in Ceremony event be given to M/s Vinsan Graphics and accordingly on 26th March citing paucity of time the work order was issued entrusting the event management of the function to M/s Vinsan Graphics.
As per the documents obtained under RTI M/s Vinsan Graphics on 13th April sent their invoice for an amount of Rs 4,79,11,245 (Rs four crore seventy nine lakh eleven thousand two hundered and forty five ) which invoice was received by the government on the very same day. M/s Vinsan graphics later sent a revised invoice for an amount of Rs 5,59,25,805 (Rupees five crore fifty nine lakhs Twenty five thousand eight hundred and five) which invoice though also dated 13th April 2022 was received by the government only on 22th April 2022.
As per that invoice amongst the 32 items billed for, the Stage decoration cost Rs 1,87,00,000, the 500 Chairs for Special VIPs Rs. 3,00,000 while 3500 Chairs for other VIPs Rs. 8,75,000, lunch for 10000 persons Rs. 57,50,000 while Special lunch for 500 VIPs Rs. 4,80,000, a special buffet for 75 VVIPs Rs. 5,66,250 , two arch erected at the venue Rs. 16,00,000, Sound system Rs. 14,00,000, three red carpets Rs. 8,25,000, erection of pandal for public Rs. 19,00,000 and 2400 cut-outs placed on poles Rs. 68,40,000.
Adv. Aires Rodrigues has stated that from a perusal of the documents it was very evident that there was no transparency and accountability whatsoever in the holding of the event.
Alleging that the entire process of appointing the event management company was stage-managed and an eye-wash, Adv. Rodrigues has stated that with the work order given on 26th March it was physically impossible to put up such a mega show in under 48 hours.
Stating that this pompous function was reportedly being planned immediately after the declaration of the Assembly election results on March 11th, Adv. Rodrigues has stated that the delay in holding the swearing in ceremony was to give M/S Vinsan Graphics time to put the show together.
Further stating that the public have to benefit on all money spent by the State, Adv. Rodrigues has questioned what benefit was it to the people of Goa with the over 5.5 crores needlessly squandered on this 18 minute event.
Pointing out that he will request the Comptroller and Auditor General (CAG) to investigate the entire expenditure and the procedure followed in holding that gala Swearing-in-ceremony, Adv. Rodrigues has stated that taxpayers' money recklessly drained on that function was a criminal waste of public funds while poor people have not received their monthly dole for the last five months on account of the State coffers being empty.