RG Hospitals Presents RG Marathon 3.0 in Goa with Milind Soman
Gear Up to Conquer the Coastal Challenge!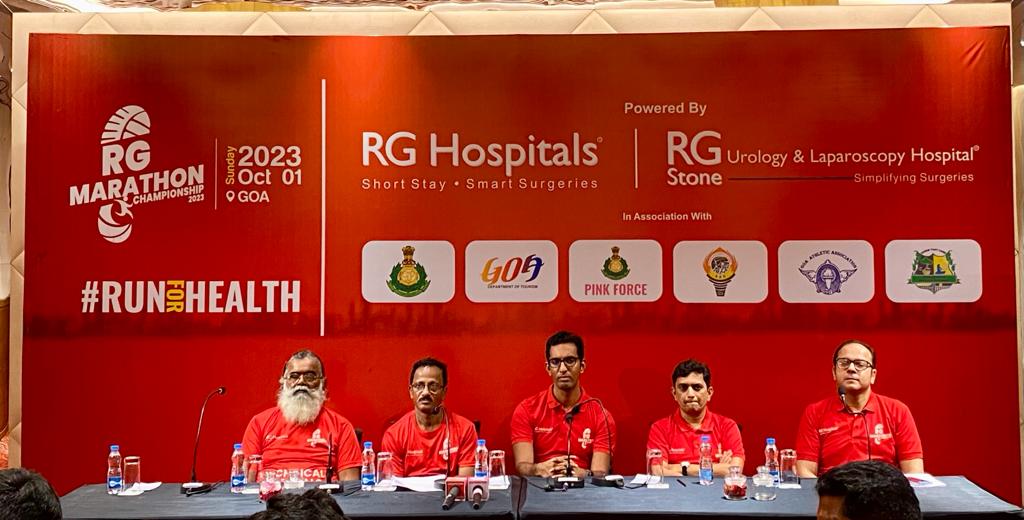 Panaji, 26th September: Get ready for an exhilarating adventure that harmonizes the excitement of running with the tranquil allure of Goa's coastal vistas! RG Hospitals is delighted to unveil the much-anticipated RG Marathon 3.0, scheduled to unfold in the breathtaking setting of the state, graced by the esteemed presence of the iconic fitness enthusiast, Milind Soman.
This extraordinary event merges the passion for running with the captivating beauty of Goa's landscapes. As participants embark on their journey, they will be captivated by the enchanting allure of sun-kissed beaches, verdant greenery, and the vibrant culture that Goa is renowned for.
The RG Marathon 3.0 promises to be an experience of a lifetime, inviting individuals to revel in the glory of nature, challenge their limits, and celebrate the spirit of fitness and unity alongside Milind Soman, an inspiration in the world of health and wellness.
The RG Marathon 3.0 aims to celebrate the unique blend by providing participants with an unforgettable experience that captures the spirit of Goa. This Marathon sets itself apart from other marathons by offering participants much more than just a race. It provides an opportunity to connect with like-minded individuals who share a passion for fitness and adventure. Whether you're a seasoned runner or a beginner, the event caters to all fitness levels with its diverse race categories, including the marathon of 21 K, 10K, and 5K. What truly makes the RG Marathon 3.0 extraordinary is the chance to run alongside the iconic fitness inspiration, Milind Soman. Renowned for his remarkable fitness journey and dedication to promoting a healthy lifestyle, Milind Soman's presence inspires and motivates the event. Participants get to witness his unwavering commitment firsthand and have the privilege of learning from his invaluable insights and experiences.
By bringing together a community of passionate runners, it's an event that goes beyond a mere race and transforms into an unforgettable experience of personal growth and camaraderie. Running for a Cause The RG Marathon 3.0 goes beyond the mere adrenaline rush of running; it is a significant event dedicated to promoting health and well-being.
The marathon serves as a platform to raise awareness about the importance of leading a healthy lifestyle and encourages participants to prioritize their physical and mental well-being. By organizing this marathon, RG Hospitals aims to inspire individuals from all walks of life to take charge of their health. Running is not just a sport but a means to improve cardiovascular fitness, strengthen muscles, boost mental clarity, and enhance overall well-being. It is a powerful tool for preventing lifestyle-related diseases and fostering a healthier society.
Through the RG Marathon 3.0, RG Hospitals aims to create a lasting impact by encouraging people to embrace a healthier lifestyle and making a difference in the lives of those in need. It is an extraordinary opportunity to contribute to the cause of health while embarking on a thrilling and fulfilling running experience. Preparation and Training To ensure that participants of the RG Marathon 3.0 are well-prepared and equipped to tackle the challenge, RG Hospitals has gone the extra mile by arranging live training sessions and informative videos. These resources are designed to cater to individuals of all fitness levels, whether they are seasoned runners or first-time participants.
The live sessions provide an interactive platform where participants can engage with experienced trainers and fitness experts. These sessions cover various aspects of marathon preparation, including training techniques, injury prevention, nutrition, and mental preparation. Participants have the opportunity to ask questions, seek guidance, and receive personalized advice to enhance their performance. In addition to live sessions, RG Hospitals has created a series of informative videos that participants can access at their convenience. These videos offer a wealth of knowledge on topics such as warm-up exercises, proper running form, strength training, and recovery strategies. By incorporating these resources into their training routine, participants can improve their endurance, speed, and overall performance. Chance to Win Exciting Cash Prizes Join the RG Marathon, a thrilling event that brings together running enthusiasts of all levels for an exhilarating experience! With three exciting categories – the 5k, 10k, and 21k runs – there's something for everyone to challenge themselves and strive for greatness. Not only will you have the opportunity to push your physical limits, but you'll also get a chance to win incredible cash prizes. In the 5k run, the top three finishers will walk away with cash prizes of ₹10,000, ₹7,500, and ₹5,000 respectively. The stakes rise in the 10k run, with prizes of ₹25,000, ₹15,000, and ₹10,000 for the first, second, and third places. And for those seeking the ultimate test, the 21k run offers a chance to win ₹51,000, ₹31,000, and ₹21,000 respectively.
What's more, participation in the RG Marathon is absolutely free, allowing you to embark on this incredible journey without any financial burden. So, lace up your running shoes, embrace the coastal challenge, and be a part of this remarkable event that celebrates the spirit of Goa and the power of unity through running.