KFC TRANSFORMS ITS ICONIC BUCKET TO ENCOURAGE INDIANS TO #SPEAKSIGN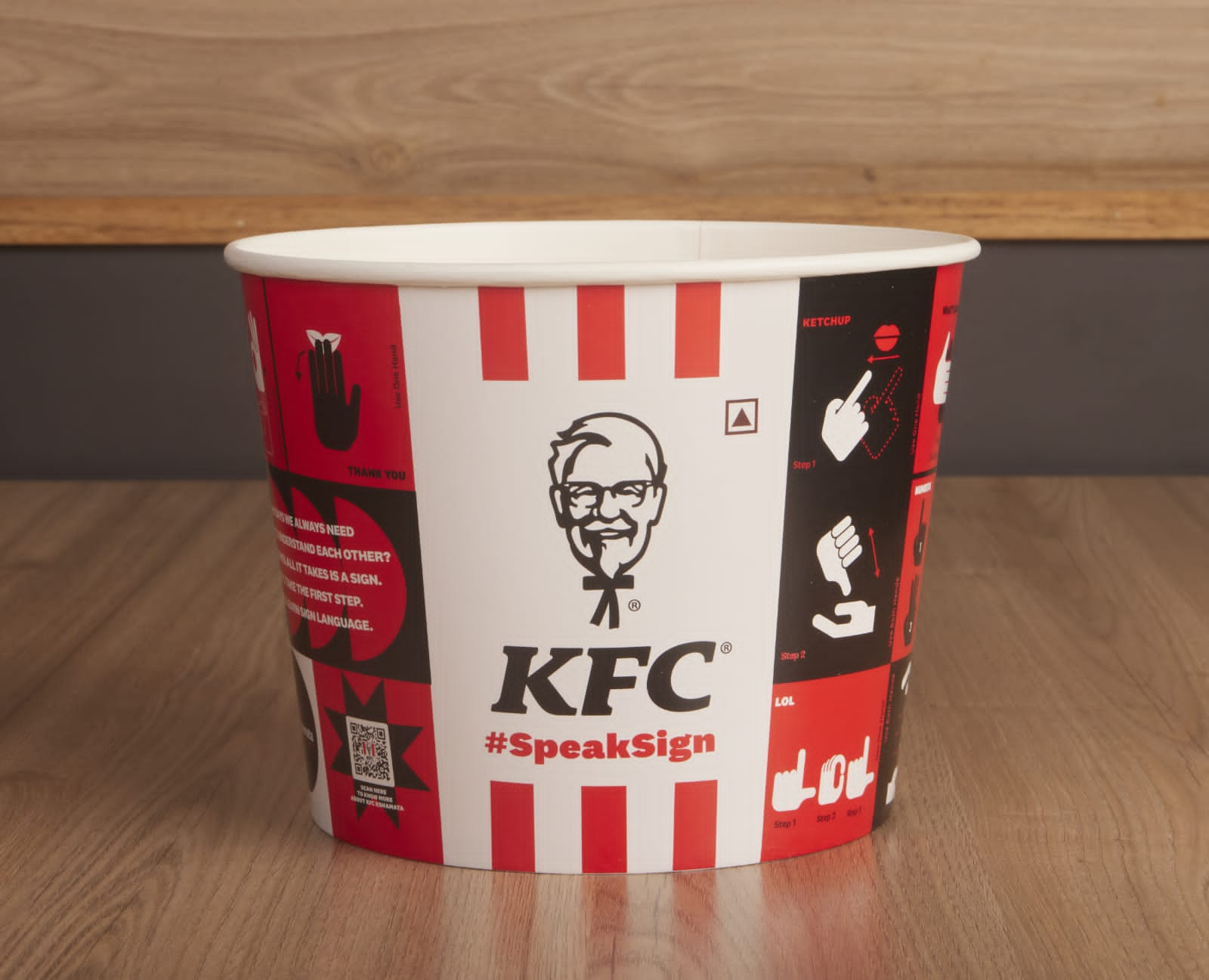 India, 2023: Who says we always need words to understand each other?Sometimes all it takes is a sign.
Ahead of International Day of Sign Languages, KFC India is using its most distinctive brand asset, the iconic bucket, to raise awareness for Indian Sign Language. The specially designed Sign Language Bucket features step-by-step visual tutorials of commonly used words and phrases, giving consumers a chance to learn how to communicate in Indian Sign Language (ISL). Terms such as 'Hello', 'Please', 'Good Morning', 'How are you', 'Have a good day', 'Lol', 'What's up?' as well as numbers and sizes take center stage on the bucket. The specially designed Sign Language Buckets will be available across all KFC restaurants in India this week.
The Sign Language Bucket and the #SpeakSign campaign are part of KFC India's Kshamata program, which is aimed at feeding people's potential, and bridging the gender and ability gap. Through the Kshamata program, KFC India is committed towards empowering women and the speech and hearing-impaired at their restaurants.
Speaking about the initiative, Aparna Bhawal, CMO, KFC India & Partner Countries, said, "Our founder, Colonel Sanders, firmly believed that everyone had a seat at his table, and his values & beliefs continue to inspire us even today. Through KFC Kshamata and our #SpeakSign campaign, we are committed to enhancing inclusivity for the hearing and speech impaired. This year, ahead of International Day of Sign Languages, we really wanted to challenge ourselves and bring Sign Language to the forefront for consumers. So we took Sign Language to our biggest and most distinctive brand asset – the bucket. By transforming it with visuals that demonstrate ISL, we are presenting consumers with a way to actively learn the language. It's a huge win in our journey towards inclusivity if people walk out of our restaurants having learnt the basics of sign."
A special Sign Language Menu is also being introduced across Special KFC restaurants (operated by speech and hearing-impaired employees), giving consumers a chance to learn how to sign their favorite KFC menu items.