Revolutionary Goans Party's CM Candidate Manoj Parab Commence Campaining in Camurlim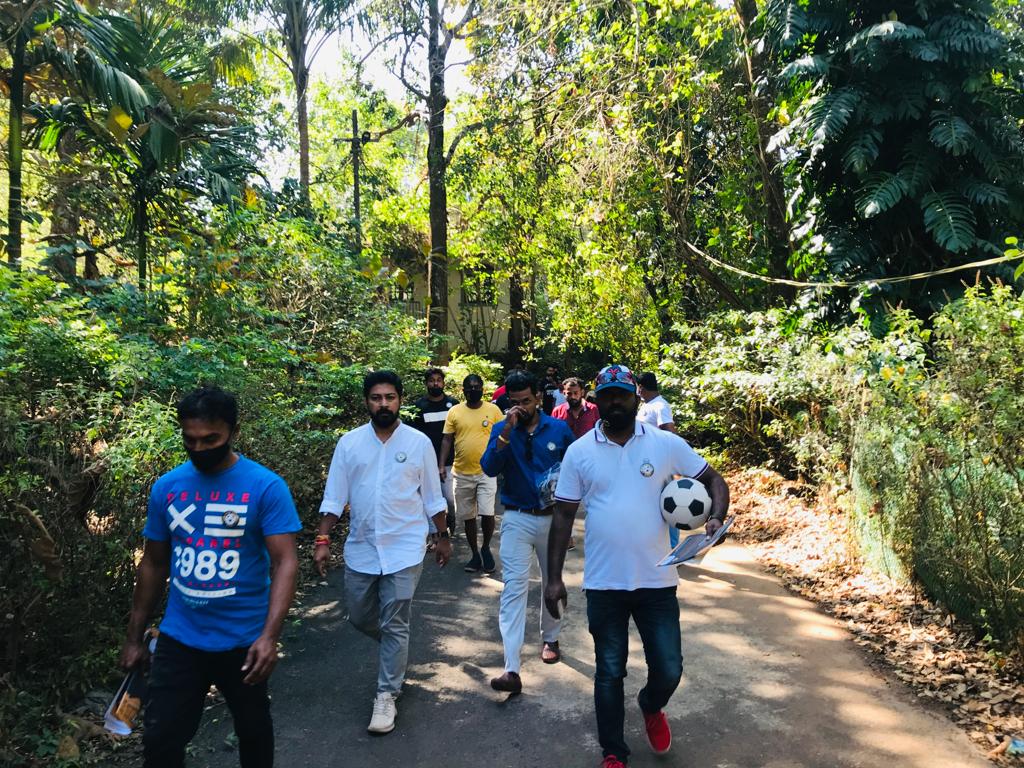 PANAJI: Revolutionary Goans Party (RGP) Supremo Manoj Parab on Friday commenced door to door campaigning in Camurlim, Tivim constituency.
Parab will be contesting the forthcoming assembly elections from Tivim and Valpoi constituencies.
"Our campaigning in Camurlim is getting a good response from people. There are many issues. Land, especially hilly areas, has been bought by outsiders. Just as people in Porvorim are suffering today, Camurlim residents will also face the same problems viz water shortage, land and migrant influx. We need to tackle this. Hence, Revolutionary Goans are working in this direction."
Parab said that RGP has been getting a positive response in Tivim.
"Our campaign on the POGO bill was held here earlier. Our door to door campaigning has been completed. During our visits to distribute pamphlets, we are being warmly welcomed by the people. They are eager for change. We are confident that Revolutionary Goans will win in the Tivim constituency," he said.
On managing his political campaign in two constituencies, Parab said, "As far as Valpoi is concerned, we have taken up a lot of work in that constituency. We participated in the Melaulim agitation. We have also worked in other villages, especially Usgao. Vishwajit Rane is already mentally defeated. We are all set to defeat him in the election. Tivim constituency is my home constituency. I have studied in St Rita's High School, Colvale. My former classmates know me well. So it won't be difficult for me to win."
One of the major issues in Tivim constituency is migrant influx, Parab said.
"Around 5,500 to 6,000 migrants have voting cards. There is land encroachment, where illegal houses have been built. Colvale has turned into a hub for scrapyards. Unfortunately, this area has gained fame for these scrap yards all over the state. Illegalities are increasing by the day," he said.
There is a major problem of water supply in Tivim constituency, Parab pointed out.
He also said that employment is an issue. "There are many industries in Karaswada and Colvale. But our locals don't get jobs here. We need to upskill our youth so that they gain employment. We want to put a condition on these companies to give preference to our locals for jobs," he said.
The RGP Supremo aims to form the government so that the party can implement its policies.
"We are contesting with the aim to form the government. We want to implement our policies. We want to pass the POGO bill in assembly. With one or two MLAs, we won't be able to achieve that. Other parties want migrant vote banks, they want their influx, they want their illegal businesses. People are fed up with the present governance. They are waiting for Revolutionary Goans to usher in change. We are going to win more than 22 seats for sure," he said.
On the party's Football symbol, Parab said, "It will create a huge impact. Since football runs in the blood of every Goan, it won't be difficult for our symbol to gain acceptance among people."