Revolutionary Goans Hits out at Government for Backing Migrants in Curchorem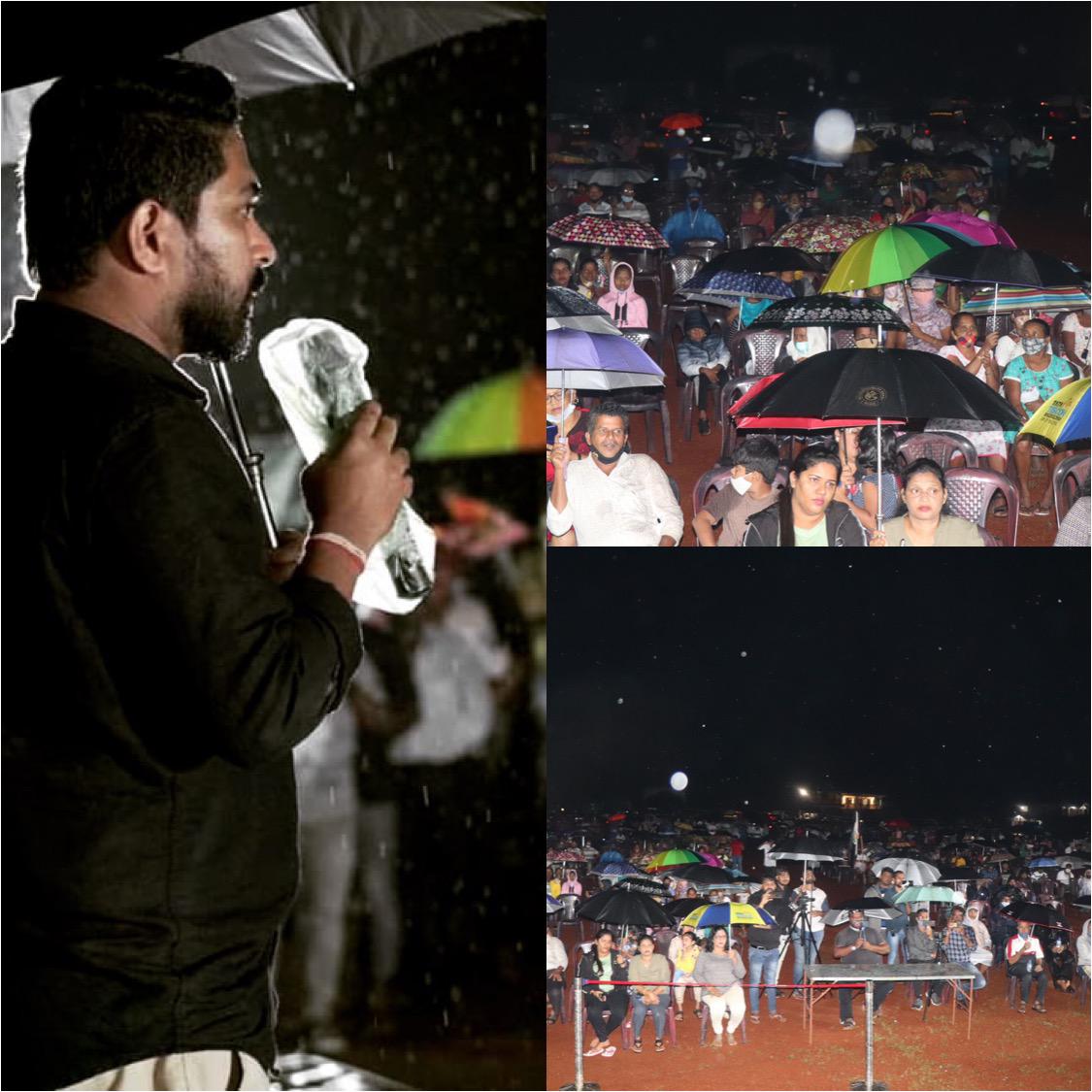 PANAJI: Revolutionary Goans supremo, Manoj Parab lashed out at the BJP government for giving a free hand to illegal business' being carried out by migrants during a visit at Tilamol which witnessed a massive crowd despite heavy rains.
He mentioned how migrants were allowed to carry out illegal business' in Curchorem and the government was fooling Goans in the name of Swayam Purna Goa. He also hit out at local MLA Nilesh Cabral over giving illegal electricity and water connections to the slum areas built by the migrants on comunidade land.
Manoj went on to speak about the developmental works carried out in Curchorem. He alleged that BJP workers in Curchorem were portraying the Ambedkar circle and footpath as developmental work carried out by the local MLA. "If one can recall Cabral himself had given a statement saying that building bridges is not development and is not going to help Goans get jobs. So how can building the Ambedkar circle and footpath give jobs to the youth of Curchorem," questioned Manoj.
The RG supremo also raised the issue of mining scam and failure of the government to provide alternative employment to the locals. The money gathered by the MLA's from the mining loot was never used for the welfare of the locals of Curchorem in their bad times. The mining dependents should have been given business opportunities in Curchorem market, however the openings were given to migrants.
RG leader from Quepem, Aditya Dessai highlighted the ignorant attitude put up by the MLA towards the people of Curchorem over the last twenty years. "The people of Curchorem have been receiving a step-motherly treatment for the last two decades. There has been a total failure on the part of the government in providing jobs and businesses to the locals. The Bhumiputra Bill and the Name and Surname Change Amendment Bill are two draconian bills the Law Minister, Nilesh Cabral was trying to deceitfully pass," said Aditya.
While the Goa Su-Raj Party (GSRP) leader, Inacio Vas spoke of the massive corruption and mining loot carried out by the MLA's in Goa. He mentioned that every Goan is in debts and has a loan of over a lac. "If the mining loot is recovered, then the same money can be used for the welfare of the people of Goa. We have got liberation from the Portuguese rule in 1961 and now it's time to get liberation from the 40 dalas who are out to finish our beautiful Goa," said Vas.
Stree Kranti leaders from Curchorem, Aliza Furtado and Danica Pereira spoke on the issue of women safety. They highlighted that the BJP took up women safety programs only when elections were drawing near, and the rest of the time is not at all concerned about the women in the state.