Restore Places Of Historic Importance Including Religious Shrines without Discrimination- Yuri Alemao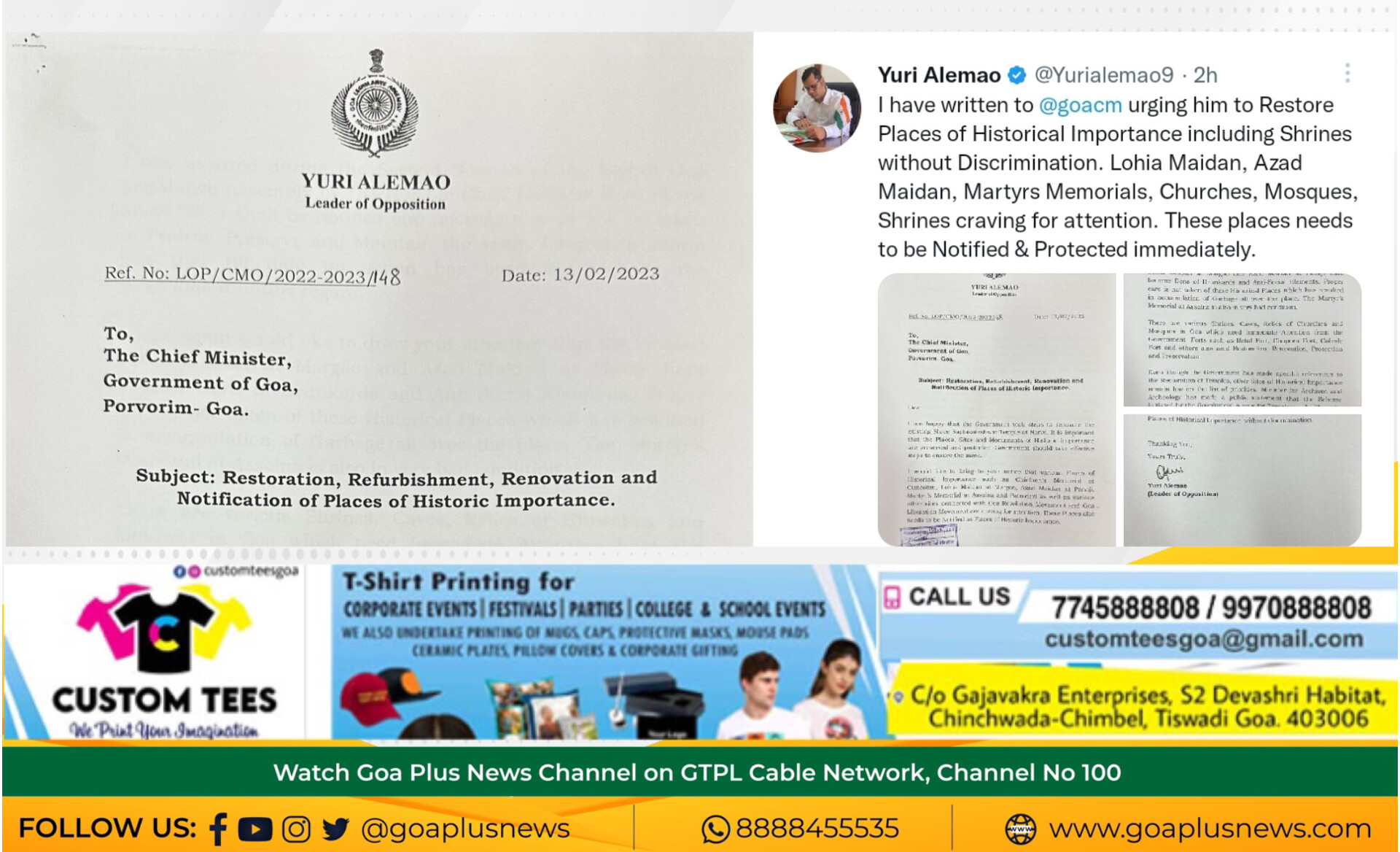 Panaji – Leader of Opposition Yuri Alemao has written a Letter to the Chief Minister Dr. Pramod Sawant urging him that the Government should extend the Restoration and Renovation of Temples Scheme to the Places of Historic Importance, Forts, Churches and Mosques and Relics of Religious Shrines etc.
In his Letter sent to the Chief Minister today, Leader of Opposition has stated that the Government should seize the double standards and release funds towards Restoration, Renovation and Beautification of all Places of Historical Importance, without discrimination.
Even though the Government has made specific references to the Restoration of Temples, other Sites of Historical Importance remain low on the list of priorities. Minister for Archives and Archeology has made a public statement that the Scheme initiated by the Government is only for Temples and will not be applicable for Churches or Mosques, pointed Yuri Alemao in his Letter.
If the intention of the Government is to spend State Funds for the Restoration of Temples based on their Historical Importance, the Government cannot hold double standards or discriminate against others Sites of Historical Importance. Similarly, the Government cannot deny funds to Places of other religions that are of Historical Importance and that need Restoration, Yuri Alemao said.
I am happy that the Government took steps to renovate the existing Shree Saptakoteshwar Temple at Narve. It is important that the Places, Sites and Monuments of Historic Importance like Chieftain's Memorial at Cuncolim, Lohia Maidan at Margao, Azad Maidan at Panaji, Martyr's Memorial at Assolna and Patradevi as well as various other sites connected with Goa Revolution Movement and Goa Liberation Movement are craving for attention. Forts such as Betul Fort, Chapora Fort, Colvale Fort and others also need Restoration, Renovation, Protection and Preservation. These Places also needs to be Notified as Places of Historic Importance, demanded Yuri Alemao.
I was assured during the Second Session of the Eighth Goa Legislative Assembly by the Hon'ble Chief Minister that all the above Sites shall be Notified and necessary steps will be taken to Protect, Preserve and Maintain the same. I regret to inform you that till date no action has been initiated by the Government in this regard, stated Yuri Alemao in his Letter.