Rahul Gandhi takes Tiranga from Kanyakumari to Kashmir with Message of Unity: Goa Congress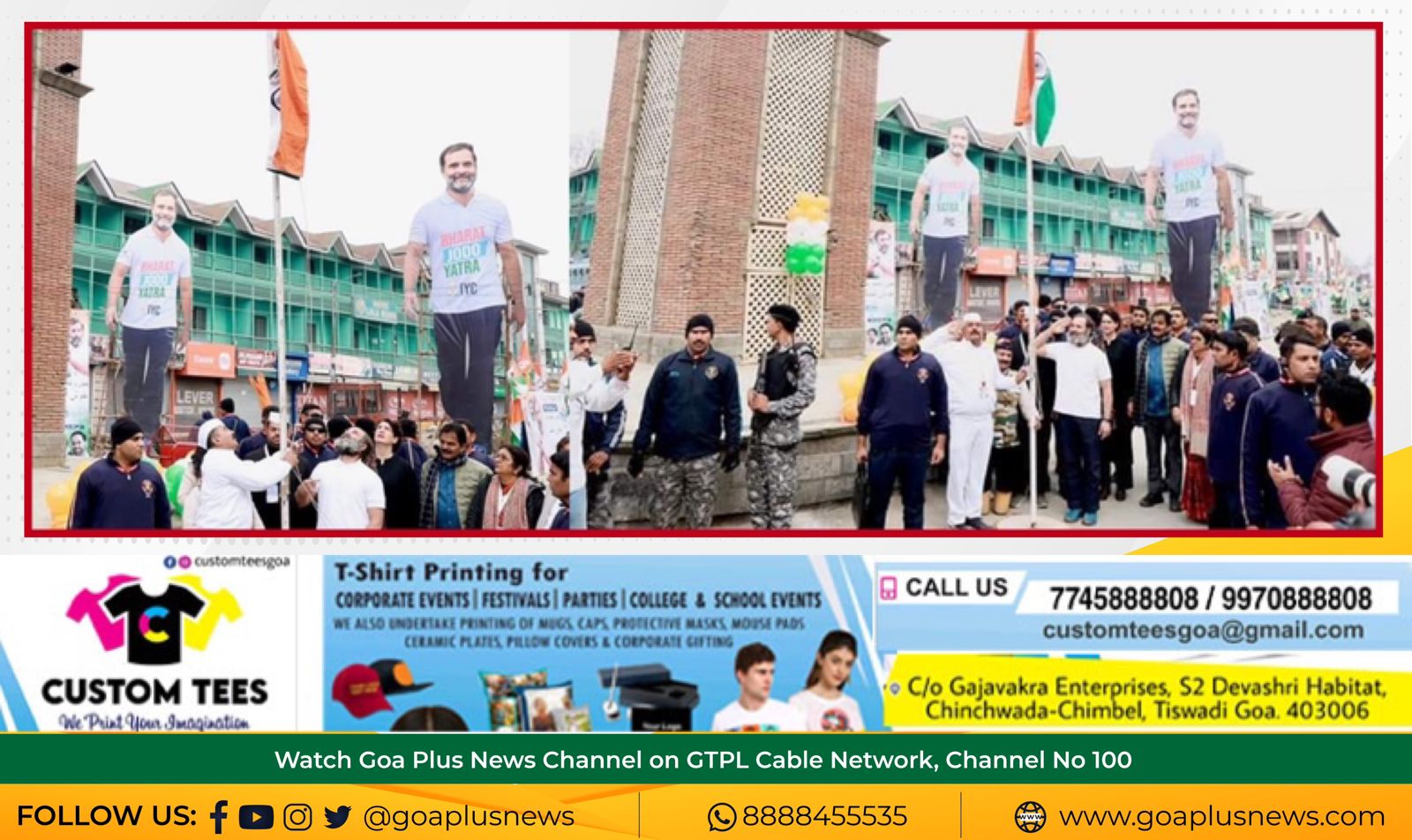 Panaji – Goa Pradesh Congress Committee Congratulated Nation's Leader Rahul Gandhi for his Bharat Jodo Yatra from Kanyakumari to Kashmir.
This historic march with message of Unity will bring a "Wave of Change" in the Country. National Leader Rahul Gandhi kept up with his commitment given to the Citizens at the begining of the yatra and unfurled the Tiranga at Lal Chowk, said Congress President Amit Patkar who is present in Srinagar for the concluding of the 116 days long yatra.
Tiranga has reached from Kanyakumari to Kashmir with a message of 'One India, United India'. I am feeling blessed for getting an opportunity to participate in the same and walk with Rahul Gandhi, said Leader of Opposition Yuri Alemao.
This historic "Bharat Jodo Yatra" gave an opportunity for nation's leader Rahul Gandhi to interact with people across Kanyakumari to Kashmir and understand their emotions, feelings & sentiments, said MLA Adv. Carlos Alavares Ferreira.
It was an amazing experience to participate in the Yatra in Rajasthan which started from Kanyakumari on 7th September 2022. This historic Bharat Jodo Yatra under Rahul Gandhi covered 4080 kms in 136 days said Quepem MLA Altone D'Costa.
The Yatra began from Tamil Nadu and proceeded through Kerala, Karnataka, Andra Pradesh, Telangana, Maharashtra,Madhya Pradesh, Rajasthan,Haryana ,Delhi, Uttar Pradesh , Punjab , Jammu and Kashmir covering 75 Districts raising issues of Unemployment & Inflation and creating awareness among people, said South Goa MP Francisco Sardinha who is also in Srinagar to participate in the concluding event.
Congress Leader Rahul Gandhi will pay tribute to Mahatma Gandhi on Monday, 30th January 2023 at Srinagar to mark his Martyrdom Day. All Congress Blocks across nation including Goa will unfurl the Tiranga and pay homage to Mahatma Gandhi tomorrow, informed Congress Media Cell Chairman Amarnath Panjikar.
In continuation of the "Bharat Jodo Yatra", Congress Party has launched "Haath Se Haath Jodo Abhiyan" and "Mhadei Jagor" which will reach every Constituency in Goa in coming 100 days, said Amarnath Panjikar.