Purple Fest Day 3: A Fitting End to a Spectacular Festival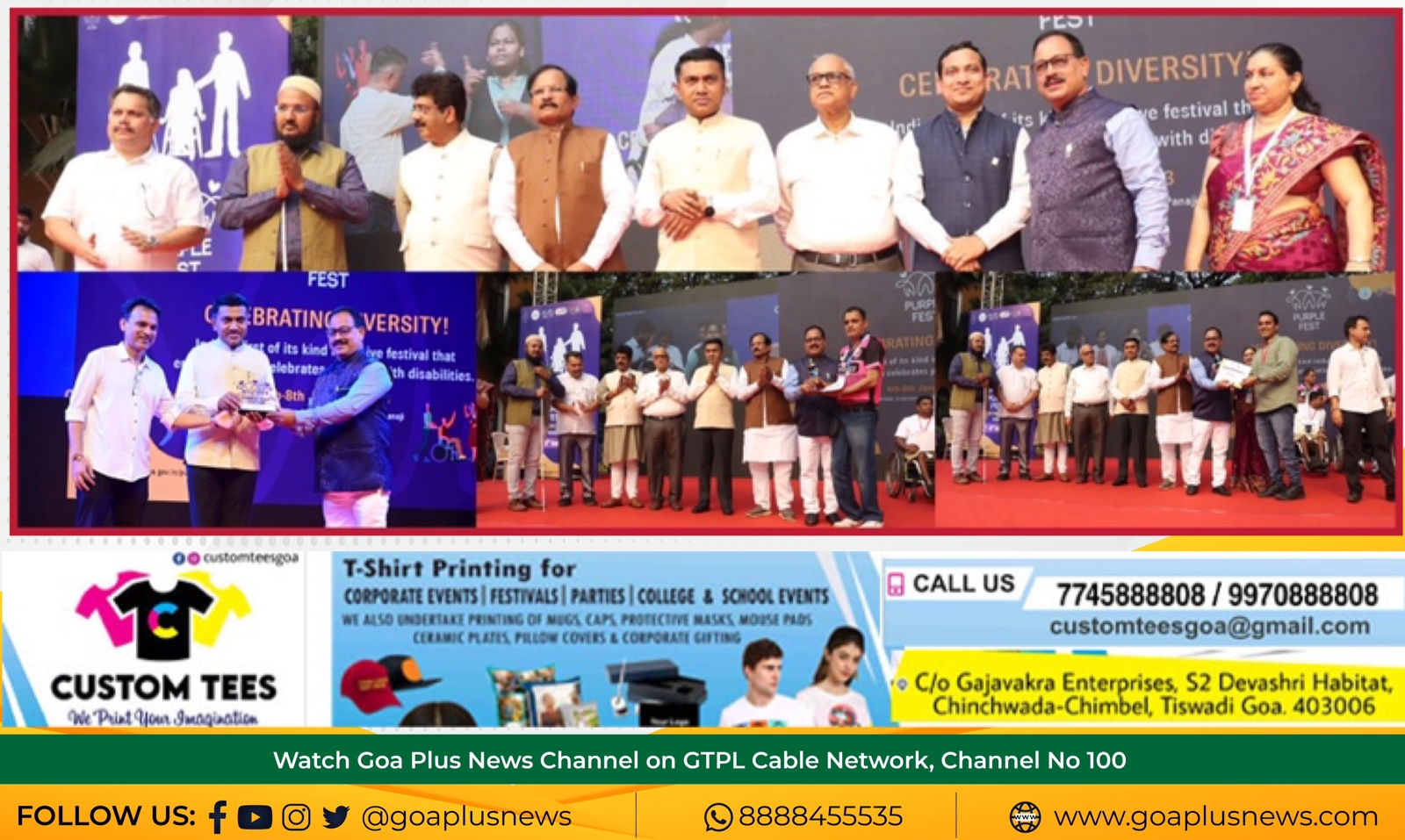 Panjim, January 8, 2023: Purple Fest 2023, Celebrating Diversity: The third and final day of Purple Fest was a whirlwind of excitement, with a wide variety of activities ranging from sports and workshops to cultural and fun events. Despite the busy schedule, attendees were able to take part in maximum number of events the festival had to offer, culminating in a memorable and enjoyable experience for all.
Closing Ceremony of the unique Purple Fest was held today at Inox Courtyard in the presence of Chief Minister of Goa, Dr. Pramod Sawant and Union Minister of State Tourism, Shri. Shripad Naik who presided over the function along Shri Nilesh Cabral, PWD, Minister, Shri. Subhash Phal Dessai, Minister of Social Welfare. Shri Digambar Kamat, MLA, Shri Sadanand Shet Tanavade, President, BJP, Shri. Subhash Chandra, IAS, Secretary, Shri. Guruprasad Pawaskar, State Commissioner for Persons with Disabilities and Shri Taha Haaziq, Secretary, Office of the State Commissioner for Persons with Disabilities.
Chief Minister of Goa, Dr. Pramod Sawant on the closing ceremony said: "I visited the Jagruti Mela and saw all the NGOs together assisting the parents of Persons with Disabilities. And that brought immense joy to me."
Union Minster of State of Tourism, Shri. Shripad Naik said : "Society is accepting the Divyang (Persons with Disability) more openly. The are getting more respect and opportunities that they deserve and Purple Fest is a brilliant example of it."
Minister of PWD's, Shri Shubash Phal Dessai said, "The speakers who came here for the talks empowered those with disabilities to become socially acceptable, economically, and educationally empowered. We are trying to give them the best educational facilities, safety, security, and protection and ensure good laws And acts are enforced from the policy point of view."
Here's a summary of what went down on the last day of Purple Fest.
Purple Dialogue
The Purple Dialogue had panel discussion that included sessions on physical infrastructure accessibility, sensory disability, Know Me Better, What After Us?, Blood Disorder, Disability Activism and Social Media, Disability Gender and Sexuality.
The disability, gender, and sexuality discussion featured notable guests advocating for disability rights and inclusion. The panel also discussed using social media as a tool for achieving goals for people with disabilities. Specialists and activists talked about the power of social media to bring people together and find solutions.
Purple Think Tank
When open minds engage in honest dialogue, they create a space safe and welcoming environment. The Purple Think Tank consisted of a series of talks and panel discussions. Persons like Dr. Nandita de Souza who is the Developmental Paediatrician and Director, at Sethu, and Neha Trivedi enlightened people on inclusive education as a possibility, ideal for India. They also highlighted topics such as inclusive education and employment across disabilities, equal opportunity and livelihood enhancement for Persons with Disability.
The three-day event, the first of its kind concluded on Sunday, January 8, 2023 on a high note, leaving a benchmark for next year.