PROTEST DEMOSTRATION HELD TO OPPOSE ANTI-PEOPLE POLICIES-AITUC.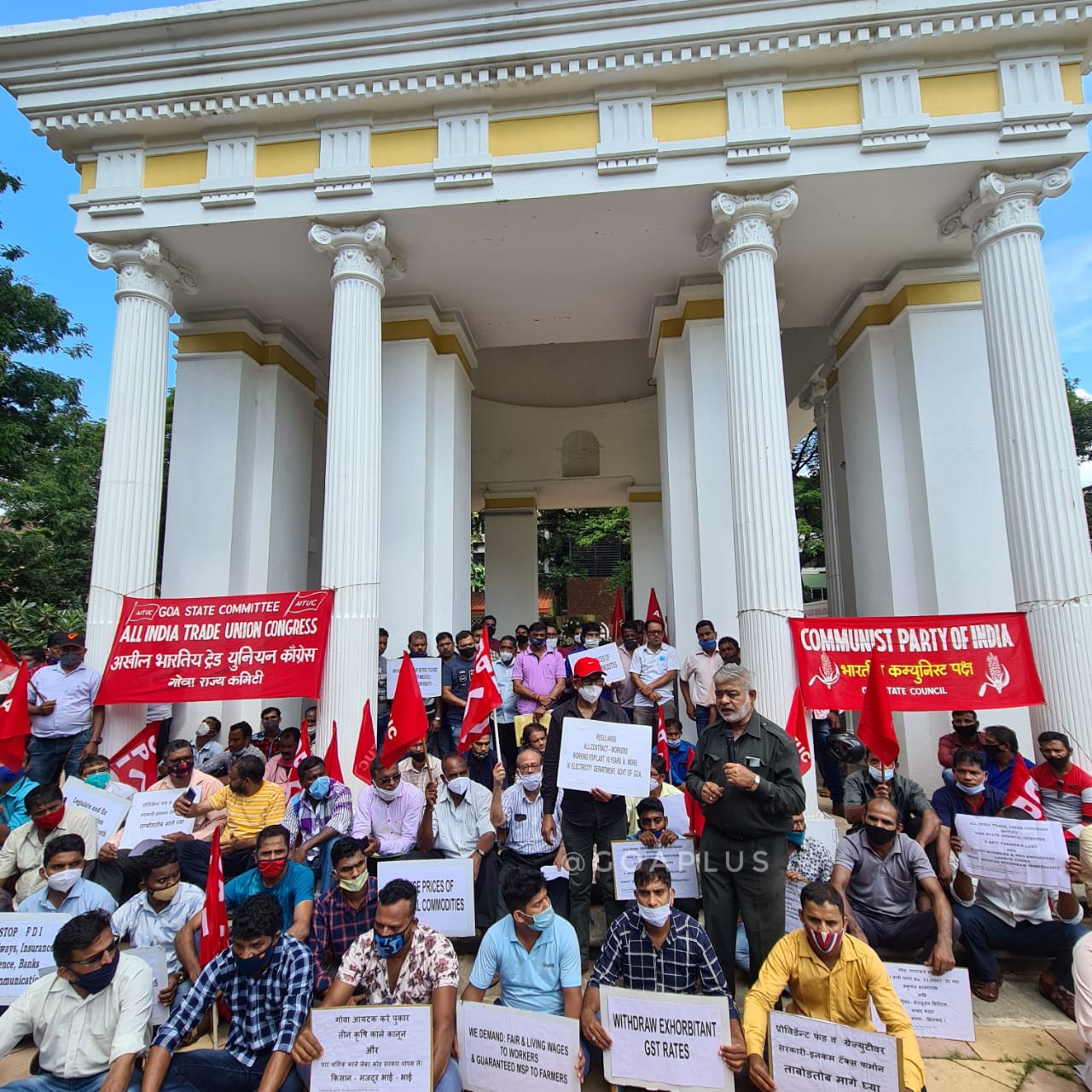 Panaji: The Goa State Committee of All India Trade Union Congress (AITUC) and its other fraternal trade unions held a Protest Demonstration, today on Thursday, 30 September, 2021 at Azad Maidan, Panaji, to oppose the Anti – People and Anti-Labour Policies of the Government at the Centre and State.
The policies of the BJP-led Governments in the centre and the states have destroyed the livelihoods of the working people, farmers, small traders, small scale industry and street vendors in the country. During the lockdown, thousands of working people have lost jobs and are living in the state of great financial distress and penury. The continuing Farmers Protest against 3 farm Laws is being. neglected and Sweeping changes have been made to the 44 Labour Laws in the name of labour reforms to help employers to 'Hire & Fire working people. Unchecked price rise of all essential commodities, (food, petrol, diesel LPG), increasing unemployment have made the lives of the salaried and the common people miserable
IN GOA, the working people are also facing severe crisis. The mining industry has closed down rendering thousands of workers unemployed. Even though the announcement has been made by the State Government to re-start mining operation by forming state owned Mining Corporation, no concrete measures have been taken to re-start mining. Many workers have lost jobs in hospitality industry. Government has not yet reached our to these working people who have lost jobs during COVID pandemic.
In many Industrial Estates, workers are not paid minimum wages and are denied the benefits of statutory labour legislations. The Government has not constituted State Labour Advisory Committee's and Boards. Government has failed to revise the Minimum Wages for all Schedules of Employment inspite of exponantional increase in the prices of Consumer Price Index. The Government has. no policies to address the genuine issues of the working people in Goa. The Governemnt is continuing with the employment of contract labour in its all government departments, flouting labour legislations without providing them benefits of Equal Pay for Equal Work.
All the representations made to the State Government to resolve the above issues have not yielded any results and the Government is in denial mood.
To oppose these above Anti – Labour Policies, AITUC today held a Protest Demonstration at Azad Maidan, Panaji, in support of the following demands.
DEMANDS
Revise and Enhance Minimum Wages @ Rs 21,000/- per month with linkage to the Dearness Allowance (DA) for unskilled category.
Start mining in Goa by forming state owned Mining Corporations.
Control and reduce the prices of all essential commodities, food items, petrol, diesel, LPG cylinders, water, electricity, transport and health care facilities.
Equal Pay for Equal Work to PWD Society contract workers and those working in Electricity, Health, Education and Sanjivani Sakhar Karkhana. 7th
To Implement 7th Pay to All Goa Panchayat Employees.
Pay Arrears of 7th Pay to all KTCL employees. Pay the pending overtime wages of 26 months to River Navigation(RND) Department (RND) employees Revise the salaries of Pre-Primary Helper / Teachers
80% employement to Goans in all Govt and private establishments. Withdraw all ANTI-LABOUR and ANTI-FARMER LAWS.
Remove ceiling on payment and eligibility of Bonus, Provident Fund and increase the quantum of gratuity payable. STOP Privatisation of profit making Public Sector Undertakings
Pension for all people: a minimum @ Rs 6,000/- per month. Implement Universal Social Security cover to all organized and unorganized workers. Constitute and activate all committees related to labour matters viz
standing Minimum Wages, Contract Labour, Labour Advisory Board, Migrant Workers, Unorganised Labour Construction Workers, Health & Safety and others.
Goa State Committee of AITUC has submitted a detailed memorandum to the Hon'ble Chief Minister of Goa seeking his urgent intervention to resolve the i above demands. AITUC has resolved to intensify the struggle in support of the above demands in the days to come.