"Port of Call" at Goa for cruise ships is the need of the hour- Sankalp Amonkar
He Welcomed passengers from the first international cruise Viking Mars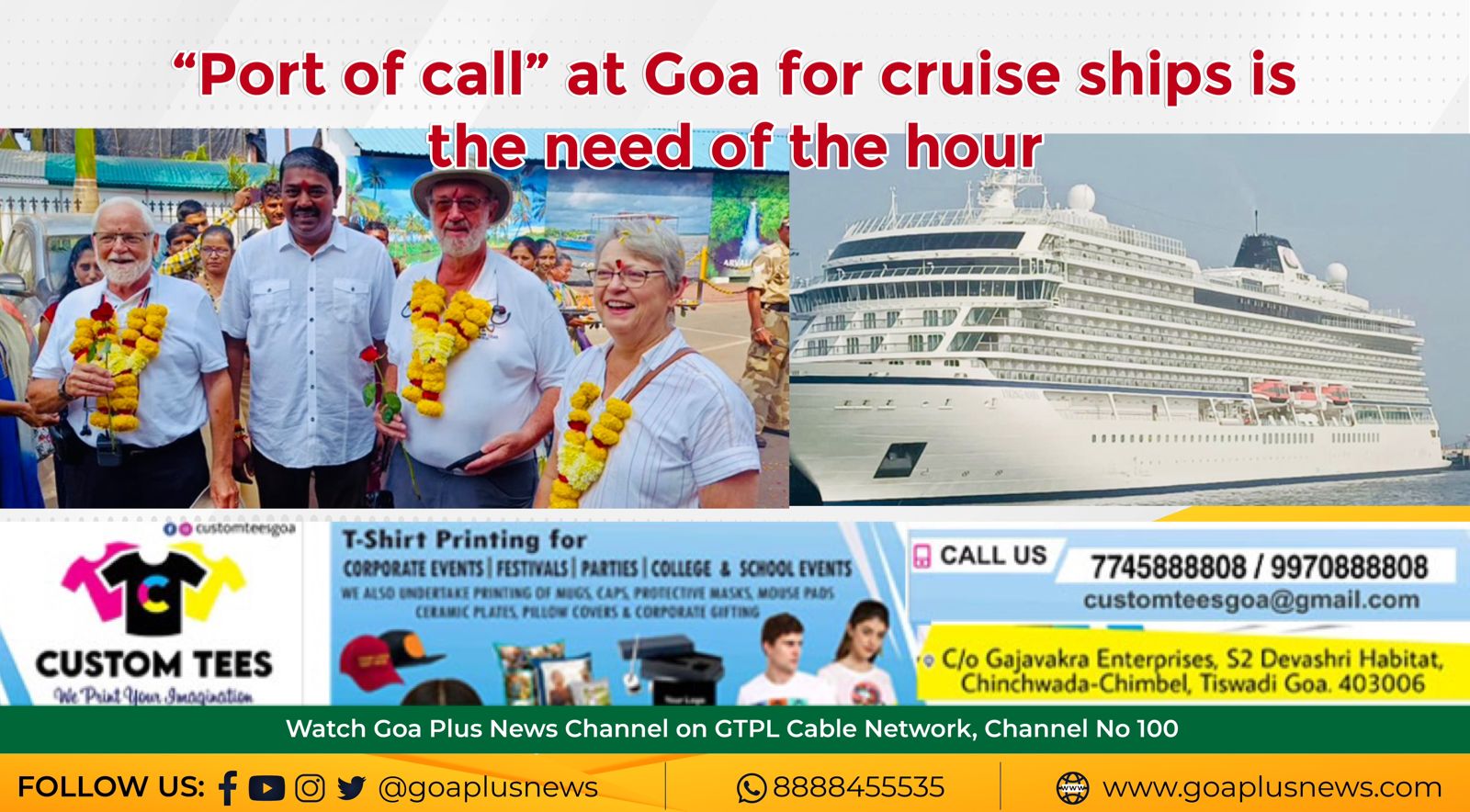 Panaji: Mormugao MLA Sankalp Amonkar on Wednesday said that the port of call for cruise ships at Goa Port was the need of the hour to increase the revenue of the state and generate self employment for locals while also offering a chance to domestic and international passengers to explore more in Goa
Amonkar was speaking to reporters after welcoming the passengers from the first international cruise ship "Viking Mars" that arrived to Goa, bringing in 651 passengers and 452 crew. A large number of taximen were present anticipating good business and the international passengers were welcomed by women with flowers and garlands amidst Dhol Tasha Band ,alll organised by Amonkar himself"
The first international cruise ship has arrived after a long gap amidst the pandemic. All the taximen and locals have happily arrived to welcome the international guests with arrangements of traditional music and Dhol Tasha as per traditional Indian and Goan culture. The taximen will get most benefit of around 65 domestic and international cruise ships that are expected this season " said Amonkar "
There was a standstill of buisness and tourism stakeholders including restaurant owners and taxi operators faced huge losses but the arrival of cruise ships have given them a ray of hope and we expect that these cruise ships will give good business opportunity to Murgaokars and generate revenue for the entire state. We must unitedly stand and offer the best to the tourists so that we can get more benefits from the cruise tourism sector" said Amonkar
" We are of the firm opinion that the Government must go ahead and make Goa the port of call where in cruise ships can stay here for around two to three days. As of now, the domestic and international cruise arrive in the morning and leave by evening and passengers get only five to six hours of time and they can't do much and are forced to visit nearby areas. If the passengers have to get the real feel of Goa , they need a minimum of two to three days and this is possible only if the cruise ship remains in Goa for two days and Goa becomes the "Port of Call".
We have seen that international cruise reasons for two days at various international locations and we have also demanded that Goa be made the port of call where the cruise ship can be docked for two days and the passengers get an opportunity to explore various locations of Goa and this will also increase the business opportunities for Goans " said Amonkar
Speaking on Charter flight and fears over Dabolim Airport closure, Amonkar said that CM Dr Pramod Sawant has assured that the Dabolim Airport will not close down even after Mopa begins operation " We have been assured that there will be no changes in flight operations at Goa Airport and the charter flights will also continue to come to Dabolim .
The taxi operators are dependent on Dabolim airport and there is no scope that it will close down and we are also of the firm opinion that we will not allow the closure of the airport nor the diversion of charter flights to other airports.
We have now been getting good response for cruise ships at the cruise berth and if these ships pick up manifold , we will get good buisness from this port as well . Goa port is scenic and safe and has to be utilsed to the maximum" Said Amonkar