Modi mar democracy to save 'Param Mitra' Adani: Dr. Shama Mohamed
Rahul Gandhi's disqualification was in planned manner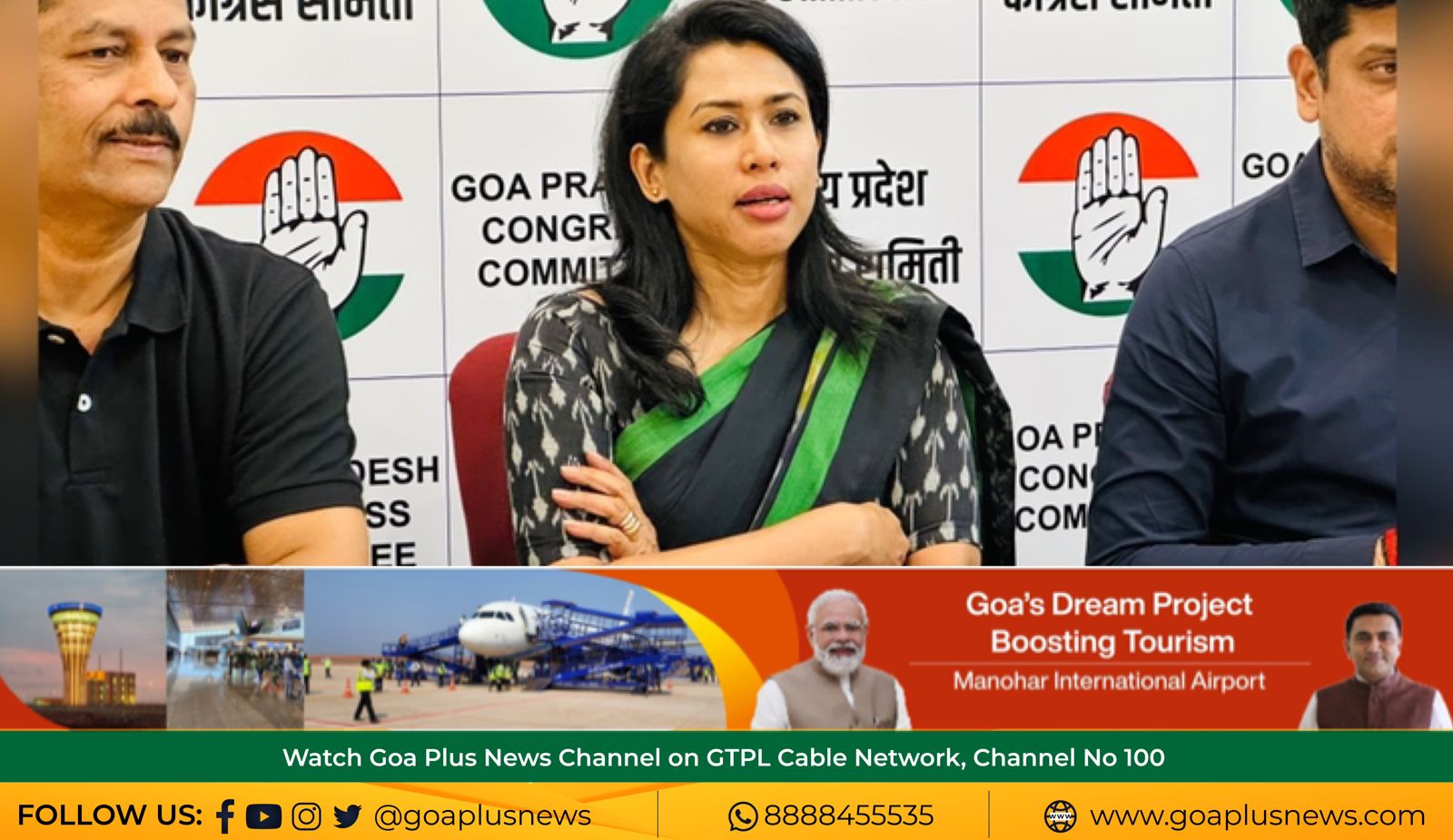 Panaji, March 29: Alleging that Prime Minister Narendra Modi is marring democracy to save his 'Param Mitra' Adani, Dr. Shama Mohamed, National Spokesperson of Congress on Wednesday stated that Rahul Gandhis disqualification was done in planned manner, however Congress will win against the act of suppressing voice of people. 
Addressing a press conference in Goa, Dr. Shama Mohamed said that the Modi government is targeting Rahul Gandhi for exposing thieves and scamsters.
Goa Pradesh Congress Committee President Amit Patkar and Media cell Chairman Amarnath Panjikar were also present.
She said that the disqualification of Rahul Gandhi is undemocratic as the case is on flimsy basis. "They will do everything to weaken Rahul Gandhi, but we all are strong enough to stand with him and save our democracy," Dr. Shama Mohamed said.
Speaking about the speech of Rahul Gandhi in Kolar, Karnataka in 2019, Dr. Shama Mohamed said that Criminal defamation is not generic. There was no direct reference to the complainant, who is BJP MLA Purnesh Modi. "The complaint was filed in Surat, Gujarat. The speech was made in Kolar, which has no co-relation with Surat. Section 202 states that it is obligatory upon the magistrate that before summoning the accused which is residing beyond his jurisdiction, the magistrate will enquire into the case himself or direct investigation to be made by a police officer. None of the above was done," she said.
"The sentence could have been less than 2 years. But the quantum of sentence was 2 years only because it paved the way for the BJP govt to disqualify him," she pointed out.
She said that Rahul Gandhi has been targeted purposely for asking questions on the Adani Mega Scam in his speech in the Parliament.
During his speech, Rahul Gandhi had said that there are Rs. 20,000 crore in shell companies linked to Adani and had asked whose money is it?
Gandhi had asked about the relationship of Modi with Adani. "Ruling party is mum over these questions," she said.
She said that in the history of India for the first time ruling party – the BJP disrupted the Parliament and blocked its functioning.
"Rahul Gandhi was attacked by BJP Ministers and denied an opportunity to speak in Parliament. It is only because he was exposing the links of Modi and Adani," she said.
"The Congress party has been demanding a Joint Parliamentary Committee probe on 'Adani' issue. We will not be afraid. The Congress speaks for the people of India and we will not back down from our demand of a JPC probe, come what may," she said.
She said that Rahul Gandhi was disqualified from the Lok Sabha in a planned manner and the haste behind it has been witnessed by people of the nation.
Amit Patkar said that Rahul Gandhi was was targeted for questioning about relation of Modi with Adani. "Conspiracy to disqualify him started soon after that. Ruling party is trying to suppress voice of people," he said.
"It is nothing, but murder of democracy and hence we should unite to save our democracy. BJP has made Goa a coal hub and making injustive on our people for double tracking to transport coals of 'Adani'," he said.