Mapusa Police have arrested 04 persons for exchanging ATM by attention diversion and withdrawing money using a POS machine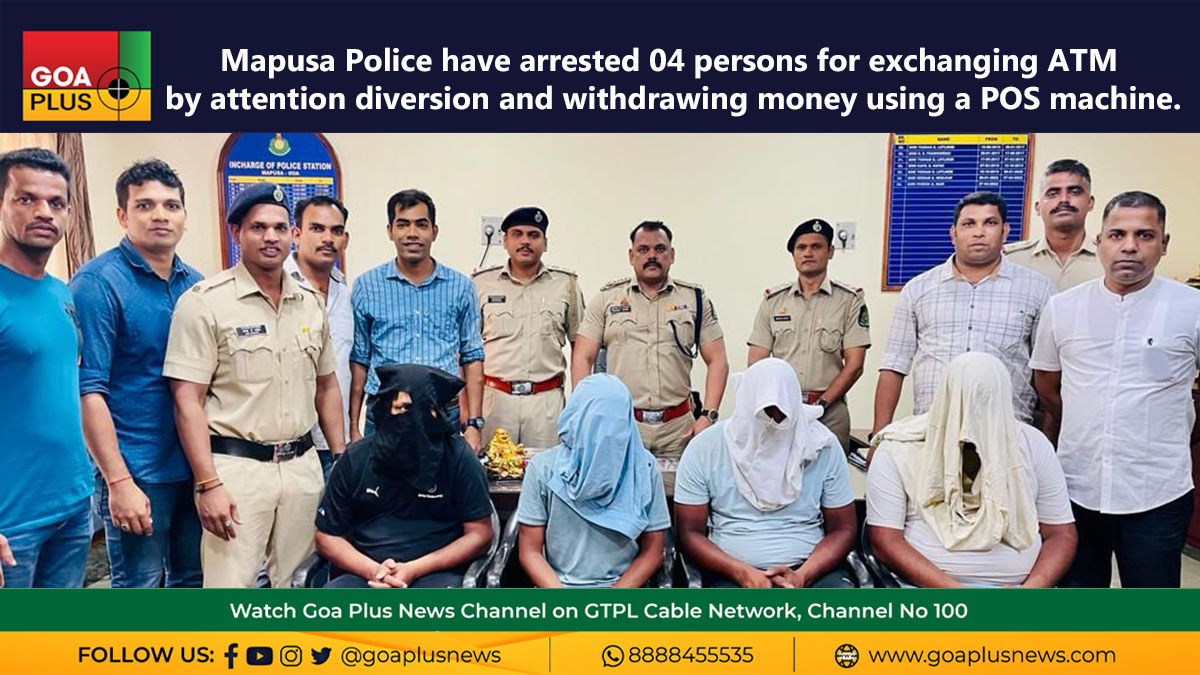 Panaji: a complaint was received from one Mrs. Milindi Gawade R/o Sattari that on 03/06/2022 at Mapusa SBI ATM while she had gone to withdraw money one unknown male person on the pretext of helping her took her ATM card and handed another similar card to her and later withdrew Rs. 1,50,000/- from her account using her ATM. Accordingly an offence under section 380 R/w 34 IPC was registered.
In this connection a team led by SP North Shobit Saksena
consisting of SDPO Mapusa Jivba Dalvi, PI Somnath Mahajik along with PSI Bablo Parab, PSI Viraj Korgaonkar and PSI Ashish Porob, head constables Alvito Dmello, Sushant Chopdekar, constables Rajesh Kandolkar, Prakash Polekar, Abhishek Kasar, Anil Rathod and Laxmikant Naik was formed which upon gathering intelligence and technical surveillance traced the accused persons within 24 hrs and placed them
under arrest.
The accused persons are identified as 1. Anil Kumar age 36 yrs 2. Anand Mahabir, age 26 yrs both R/o Sultanpuri, New Delhi and 3. Naveen Kumar age 30 yrs R/o Bhiwani, Haryana and 4. Rajesh Kumar, age 35 yrs R/o Sultanpuri, New Delhi.
SP Shobit Saksena further informed that the gang targets mostly women in ATM kiosks by standing behind them and use talk them into trust and in the pretext of helping with the transaction change the ATM card and hand the victim a similar card, furthe accused persons withdraw the money using POS machines which they carry with themselves.
Further investigation is in progress under Supervision of SDPO Mapusa Jivba Dalvi and SP North Shobit Saksena, IPS.