Goa Youth Congress conducts "Clean Beach Campaign" as part of #GoaDeservesBetter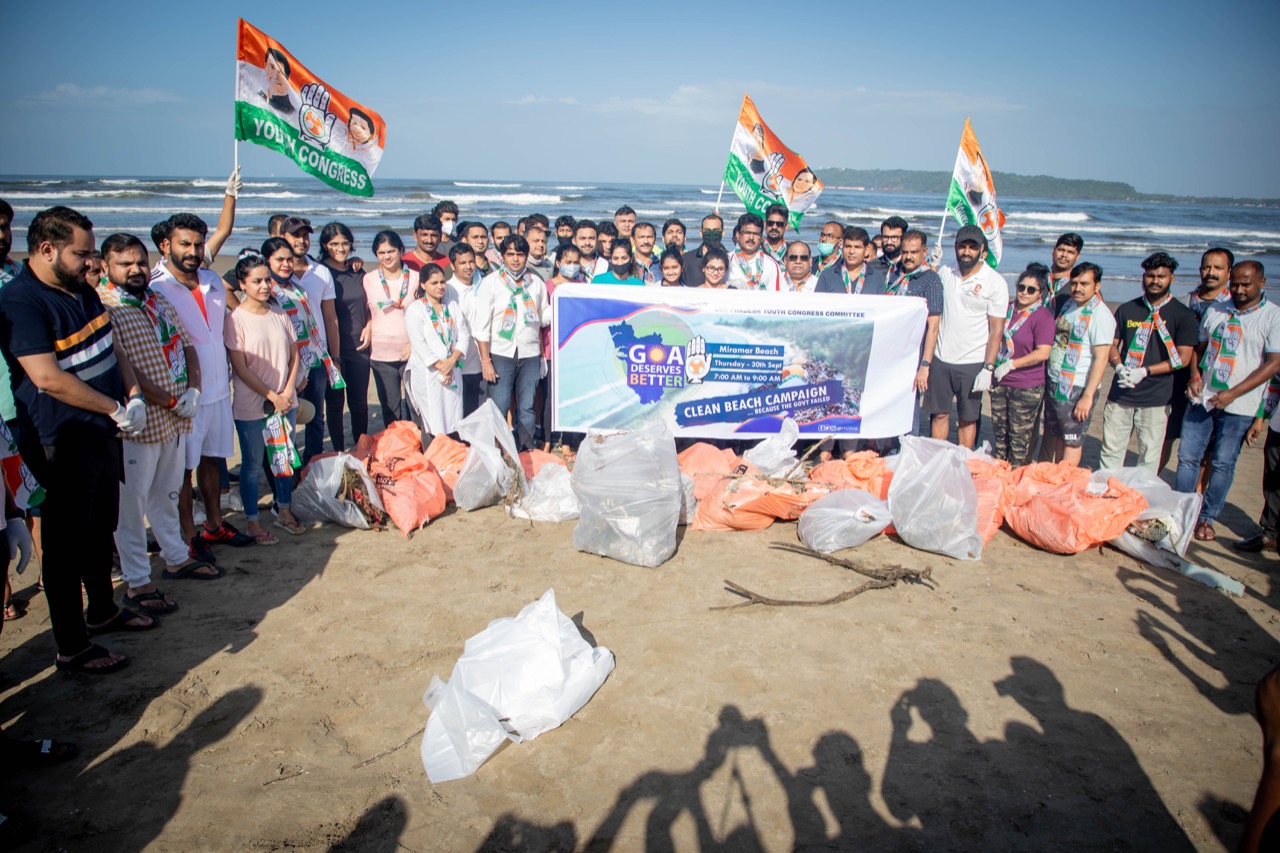 Panjim: Youth Congress cleans a substantial part of Goa's iconic Miramar Beach
IYC is committed to restore the beauty of Goa's pristine beaches denigrated by the BJP
Goa Pradesh Youth Congress (GPYC) led by National In- charge, Shri Krishna Allavaru, State Incharge Shri Akhilesh Yadav, State President Adv Varad Mardolkar led the 'Clean Beach Campaign' as part of the 'Goa Deserves Better' initiative of the Goa Pradesh Youth Congress Committee. The first beach cleaning campaign was conducted this morning at the iconic Miramar beach wherein GPYC members collected garbage strewn over a large portion of the beach. The programme started early morning with GPYC members holding flags, banners and #GoaDeservesBetter T-shirts and collecting garbage in big bags, which was later disposed off to a safer suitable place.
Goa Pradesh Congress Committee President, Shri Girish Chodankar also joined the Youth Congress members and appreciated their noble effort to undertake this beach cleaning exercise. Also present were former CCP Mayor Uday Madkaikar, Tony Rodrigues, Elvis Gomes, Tulio D'Souza, Rudolph Fernandes, Daya Carapurcar, Dnyaneshwar Govekar, Mohammad Haris Nalapad, Vivek D'Silva, Archit Naik, Glean Cabral, Saish Aroskar, Yash Kochrekar, Vyas Prabhu Chodnekar, Sanir Shaikh, Kliban Fernandes,
Peter Fernandes, Roshan Chodankar, Prashant Solyekar, Annuksha Daure, Ravi Kamat and others.
IYC National In-Charge, Shri Krishna Allavaru said that "Today Congress & Youth Congress members want to give a message – that as citizens of Goa , we believe that Goa Deserves Better. Instead of saving Goa's environment, the present Goa Government is busy saving its own bank balance. If they did not save their bank balance, then Goans should not have suffered."
"Youth Congress and Congress has always raised its voice for the people. Be it suffering the lathi blows of this despotic Government on account of raising the issue of price rise or launching a drive to get freedom from Unemployment", he asserted.