Goa Trinamool Congress releases the 'People's Chargesheet' despite BJP Government's attempt to stop the event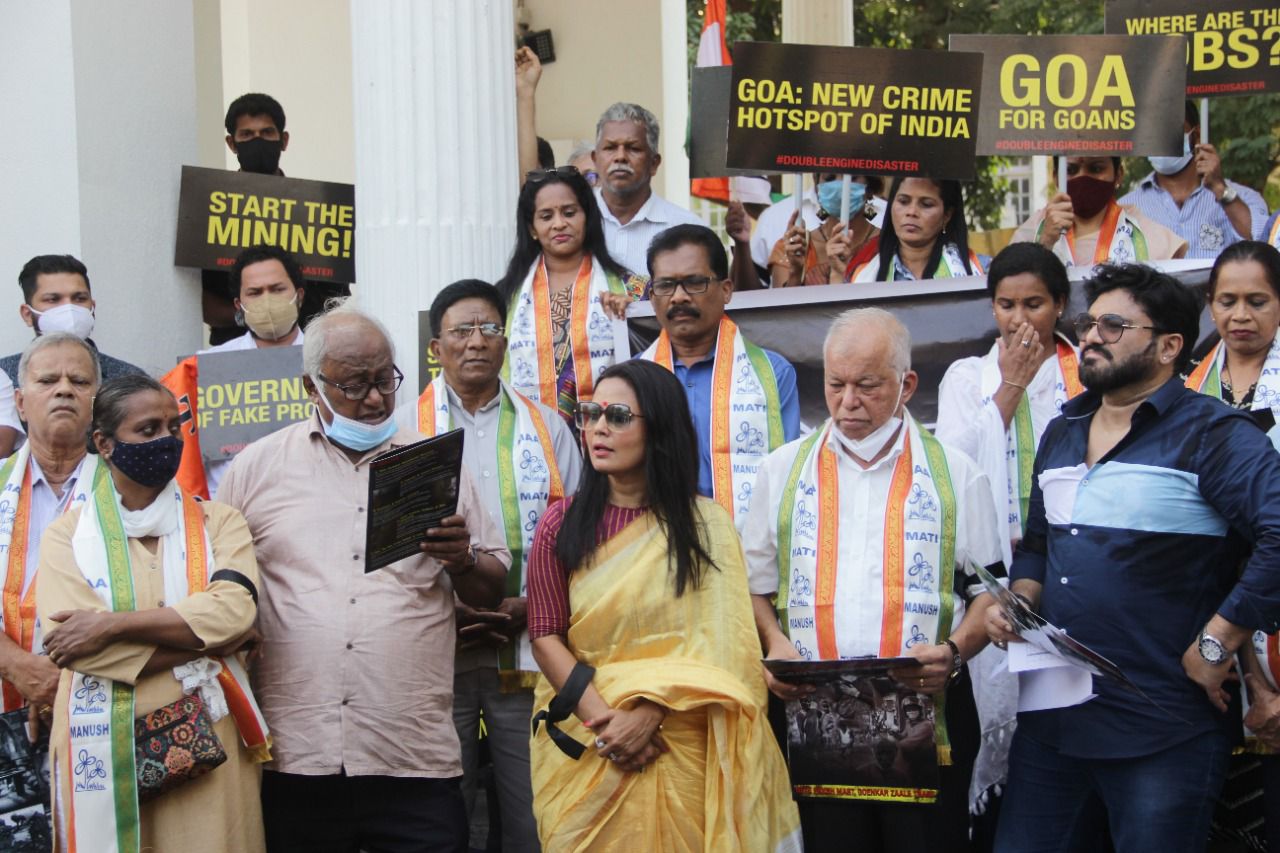 Panaji: The Goa Trinamool Congress today released the 'People's Chargesheet' against past Governments in Goa to highlight the suffering inflicted on the people due to misgovernance and apathy. This charge sheet is an outcome of detailed consultations with Goans from all walks of life including sector experts, scholars, community representatives, civil society members, and common citizens, and is a reflection of the anger and despair of the Goan people. This charge sheet is a fact-based document backed by comprehensive data and extensive research highlighting issues across 9 sectors.
After having given permission for a peaceful event on Oct 21, 2021, the authorities today cited 'law & order concerns' and started to disperse the media who had come for the event scheduled for 2:30 PM at the iconic Azad Maidan in Panaji, a site synonymous with all citizens' movements in the State. This attempt to silence Goa TMC was protested by the entire leadership who wore black bands and used placards to make their point. TMC National Vice-President, Shri Luizinho Faleiro said, 'This shows how scared the BJP is. But they should know that we are street-fighters and we will not relent from being the voice of Goans.'
Undeterred, the entire Goa TMC leadership released the 'People's Chargesheet' along with Lok Sabha MPs Shri Saugata Roy, Smt Mahua Moitra, and former Union Minister Shri Babul Supriyo sitting on the stairs of the dome at Azad Maidan marking their protest against the BJP.
Goa TMC leaders asserted that the 'People's Chargesheet' dismantled any narrative about development and prove beyond doubt that successive Governments in Goa had betrayed the people with 'fake promises' and achieved little on the ground.
Launching a scathing attack at the BJP Government, Lok Sabha MP, Smt Mahua Moitra said, 'We are here with every single woman who cannot walk on the streets feeling safe, we are here with every single youth who cannot get a job because of 25% unemployment and we are here with every single Goan who cannot buy a home in their own state. We are here to stay and we will fight to the finish.'
Talking about the issue of depleting the economy, Goa TMC leader Shri Yatish Naik raised an alarm by saying, 'Every Goan has a debt of Rs 1.53 lakh on their head. So, you can imagine how successive Governments have looted the coffers.'
After highlighting a host of issues including the environment, healthcare, education, illegal mining, and threat to Goan identity, the entire Goa TMC leadership issued a clarion call seeking the immediate dismissal of the ruling dispensation and asked the people to back a credible alternative that could help rebuild Goa.