Goa-Portugal to explore Best Practice and Technology Sharing for Better Tourism- Minister Rohan Khaunte
Tourism Minister Khaunte meets Portugal Minister H.E. Antonio Costa Silva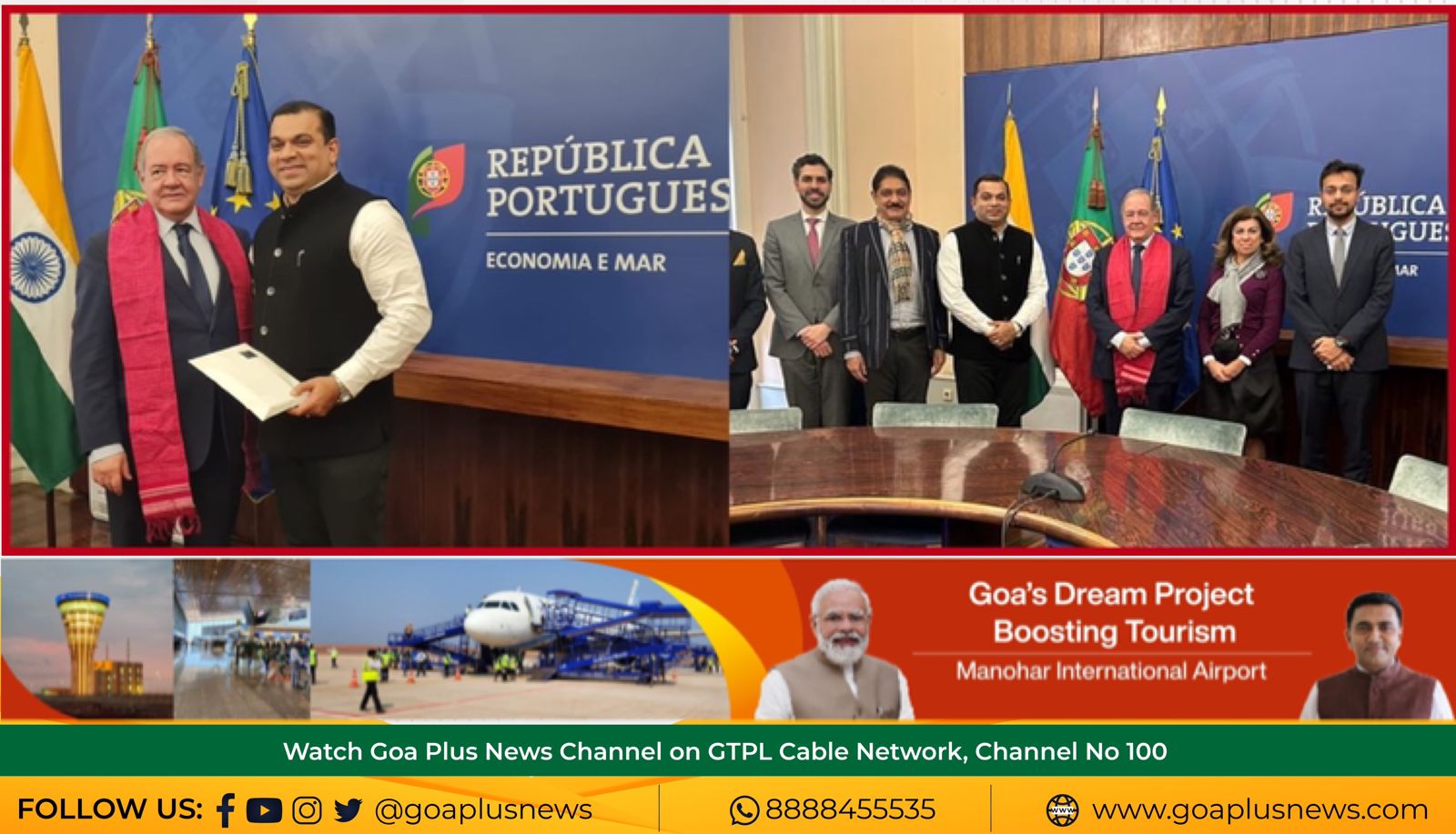 Panjim: Goa and Portugal to explore best Practices and Innovative Technologies to bring better Tourism Experiences in Goa. This was announced by Tourism & ITE&C Minister Rohan Khaunte while sharing details about his visit to Portugal and series of marathon meetings with various stakeholders he held there for Goa's Tourism promotion.
Tourism Minister Khaunte who is on a visit to Portugal from March 1, 2023 to attend the BTL, recently met H.E. Antonio Costa Silva, Minister of the Economy and Maritime Affairs of the Portuguese Republic. Both leaders held discussions in depth on various aspects in the field of Tourism & IT. Khaunte, who is representing Goa state, also had discussions with Silva, with regards to possible future collaborations in the tourism sector. H.E. Silva and Khaunte held a meeting at the former's Government residence.
Both leaders discussed different possibilities with regards to development in tourism and exchanged their ideas and views.Goa and Portugal will collaborate & share their ideas, knowledge, and sign MOU in Tourism and IT soon.
Scope of the duo's discussions was on exchange of ideas regarding growth of tourism, building demand for Goa from Portugal, alternative fuels, startup ecosystem, exchange of views and many more.
While sharing details of different meets held in Portugal with many stakeholders of Tourism, Minister Khaunte said, exploring Best Practices and Innovative Technologies to bring about a Better Tourism Experience in Goa forms the basis of my official visit to Portugal.
Khaunte said Portugal visit was a very tight schedule with a series of marathon meetings lined up over the last couple of day's. He added further saying that he met and discussed with various Tourism & IT Stakeholders which will Promote Quality Tourism between Goa & Portugal and help Goa Tourism widen its scope in the European sector.
Meeting with MasterCard's Quim Martínez Bosch, Vice President Global Tourism Innovation Hub explored the possibilities of sharing Technologies in the Tourism sector. MasterCard & Khanute identified the inclusion of Goa as part of the Global Tourism Innovation Hub Programme and MasterCard's Priceless Experiences Programmes as low hanging fruits.
Minister added further said that different aspects of Innovative Practices in Travel Technology and connecting to future targeted high yield buyers were discussed in the meeting with Ramón Sánchez Alvarez, Head of Strategic Projects at Amadeus IT Group.
Minister's interaction with the Executive President of the Portugal India Business Hub, brought forth assurances of business exchange between Portugal & Goa, Khaunte informed.
Minister Khaunte's meeting with Nuno Fazenda, State Secretary for Tourism & Commerce for Portugal explored a wide range of joint possibilities in the Hospitality and Tourism industry between Goa & Portugal.
Manish Chauhan, Indian Ambassador in Portugal too met our Tourism Minister Khaunte and shared deep insights regarding Business & Investment possibilities between India and Portugal in the field of Tourism & IT.
Increasing the Air Connectivity between Portugal & Goa is key and with the new international airport in North Goa, Manohar International Airport, the possibility of a new route was discussed in one of the meetings that Khaunte held with Christine Ourmières-Widener, CEO at TAP Group, Portugal. Ms. Ourmières-Widener requested her team to study the route and explore possibilities. The same sentiment of exploring flights into Goa was also discussed with World 2 Meet Travel and HiFly.
Khaunte met Joao Falcato, CEO, Oceanario De Lisboa and that helped the team to gain insights towards understanding the infrastructural requirements and business possibilities and viability of a World Class Oceanarium Project if it should need to be set up in Goa, said Khaunte.
Giving his concluding remark on Portugal visit, TM Khaunte said it was a fruitful visit to Portugal, since many opportunities were explored during different meetings with stakeholders for growth of Tourism and IT sector of Goa.