Declare All Scorched Forests as No Development Zone & Constitute High Level Commission under Retd. HC Judge to Probe & Study Fire Incidents, landslides and Coastal Soil Erosion- Yuri Alemao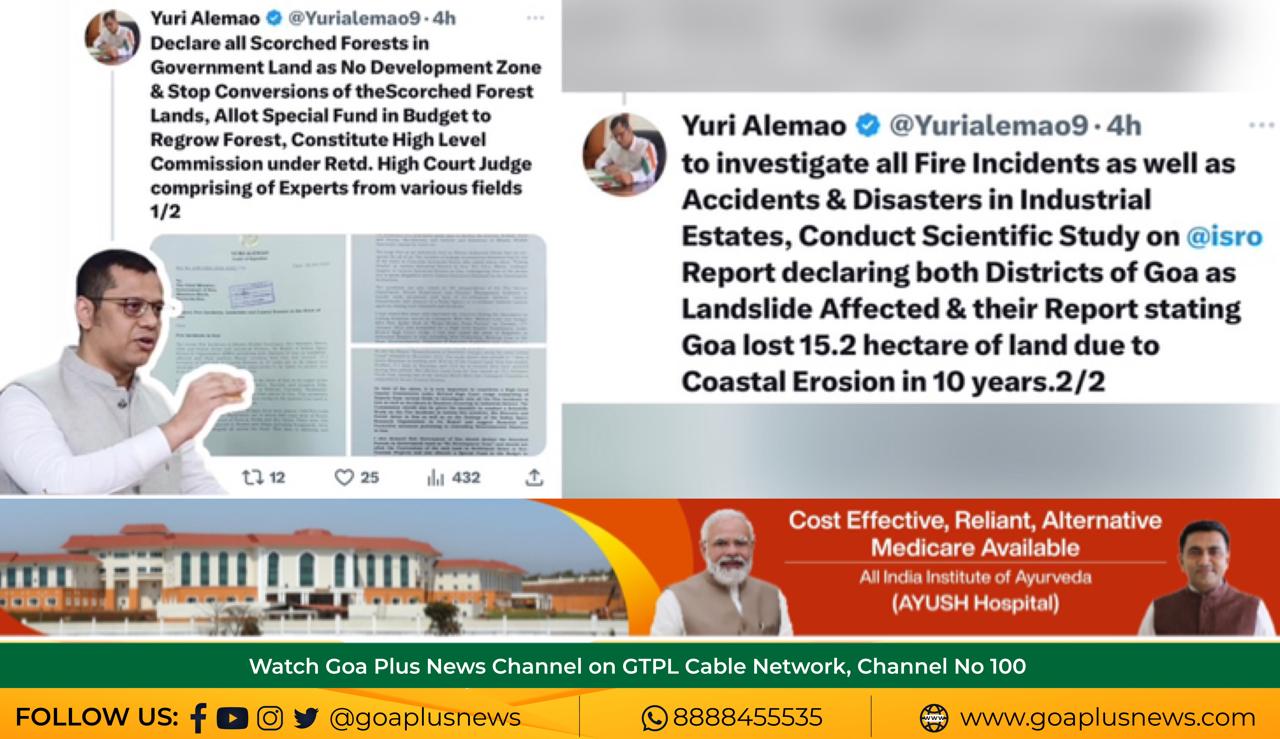 Panaji: Leader of Opposition, Yuri Alemao today wrote a letter to the Chief Minister drawing his attention to the recent Fire Incidents in Mhadei Wildlife Sanctuary, Eco Sensitive Zones, Hills and Forest Areas and Industrial Estates as well as the Report of Indian Space Research Organization (ISRO) identifying both Districts of Goa as Landslide-affected and their another Report revealing that Goa lost around 15.2 hectares of land due to Coastal Erosion in 10 years stating that these incidents and reports are to be taken very seriously and immediate pro-active steps needs to be taken to protect Goa from any further incidents and calamities.
It is very important to constitute a High Level Inquiry Commission under Retired High Court Judge comprising of Experts from various fields to investigate into all the Fire Incidents in Goa as well as Accidents & Disasters occurring in Industrial Estates. The Commission should also be given the mandate to conduct a Scientific Study on the Fire Incidents in various Eco sensitive, Bio Diversity and Forest Areas in Goa as well as on the findings of the Indian Space Research Organization in its Report and suggest Remedial and Corrective measures pertaining to controlling Environmental Disasters in Goa, demanded Leader of Opposition Yuri Alemao in a letter sent today to the Chief Minister, Dr. Pramod Sawant.
I also demand that Government of Goa should declare the Scorched Forests in Government Land as "No Development Zone" and should not allow the Conversions of the said Land to Settlement Zones or Eco-Tourism Projects and also allocate a Special Fund in the Budget to Regrow the Forests, Yuri Alemao stated in his letter.
I have information that a Private Forest with pristine trees, bush cover, numerous birds and reptiles was burnt down deliberately with a malicious intent of selling the Communidade land to builders at Soccoro Village in Bardez. The reports of Fire in every Taluka of the State over the last weekend gives scope to suspect foul play. The anti-environment and real estate mafia are eyeing on prime Goan cultivable lands to convert them into concrete jungles. This needs to be probed thoroughly, the letter stated.
Although the Fire incidents in hill areas are attributed to rising temperatures, the possibility of a systematic game plan to destroy the Forests, Wildlife, Flora and Fauna, Bio-diversity and Identity and Existence of Mhadei Wildlife Sanctuary cannot be ruled out.
The letter has also mention of huge Fire at an Industrial Unit in Pillerne Industrial Estate. Leader of Opposition has also mentioned about the incident of leakage of poisonous Ammonia Gas in one of the Units in Cuncolim Industrial Estate and termed the Industrial Units as "Ticking Bombs" in various Industrial Estates in Goa.
In his letter, Leader of Opposition has raised questions on the preparedness of the Fire Service Department, Forest Department and Disaster Management Authority to handle such situations and lack of Co-ordination between various Departments and absence of a Nodal Agency to co-ordinate between various agencies during such Disasters and Incidents.
The letter also focuses on the Report of Indian Space Research Organization which has identified both the Districts of Goa (North and South) as Landslide affected among the 147 Landslide-affected Districts in the Country as well as the research report prepared by the Indian Space Research Organization (ISRO) using remote sensing Satellites has revealed that Goa lost around 15.2 hectare of Land due to Coastal Erosion during 10 years.