Congress carries out mega rally against Job Scam
BJP running government in undemocratic way: Congress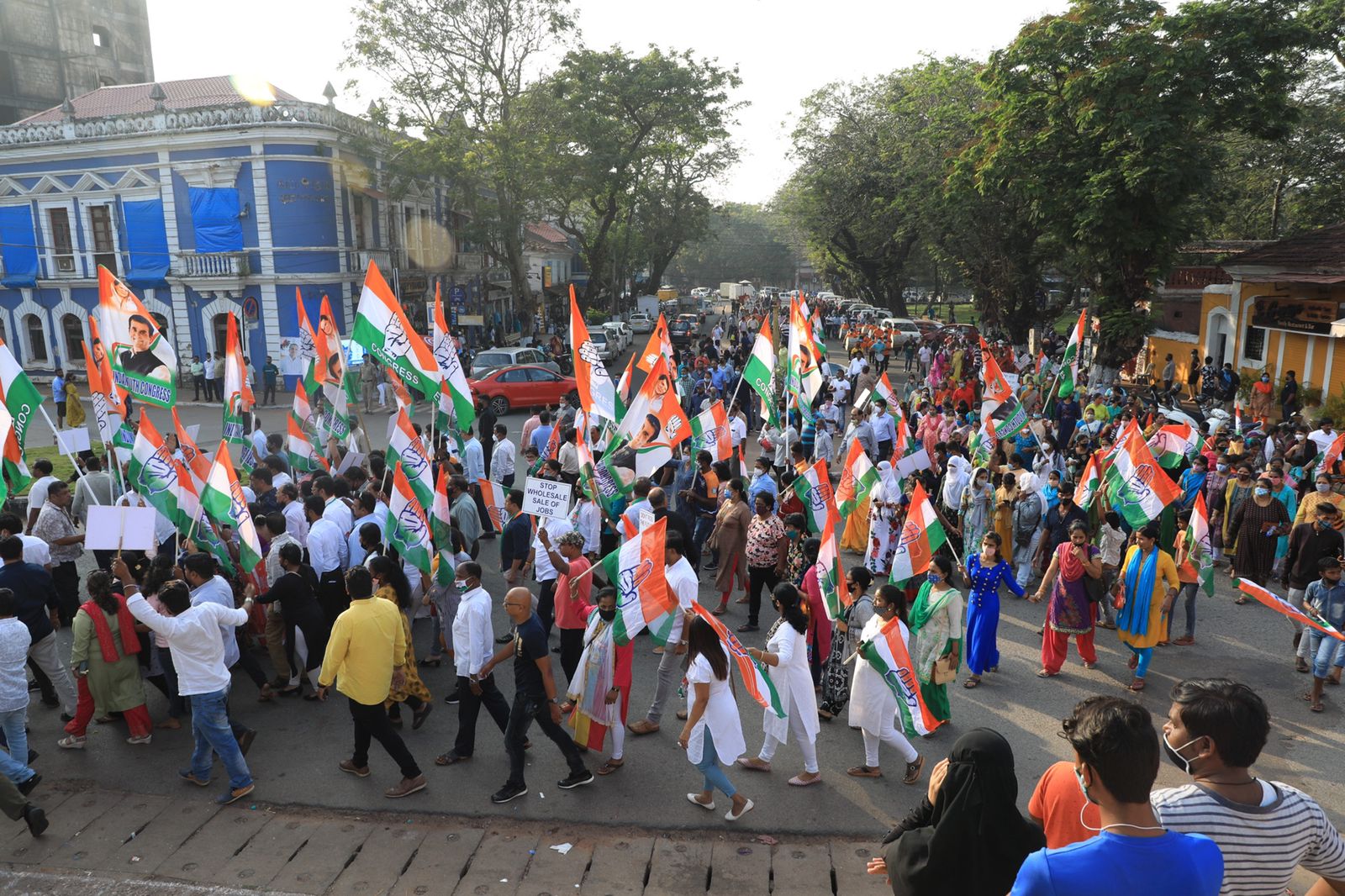 PANAJI: While condemning the act of the BJP government to restrain Congress to carry out a protest against the job scam, leader of opposition Digamabar Kamat on Monday said that the former using undemocratic practice is trying to suppress the voice of people and breaking the communication.
Congress leaders along with their supporters carried out Morcha from their office, where they were first restrained to go ahead at Azad Maidan. Later they were stopped at Altinho near the Chief Minister's official residence. GPCC President Girish Chodankar,Media Department Chairman Amarnath Panjikar, GPYC President Adv. Varad Mardolkar, vice president Sankalp Amondkar, Bina Naik, Rajesh Phaldesai, Rudolf Fernandes, Yuri Alemao and others were present on the occasion.
Heavy police force was used to stop congress workers from reaching the Chief Minister's residence. However, later the collector reached the site and accepted the memorandum.
Kamat speaking on the occasion said that it is wrong to restrain Congress workers, who were trying to meet the Chief Minister to submit a memorandum. "BJP MLAs have exposed the government over a job scam. They have said that it is a scam of around 70 crore. Hence to give justice to deserving candidates we wanted to demand scrapping of posts through the means of memorandum. But the police didn't allow us to meet the chief minister." Kamat said.
"Was this government was running in democratic way, then it would have heard our voice. But the way we were stopped, it is evident that BJP is running this government in an undemocratic way." Kamat said.
Girish Chodankar said that all the posts from various departments should be scrapped as manipulation has been done in exams. "It is clear that BJP has sold the jobs for a heavy price. Hence these posts should be scrapped and recruitment should be done under the Staff Selection Commission." He said.
Varad Mardolkar said that they will fight to give justice to the youths of Goa. "we are demanding to scrap these jobs as BJP government has done injustice to deserving candidates." Mardolkar said.