Congress alleged large scale fraudulent land deals getting approvals under the BJP government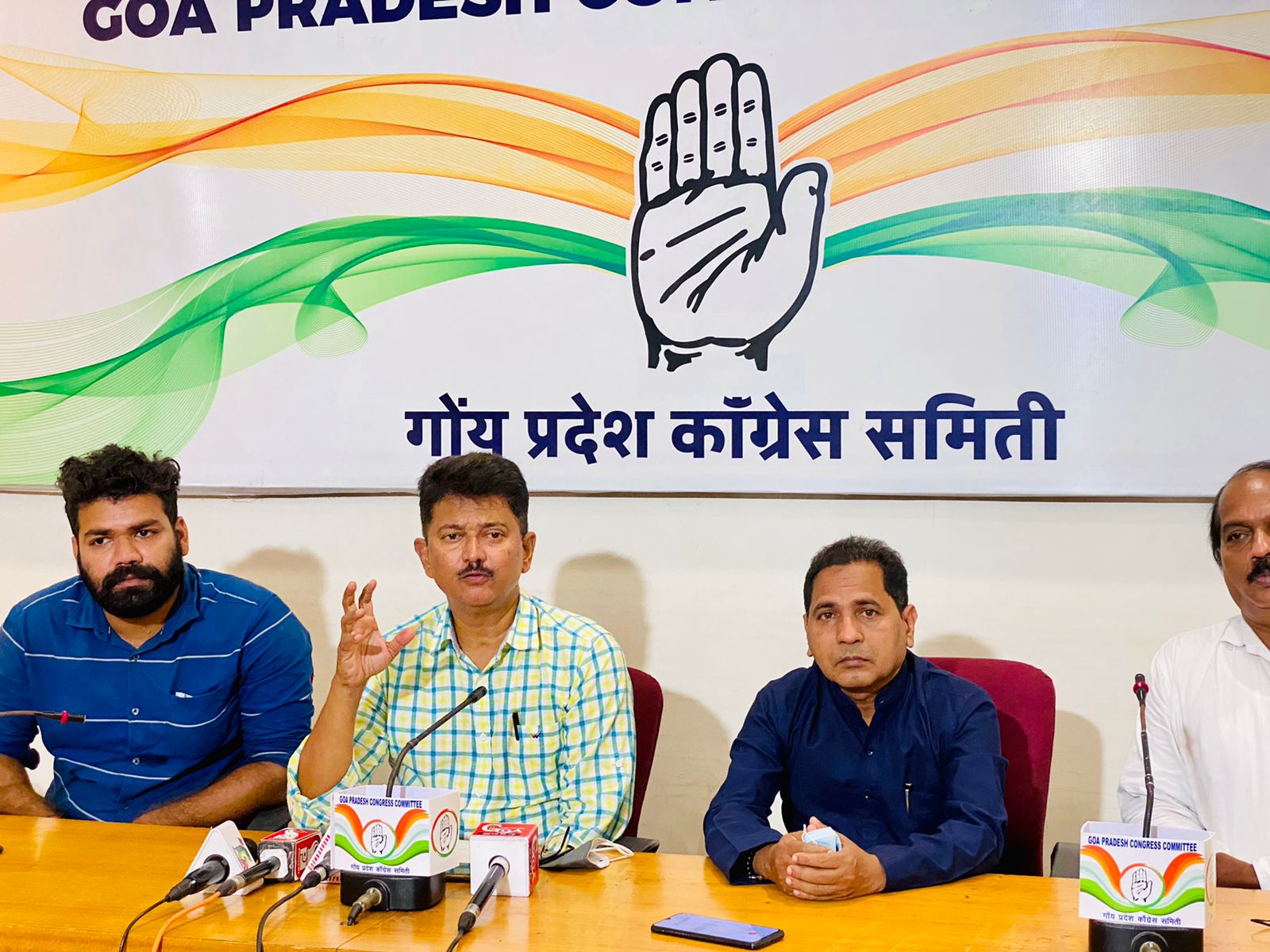 Panaji: On the basis of gross misuse of land records such as form 1 & 14 to pass them off as title documents that was resulting in sale of vast tracts of land to mostly Delhi based and other outside buyers. Addressing media in Panaji, Congress leader and co chairman of the manifesto committee, Elvis Gomes likened land sale transactions to that of 'flea market' for the simplicity with which, on the basis of a mere form 1&14 land could be sold. He said that it was a direct attack on 'goycarponn' and identity of Goans. Giving an an example of land transactions in Pernem taluka alone, Gomes accompanied by Congress leaders from Pernem Vitu Morajkar, Rudresh Deshprabhu and Dilip Parab alleged that transactions of land sale had risen to menacing proportions with nearly 5000 land deals having taken place in a few years most of them on the basis of bogus documents. "Use of bogus land records or mere form 1 & 14 is now a rule rather than an exception" said Gomes demanding appointment of a judicial commission to go into bogus land deals to protect the identity of Goa.
Citing an example of Dhargal village in Pernem Taluka, Gomes said that the modes operandi adopted was to threaten the poor farmers with the use of a weapon called land acquisition to force them to sell their land to private buyers .
"The past instances of poor compensation in land acquisitions when weighed against tempting offers by land mafia compel farmers to part with their lands and go for mutation of land records. Thereafter the land mafia having nexus with ministers and officers go for sale deeds on the basis of such inadmissible documents, thus committing fraud on the people which deserves to be punished. Over 60% of farmers who lost land to Mopa airport, Sports city, Electronic City, Link Road to airport, NH expansion etc have not been paid any compensation. " said Gomes citing cases of major land deals that were in the suspect list since much of the land was also belonging to government. Some of the examples cited as being suspect are:
8.16 lakhs sq mtrs Malaga realtors, Vasco,
4.62 lakhs JMTownship Mumbai,
4.38 L christan farm lands Bangalore ,
3.5 L NE electronics LTD Assam ,
2.50 L leading hotels Delhi,
57 L wides property and holdings Panaji,
1.13 and 2.44 Bayside realty Pvt LTD Mumbai.
2.27 Land 2.13 L enterprise value enhancement pvt Mumbai.
1.35 and 1.35 JM township Mumbai.
1.19 Prasanna developers,
1.16 JM township Mumbai.
94000 PN writer and co mumbai.
65000 by riviera construction Mapuca
nearly 5 lakhs by Delta corp.
Gomes said that the government should review sale deeds of all such land transactions by placing the onus to prove title on the seller and buyer.
"Form 1 and 14 is not for title. When a suspicion is raised, the government must investigate" said Gomes adding that complaints by people were not even getting an acknowledgment from Govt.
Gomes recalled that the then Congress government at the centre in a major reform in the land acquisition process had brought in a new act called the "Right to fair Compensation and transparency in Land Acquisition, Rehabilitation, and resettlement Act 2013" and said that the future Congress government would ensure that all those whose compensation was not paid would get justice at market rate.
Touching on the issue of social impact assessment studies which are mandated under the Act of 2013, Gomes wondered how the investment promotion board was ignoring the social impact assessment aspect while approving large scale projects in the private lands which have been purchased without proper titles of sellers. " Is there no social impact on the land of villagers going into private hands ?" asked Gomes.