CM Presents Co-Operative Awards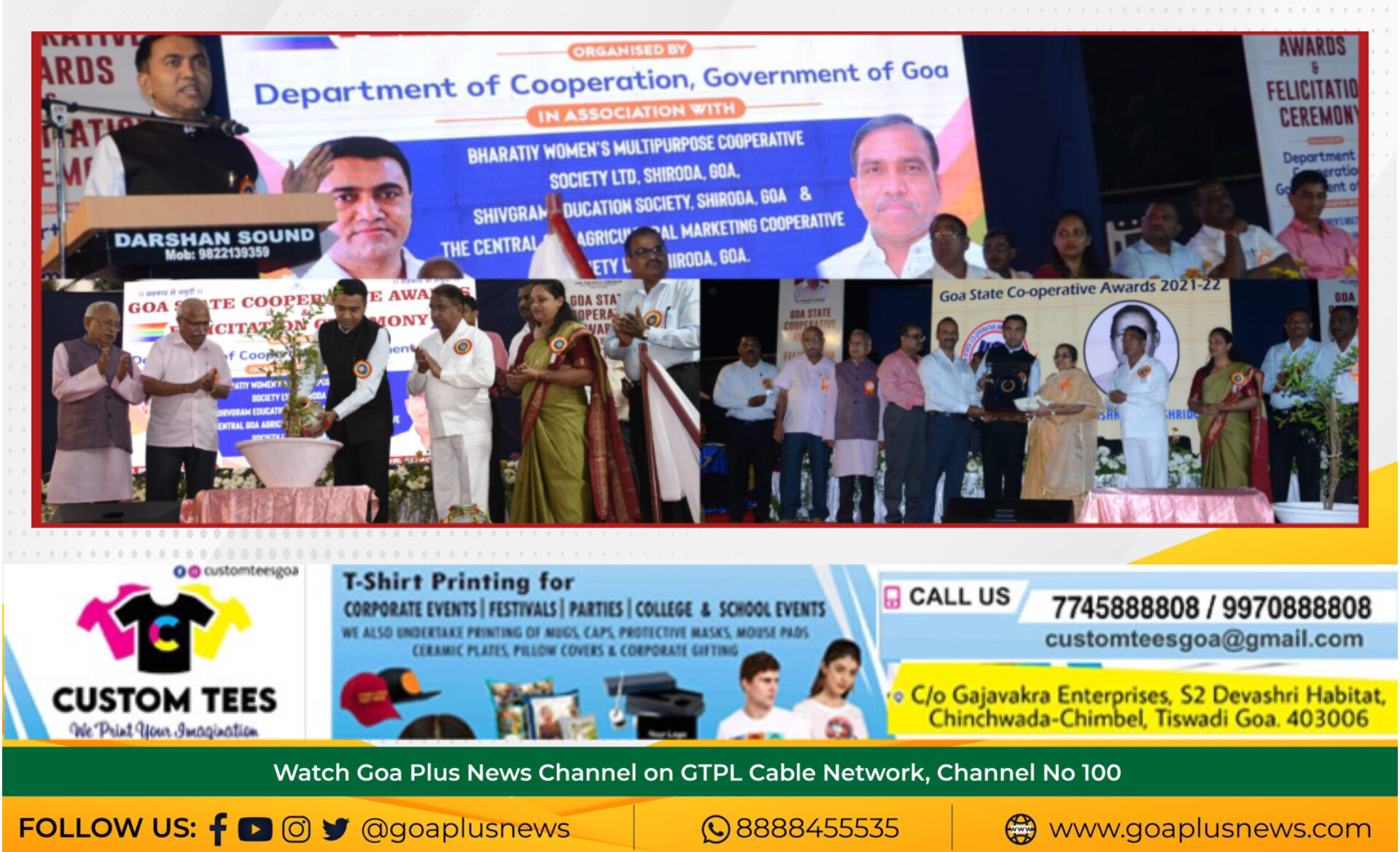 Panaji: January 25, 2023
Chief Minister, Dr Pramod Sawant in presence of Minister for Cooperation, Shri Subhash Shirodkar presented Goa State Co-operative Awards at a function held at Shiroda KTC Bus Stand premises today.
This awards and felicitation ceremony was organised by Department of Cooperation in association with Bhartiya Women's Multipurpose Co-operative Society Ltd. Shiroda; Shivgram Education Society, Shiroda and The Central Goa Agricultural Marketing Co-operative Society Ltd. Shiroda.
While speaking on the occasion Chief Minister, Dr Pramod Sawant said, when country is celebrating Azadi Ka Amrit Mahotsav we should think of getting country ahead in every field. Everyone should think how Cooperative movement will be more successful in the State. After last seventy years of liberation Co-operation sector had not focussed on national level but under the guidance of Prime Minister, Shri Narendra Modi and under the leadership of Union Minister Shri Amit Shah Union Cooperation Ministry was formed. Cooperative sector can benefit State and Country at large. Through coperation movement financial, industrial and employment revolution can be achieved. Cooperative industries and society should not depend on Government but they should stand on their own feet and ideology, no doubt government will always support them. We need major changes in Cooperative laws and it should be strictly followed.
Through Cooperative movement we should tap women and youth energy he said. Cooperative sector should take initiative to generate skilled manpower. He said, if Sahakar meaning Cooperative and Swayampurna Goa mission join hands it can bring lot of positive changes in the State. Goa have many opportunities which other states do not have, he added.
Chief Minister
congratulating all award winners and felicitatees said all should take inspiration from them. Any Awardees should be selected and should not ask for applications he said.
Minister, Shri Subhash Shirodkar speaking on the occassion said, presentation of awards and felicitation is a boost for the persons who are dedicadately working in every field. Excellence should be achieved in every field he said. 500 to 700 new farmers will come in the agriculture from Shiroda constituent he said. He said Cooperation and ideas of every individual are expected for the overall development he said.
Sahakar Ratna Award was presented to Late Jaikrishna Putu Shirodkar postumously; Sahakar Bhushan to Shri Shrikant P Naik; Sahakar Shree to Shri Damodar Betu Naik. Other awards presented were – Best Cooperative society – The Bhandari Co-op. Credit Society Ltd.; Consolation award to co-op society for The Bicholim Merchants Urban Co-op Credit Society Ltd. a Suvarnlaxmi Sahakari Patapeddhi Maryadit, Margao. Assistance to individual is provided to Smt Hemashri Gadekar and Prakash Naik. On the occassion persons from Shiroda Constituency were felicitated for their dedicated service in various fields. Chief Minister also inaugurated Bhartiya Women's Multipurpose Co-operative Society Ltd. Shiroda.
Zilla Panchayat Member, Shiroda, Shri Narayan Kamat; Sarpanch Shiroda Village Panchayat, Smt Mugdha Shirodkar; Sarpanch, Borim, Shri Domnic Gaonkar; Registrar of Cooperative societies Shri Vishant Gavnekar; Chairman, Goa State Co-operative Bank, Shri Ulhas Phaldessai; Goa State Co-operative Union, Shri Shrikant Naik; Chairman, Goa Dairy, Shri Rajesh Phaldessai and others were among the prominent persons present on the occasion.
Programme was inaugurated by watering Pomegranate sappling. Students of Bharatnatyam Kalasagar Nrityangan Kendra presented welcome dance. Yuva De Shiroda group presented Dhol Tasha fusion and drums of Goa fusion.
Shri Vishant Gaunekar presented introductory speech. Smt Mugdha Shirodkar welcomed. Dr Gauri Shirodkar compered. Shri Narayan Kamat presented vote of thanks.