CM is involved in Rs. 1686 crore mining scam: Congress
Sawant playing vindictive politics, fearing defeat, Congress has given 80 per cent new faces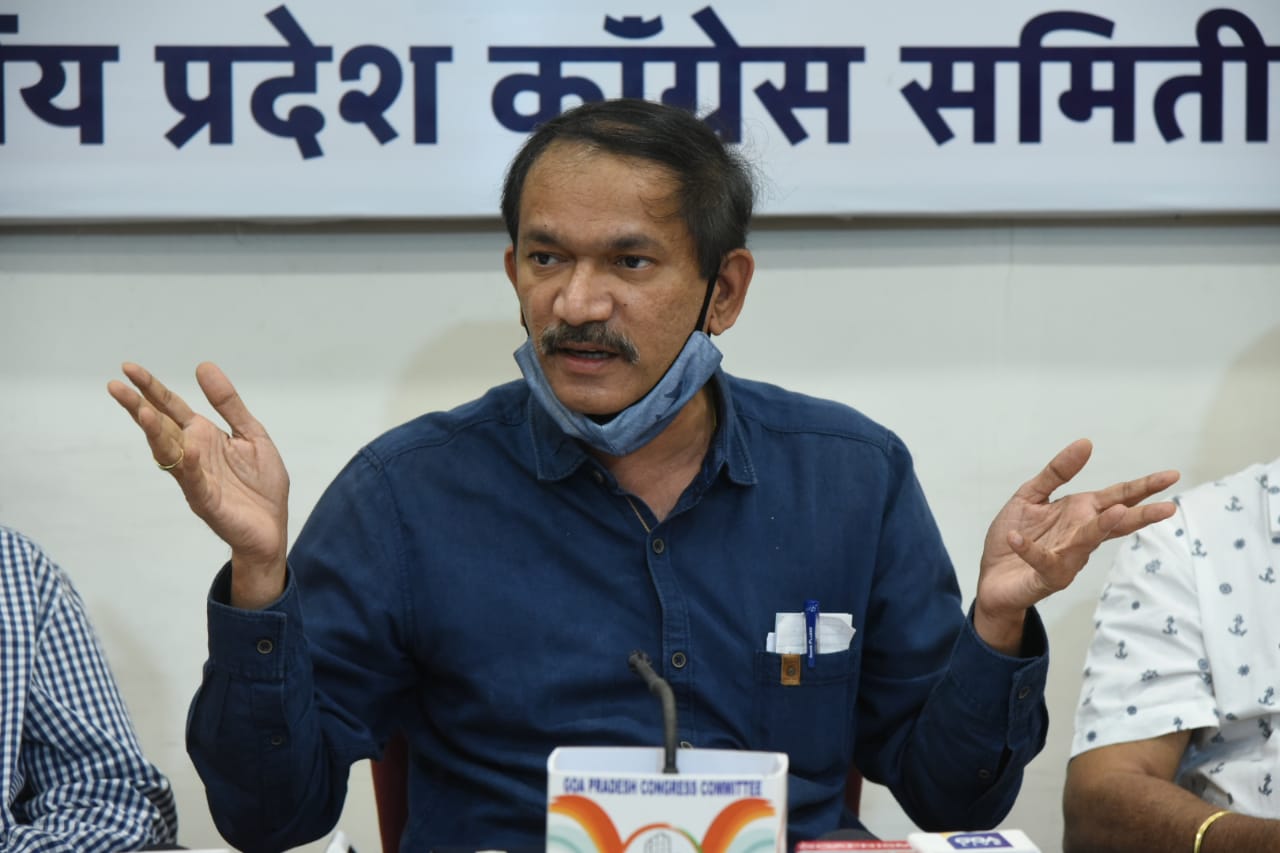 PANAJI: The President of Goa Pradesh Congress Committee Girish Chodankar on Thursday alleged that corrupt and insensitive BJP Chief Minister Pramod Sawant is playing vindictive politics by harassing Congress candidates, fearing to face defeat and he
"Sawant is involved in a 1686 crores rupees mining scam. We will expose this during Amit Shah's visit to Goa. Besides this, we will also expose why he shielded Milind Naik in sex scandal case and corruption he did during COVID." Chodankar vociferously said.
Chodankar on Thursday addressed a press conference in Panaji and said that Sawants focus remained only on garnering money from corruption and illegalities. GPCCs Vice President M K Sheikh, Viec President Altinho Gomes, chairman of Media department Amarnath Panajikar and District President Vijay Bhike were present on the occasion.
"We have not given tickets to defectors and have given around 80 per cent new and young faces on demand to the people of Goa." He said.
"We had promised to the people of Goa that we will not support the defectors directly or indirectly, and that we have fulfilled." Chodankar said.
He said that 30 candidates are new faces and around 18 are facing the assembly election for the first time. "Popular demand of people is getting fulfilled. We have kept our word and have given young faces. We have given representation to women, all caste and religion while choosing for candidature." Chodankar stated.
"I am optimistic that people of Goa will give blessings to these candidates and will elect them to represent their respective constituencies." He said.
He charged that Chief Minister Dr. Pramod Sawant has conceded the defeat and hence he is trying to create hindrance before our candidates. "Sawant is afraid of our candidate Dharmesh Saglani from Sanquelim and hence filing an unwanted FIR against him by misusing power. He has already filed two FIRs against him and more may be on the way. If he has guts let him file more FIRs and send him behind bars. But still Dharmesh Saglani will win the Sanquelim seat." He said.
Chodankar said that desperate Chief Minister Sawant is using police officials to deter Dharmesh Saglani. "He is repeating the history of former BJP Chief Minister Laxmikant Parsekar. Sawant will also get defeated likewise Parsekar." He said.
He said that Chief Minister Sawant gave clean chit in Sex Scandal case, though all evidences were there against him. "People of Goa will decide about this and we will also approach court." He said.
He said that the BJP government failed to take action against extortion charges against Dayanand Sopte and vulgar video made viral by deputy chief minister Chandrakant Kavalekar. "BJP government is trying to create hurdles in front of Sankalp Amonkar, Dharmesh Saglani and others. But we are not afraid. Our candidates will win as people have decided to reject BJP candidates." He said.
He said that BJP candidates from Sanquelim have lost all local body elections and thus it is clear that Pramod Sawant will get defeated.
He has warned government officials not to fall prey to the unwanted orders of BJP leaders. "we will take action against these officers once we form a government." He said.