BJP uses Mahatma Gandhijis name only for self promotion: Dinesh Rao
Congress observes death anniversary of Mahatma Gandhiji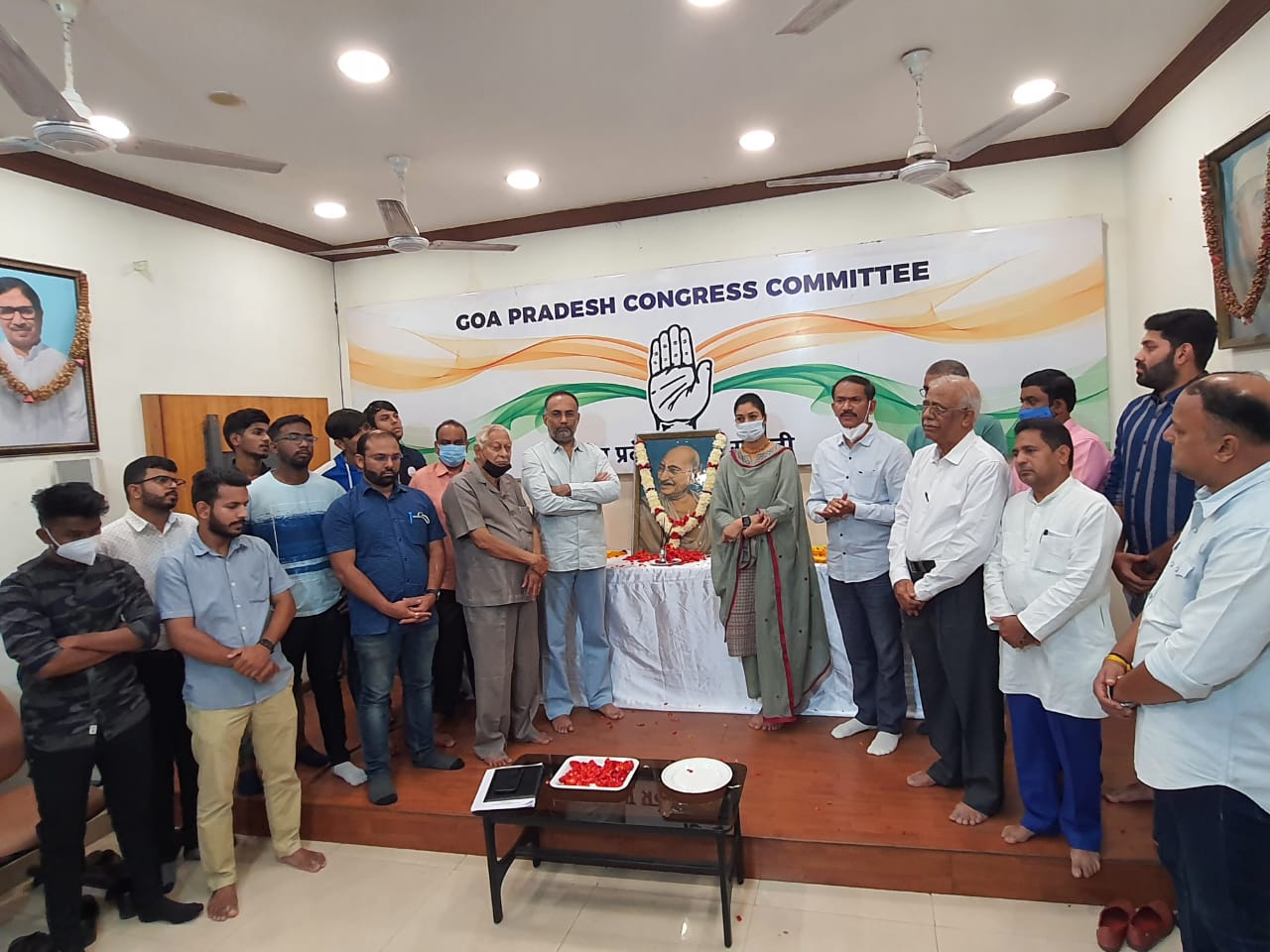 PANAJI: The Congress Party on Sunday observed the 74th death anniversary of Mahatma Gandhi, who was assassinated by Nathuram Godse on January 30, 1948. On the occasion, Goa In charge Dinesh Gundu Rao charged that BJP uses Mahatma Gandhijis name only for self promotion.
GPCC President Girish Chodankar, Goa In charge Dinesh Gundu Rao, AICC Media Incharge – Goa Alka Lamba, GPCC Vice President M K Sheikh, former deputy speaker Shambu Bhau Bandekar, Sunil Kawthankar , SC Chairman Vithu Morajkar, Himanshu Tivrekar, Naushad Chowdhari, and others were present on the occasion, who paid their rich tributes to Mahatma Gandhiji.
Shambu Bhau Bandekar said that Gandhiji won the hearts of the world his principles of 'Satya' (Truth) and 'Ahimsa' (non-violence).
"We should be proud that such a great leader was born in India." He said.
Alka Lamba said that Netaji Subhash Chandra Bose gave honorific title of Father of Nation (Rashtrapita) to Mahatma Gandhi, however the Modi government disrespects him. "BJP government unveiled the hologram statue of Netaji Subhass Chandra Bose in Delhi, however when it disrespect Mahatma Gandhi, I feel it is disrespect of Netaji too." She said.
She said that Congress will move forward with principles of Mahatma Gandhi and tackle all the problems the nation is facing.
Girish Chodankar said that the world was in shock when Mahatma Gandhiji was assassinated. "It was the first terrorist attack in our nation. Hate ideology of RSS forced Nathuram Godse to become terrorist and kill Mahatma Gandhi." He said.
"Bapuji is still alive. They could not kill his thoughts and his principles. RSS is trying to malign his image, but they will not succeed in it." He said.
"At present Goa is under attack by BJP. But we will combat it with Satya and ahimsa principles of Mahatma Gandhiji." He said.
Dinesh Gundu Rao said that it is the blackest day in the history of India. "Many sacrificed their lives for the independence of India. We remember them all on this martyrs day." Rao said.
"Gandhiji fought non-violently against the British. Our nation remained united due to the leadership of Mahatma Gandhi and other leaders." Rao said.
"It is irony that today divisions are erupting again. People are speaking the language of hate and violence. Using the garb of religion some are inciting violence and people are being threatened killed and lynched."He said.
"BJP uses Mahatma Gandhijis name only for self promotion, but their policies and programs are against his principles. BJP never accepted his as father of nation and a leader." Rao stated.
He appealed to all to work to protect the nation.