BJP spreading fake narrative, we don't have monarchy to transfer power by Sengol: Congress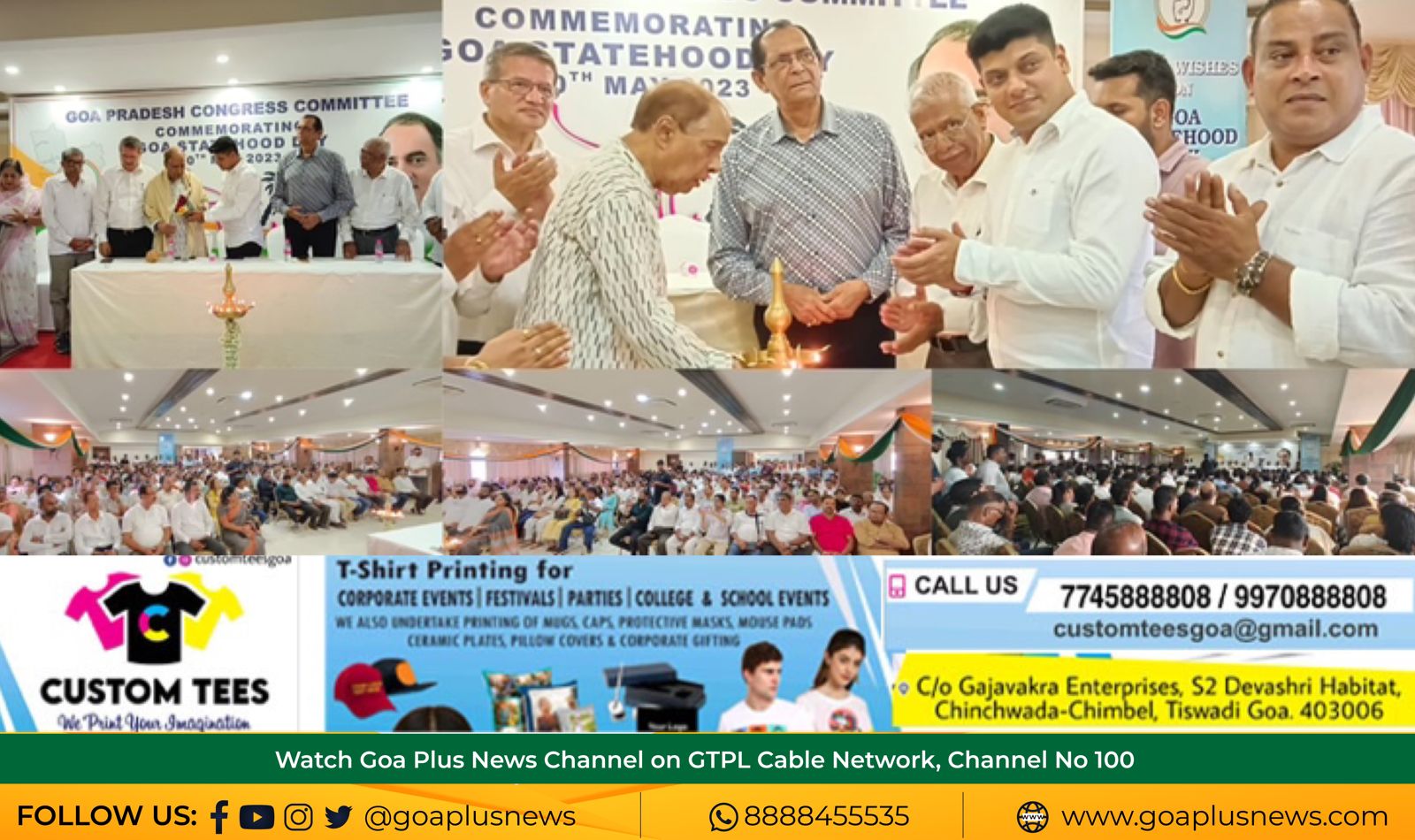 Panaji, May 30: Goa Pradesh Congress Committee President Amit Patkar on Tuesday said monarchy doesn't exist in the country for making use of 'Sengol' to transfer powers, that right is with people who have shown the doors to BJP in Karnataka.
He was speaking during the 'Statehood Day' celebration in Margao.
Former MP Eduardo Faleiro, MP Francisco Sardinha, Aldona MLA Adv. Carlos Alvares Ferreira, Senior Vice President M K Shaikh, Amarnath Panajikar, Mahila Chief Beena Naik, Capt Viriato Fernades, districts presidents Viren Shiodkar and Savio D'Silva, Sevadal Chief Jaidev Prabhugaonkar, Naushad Chaudhary and others were present on the occasion.
Amit Patkar said that it is a proud moment that Congress leaders played a vital role to get statehood by using good relations with former Prime Minister Rajiv Gandhi.
On the occasion Congress leaders felicitated Eduardo Faleiro for his contribution in getting statehood.
He said that Congress leaders MP Francisco Sardinha, former MP Eduardo Faleiro and late Shantaram Naik played vital roles for statehood along with central leaders.
Speaking about the inauguration of the new Parliament building, Patkar said "This is not monarchy for transfer of powers by Sengol, that right is with people who have shown the doors to BJP in Karnataka. Modi has always tried to misguide people and impress people with unwanted things,"
Patkar criticised Prime Minister Narendra Modi for depriving the right of President of India Draupadi Murmu to inaugurate a new parliament building. "Modi is not a king to practice transfer of powers using sengol," he said
"BJP has set a wrong narrative that because of Pandit Jawaharlal Nehru, liberation of Goa was delayed. "This is wrong and they are trying to spread misinformation," he said.
"BJP is dividing people on religion, language and other issues. Modi failed to bring back black money and has taken U Turns in all given promises. Time has come to expose their Jumlas and protect our nation," he said.
He said to protect the culture and peace of Goa, there is a need to win both seats of Lok Sabha.
Eduardo Faleiro said that post liberation a lot of development has taken place in Goa. "During opinion poll people decided to protect our identity and voted against the merger," he said.
Francisco Sardinha said that Statehood is the great day for Goa. "We fought against the merger during the opinion poll and preserved our identity. Later with the efforts of Rajiv Gandhi our mother tongue Konkani was included in the 8th Schedule of the Indian constitution and also we got Statehood," Sardinha said.
He slammed BJP for diverting river Mhadei to fulfill thirst for steel Plants in Karnataka. "They want water for steel plants and hence they are diverting water.
Adv. Carlos Alvares Ferreira said that Congress has made great contributions for liberation and also for getting statehood. "BJP is trying to divide the nation on religion, on territorial lines. They are also trying to divide Manipur," he said.
"We need to unite and protect our state," he said.
M K Sheikh, Beena Naik, Viriato Fernandes and others spoke on the occasion. Amarnath Panjikar compered the program. M K Sheikh welcomed, while Savio D'Silva proposed vote of thanks.