BJP has turned "Demographic Dividend" into "Demographic Disaster"! Says Randeep Singh Surjewala, GS INC
BJP's DNA is Anti Youth & Anti Women! Vote out Unemployment- Vote out BJP! Vote out Anti Women Mindset- Vote out BJP!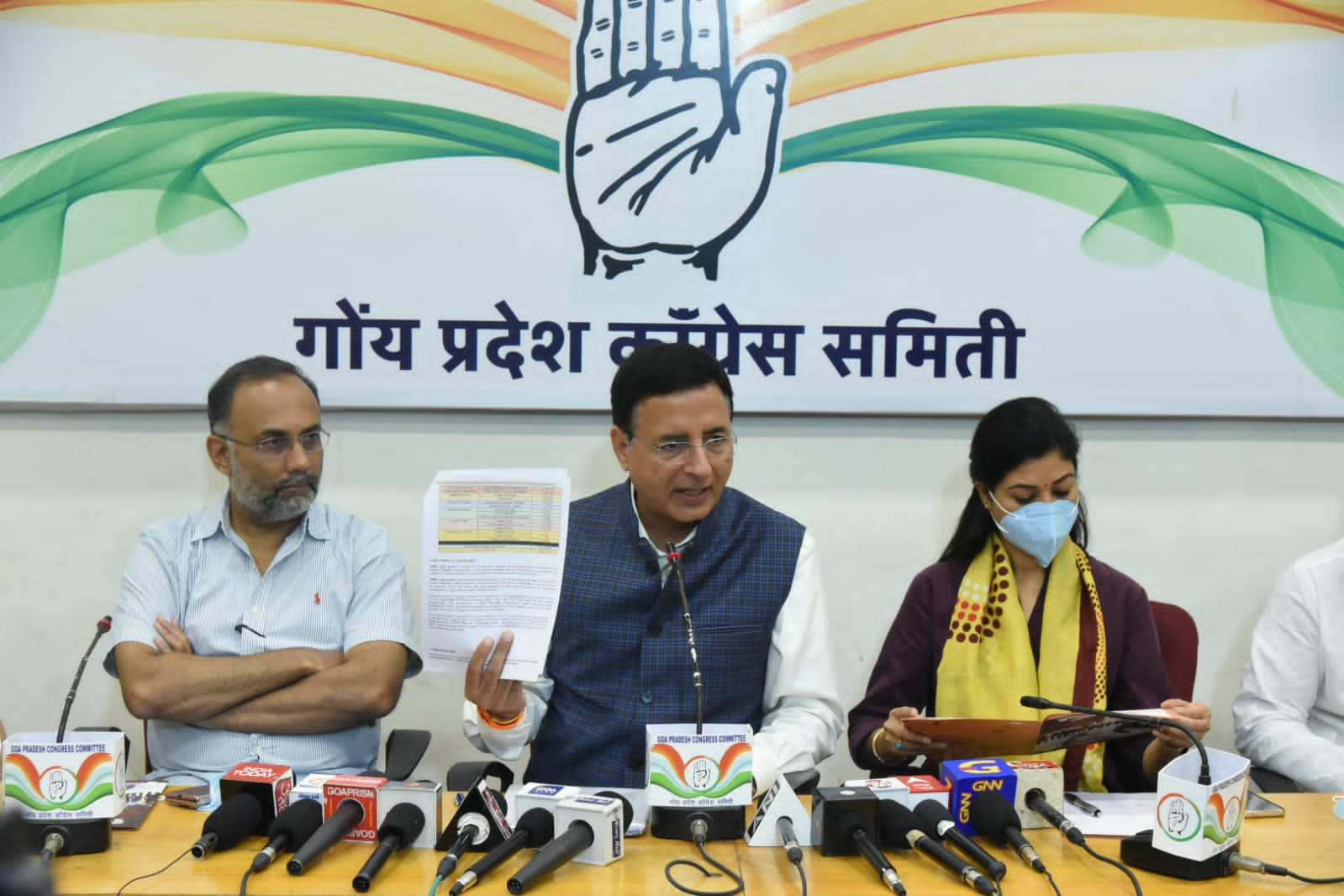 The Average age of Indians is 28 years. We are amongst the youngest countries in the world. The young in India & in Goa are asking a simple question – "Acche Din" "without jobs, employment & Education"!
Women – 'Nari Shakti', is half of India's population. The deep rooted prejudice against women, denial of opportunities to women, denigrating the status of women as an equal runs through the veins of BJP's character and thought. Time has come to seek answers of Modi Govt & Sawant Govt.
I. Youth And Unemployment
India's Unemployment Rate at 7.9%, Goa at 2nd Place in Unemployment!
As on 1st January, 2022, India's unemployment rate has risen to 7.9%. In Urban Areas, it has crossed 10%. What is worrisome is that in the age bracket of 20-29 years, unemployment rate is 28%. Tragically, the unemployment rate of graduates in the age bracket of 20-24 years is touching 63%.
In Goa, over a lakh youth are registered on the state employment market with no jobs. The systematic decimation of Tourism, Fisheries, MSMEs & Mining by BJP Government has made the situation even more grim.
'Curse of Unemployment' plagues India's youth
PM Modi came to power 7 years ago by promising 2 crore jobs every year. Instead of the BJP & Modi government creating 14 crore jobs in 7 years, 12.20 crore jobs have been lost over last two years, post Covid and lockdown. (Oxfam Report)
On eve of Elections, Modi government has promised 60 lakh jobs in five years i.e. up to the year 2027-28. This itself is a "Cruel Joke". CM Pramod Sawant is making similar fake promises.
60 lakh jobs are lying 'Vacant' in Central & State Govt
The callous cruelty of BJP towards India's youth is demonstrated by the fact that 30 lakh posts are lying vacant in Central Government and another 30 lakh posts are vacant in State governments.
Please see the Chart-
Central Government Departments & Institutions Central Ministries & Departments 9,10,153
Public Sector Banks – estimated 2,00,000
Health Services Health Personal 1,68,480
Anganwadi 1,76,057
Primary Education Central & Navodaya Vidyalay 16,329
Primary School – States 8,37,592
Higher Education Central School 18,647
IIT/IIIT/IIM/NIT 16,687
Other Central Educational Institutions 1,662
Army & Police Indian Army 1,07,505
Central Armed Police Force 91,929
State Police 5,31,737
Vacancies in Courts Supreme Court 4
High Courts 419
District & Lower Courts 4,929

Vacancies in States – Estimated 30,00,000
Total Vacancies 60,82,130
BJP's Motto is "Jobs for Sale"
"GMC Jobs Scam" involving 1371 posts has reflected unimaginable levels of corruption in the Pramod Sawant Government. It has shown complete lack of transparency, accountability and morality in Sawant Government in its quest for insatiable lust of power and money.
"PWD Jobs Scam" has shocked the conscience of every Goan making the High Court of Bombay at Goa comment, "What's all this?… How can he be… like Alice in Wonderland…" as recently as on 19th January, 2022. The audio clips have reached the door steps of Deputy CM, Chandrakant Kavalekar and many other ministers and BJP MLAs.
Goa High Court had earlier quashed the appointment of 32 assistant Data Entry Operators leading to the resignation of Cabinet Minister Milind Naik after the court called the entire process "Subterfuge". The recruitments in legal Metrology Department, Health Department, Police Department, PWD, Goa Medical College and almost every other department have come under the scanner on account of illegality, favouritism and corruption.
The "Jobs for Sale" design of BJP is not restricted to Goa. Recently, similar jobs racket were caught in the BJP led Uttar Pradesh, 32 papers have been leaked and sold in BJP ruled Haryana with identical scams in BJP ruled MP, Himachal, Assam, Uttarakhand etc. Even at the Central level, NEET exam leakage, Staff Selection Commission exam leakage and even Railway exams have come under constant cloud.
II. Anti Women BJP
Mindset thought and character of the BJP is Anti Women. No wonder that as per "Global Gender Gap Report, 2021", India has fallen 16 places from 156th Rank to 140th Rank.
All the more important is to note the undisputable facts:-
Crimes Against Women at its Peak
The alarming state in the country is that 'Crimes Against Women' have risen to astronomical number 3,71,503 i.e. 1,018 crimes every day & 42 crimes every hour,
National Crimes Record Bureau (NCRB) figures are even more shocking.
Crime Against Women and Children 2013 (Congress) 2020 (BJP) % Growth
Women Kidnapping 48,044 63,693 32.57
Molestation 67,020 81,713 21.92
Crime Against Children 58,224 77,382 32.90
The anti women mindset of BJP in Goa is apparent from statement of none less than CM, Pramod Sawant, who responded to the gruesome rape of two girls near Benaulim Beach by asking as to why did their parents allow them to go to the beach at night. BJP should be ashamed of the fact the rate of sex trafficking in Goa is highest in the country and 66 % of rape survivors in Goa are minors
The Intemperate- Anti Women BJP Mindset
Goa CM, Pramod Sawant is not alone in this race to pass Anti Women remarks. UP Chief Minister, Adityanath has gone to the extent of saying that "'यदि स्त्री को खुला व अनियंत्रित छोड़ दिया जाए तो वह व्यर्थ व विनाशक भी हो सकता है, वैसे ही स्त्री रुप शक्ति को भी स्वतंत्रता की नहीं उपयोगी रुप में स्रक्षण और चैनलाईजेशन की आवश्यकता है"
Haryana BJP CM, Manohar Lal Khattar has famously commented in October, 2014, "If women want freedom, why don't they just roam around naked!"
"Nirbhaya" Betrayed – Nirbhaya Fund Unutilized
Congress carved out "Nirbhaya fund". Till date, Rs 6,213 crores were budgeted for Nirbhaya Fund but in last 7 years, Modi government released only Rs 4,139 crores. Even more tragic is the fact that only Rs, 2,992 crore were utilized. It means 52 per cent of the budget was neither released nor spent. This shows a lack of priorities for women security.
"Beti Padhao, Beti Badhao" has become a "Jumla"
Modi government spent 79 per cent of the budget on advertisement alone.
As per 2011 census, there are 632 lakh girl child below 15 years of age. If we take out the money spent on advertisement, the per capita expenditure per girl child is 50 paisa. How will India's daughters progress?
Time has come to Vote out the BJP